Nexus 4 vs. Sony Xperia Z
The Nexus 4, which launched in November of last year, is an extremely popular smartphone from 2012. The Sony Xperia Z, which Sony announced as its latest flagship smartphone just a few weeks ago, is an Android smartphone that is hoping to be amongst the most popular for 2013. So how do these juggernauts match up? Here, we take a look at the established LG Nexus 4 versus the up and coming Sony Xperia Z.
Until November of last year, Samsung had ruled the world of Nexus, the name given to Google's developer phones which are blessed with things like swift updates and a pure version of Android dubbed "Google Experience." The past two Nexus smartphones, made by Samsung, were dubbed Nexus S and Galaxy Nexus and both established themselves as viable Android options, even to average smartphones users.
And so, the anticipation for the 2012 Nexus was high, maybe higher than it had ever been in the past. Rumors cropped up in the months after Google I/O, suggesting that LG, and not Samsung or HTC, would be responsible for the new Nexus smartphone. Consumers and critics were skeptical, given that LG hadn't produced a well-known smartphone for the U.S. for quite sometime.
Rumor proved to be reality though as LG was revealed to be the maker of Google's new Nexus smartphone, a device that it calls Nexus 4. The Nexus 4 has some unique qualities that have made it one of the more popular Android smartphones in recent memory and an established option for those looking to get a solid, Android experience. The Nexus 4 though, won't be without rivals in 2013.
One of those rivals will be in-house in the form of the Sony Xperia Z, a smartphone that Sony recently announced to not only compete with the likes of the Nexus 4, but with the iPhone 5, Galaxy S4 and HTC M7 as well. It's maybe Sony's most exciting smartphone in years, and it's one that those searching to find a new Android phone will likely have on their list.
Same goes for the Nexus 4. So how they compare to one another? Here, we dive in deep to give interested consumers a look at the Nexus 4 versus the Sony Xperia Z in terms of release date, pricing, hardware, software and more.
Release Date
The Nexus 4's popularity have unfortunately been more of a gift than a curse as the device has been extremely hard to find, maybe the hardest phone to find, in the months since its launch.
Back in November, when LG and Google released the Nexus 4, it sold out on its first day of availability with many who ordered getting back orders due to the high demand. Google promised to clear up the mess in a few weeks time and it did. The Nexus 4 went up for sale again at the end of November, only, it sold out even quicker this time and subsequently saw its shipping times get longer and longer.
That is, until December, when both the 8GB and 16GB models both sold out through the Google Play Store. They have remained sold out since then in the United States and in various other regions around the world.
LG and Google have pointed fingers at each other in regards to the sell out. And while it has become a he-said-she-said kind of affair, it's clear that neither company imagined the device selling as well as it did.
LG has said that it should have the supply issues under control by mid-February which means that those looking to order the Nexus 4 might be able to do so in the next couple of weeks. At least through Google.
The unlocked Nexus 4 is also available in several other places including eBay, Craiglist and other third party retailers, though prices remain much more expensive than the Google Play Store.
T-Mobile also sells a carrier-locked version of the device in the U.S. for $199, but it too has seen sell outs since November.
Unlike the Nexus 4, the Sony Xperia Z still hasn't hit shelves and likely won't do so for a couple of weeks. At CES 2013, Sony announced that the device would globally launch in the first quarter of this year which should mean an arrival in January, February or March.
Europe already has February 18th rumored as a release date but so far, no release date for the United States has emerged. That said, don't expect the same type of supply issues that have affected the Nexus 4 to grip the Xperia Z.
It should be widely available to those seeking it when it does arrive.
Design
Those familiar with the Galaxy Nexus from Samsung, might, at first glance, mistake the Nexus 4 for the older Nexus. However, after getting closer and picking up the device, it's clear that these are two different phones from a design standpoint.
The Nexus 4 does still use a plastic frame but that frame is also supported by a glass back that seems to glisten when put into certain light settings. The Nexus name is also much more prominent than it was with the Galaxy Nexus. As for specifics, the Nexus 4 totes a 9.1mm design with a weight of 139 grams which means that it's both thicker and heavier than some current-gen smartphone models, including the iPhone 5.
Even though it is a little thicker and heavier than many current-gen Android smartphones, it still is a pleasure to hold with one hand and it can easily fit inside of a jean pocket for storage.
Just to get an idea of the size of the Nexus 4, below is a photo showing it next to the Samsung Galaxy Note 2 and the iPhone 5.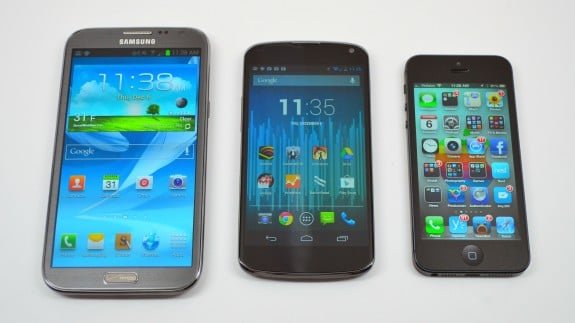 Like the Nexus 4, one of the features that is most striking about the Sony Xperia Z is its design, which as we have said in the past, is maybe Sony's best smartphone effort yet. Sony has done an admirable job with the design of the Sony Xperia Z as it boasts a look that is both attractive and durable when it comes to its design.
Sony's Xperia Z is comprised of a rectangular shaped design that possesses roundness around the edges. It features glass panels in both the front and back that help to give it a very modern look.
Due to its big display, the Xperia Z, like the Nexus 4, is fairly large which translates into a fairly sizable footprint, and much bigger than the iPhone 5. However, what Sony has done is keep it thin, real thin. The Xperia Z is sporting a 7.9mm frame which is close to the iPhone 5's 7.6mm design and much thinner than many smartphones of its size including the Droid DNA.
At 146 grams, it does weigh more than the Nexus 4, but that's expected due to the larger display that's on board. As we mentioned, Sony has also ensured that the design is extremely durable. It's both water resistant and dust proof and Sony proved this in a demo at CES 2013 wherein the device was left submerged underwater for nearly an hour without taking any damage.
Display
Both the Nexus 4 and the Sony Xperia Z feature large displays, a signature of many of the current-generation Android smartphones and something that we should see on many flagship Android handsets to come.
Starting with the Nexus 4, LG outfitted it with a large 4.7-inch display, same as the HTC One X, with 720p HD resolution. The screen also feels spacious but not overbearing like the 5.5-inch display of the Galaxy Note 2.
The Nexus 4 display may not be 1080p in quality, but it does have a high pixels-per-inch count. Specifically, it features 320 pixels-per-inch which means that it offers crisp images, video and text.
Sony, like LG, has followed the trend of Android smartphone as well and bestowed a massive display on the Sony Xperia Z.
https://www.youtube.com/watch?feature=player_embedded&v=gWysHOjl95E
Like many of the Android smartphones that will arrive in 2013 including the Galaxy S4, the Sony Xperia Z features a large 5-inch Reality display with 1920 x 1080 resolution and 443 pixels-per-inch. It's Sony's first stab at a 1080p display on a smartphone and from our limited time with the Xperia Z, it's a good looking first effort.
Text is crisp, colors are rich, videos are vibrant and easy to look at. While other phones like the Galaxy S4, rumored to have a 5-inch 1080p display, might match it, Sony has done a great job of future proofing the Xperia Z against competitors.
Camera
The Nexus 4 is a great phone but it's not perfect. And one of the features that makes it a non-perfect smartphone is its good but not great rear camera. Those looking for the best camera experience on an Android phone won't find it in the Nexus 4. The rear 8MP camera can handle itself well, but it's not going to be winning any awards for best camera this year.
Instead, users will get decent images and video out of the camera. It will work for most people but those looking for something more will likely be disappointed. A sample of which can be seen in the photo below.
LG also outfitted the Nexus 4 with a 1.9MP front-facing camera that is good for video-chatting purposes as well.
Sony though has seen it fit to install a high-quality camera on its Xperia Z. The device features a 13MP Exmor RS sensor that translates into fantastic pictures in good and bad lighting environments. As we've pointed out before, the noise that has affected Xperia cameras in the past is not be found in the Xperia Z camera.
While it may not be the best camera we see out of an Android smartphone in 2013, it will likely rank up there amongst the best. Translation, those that are in need of a solid camera on their smartphone will certainly want to take a look at the Xperia Z.
Specs
Of course, there are specifications that power both devices beyond their displays, cameras, and designs. Here, we take a look at the other hardware that is powering both the Nexus 4 and the Sony Xperia Z.
First, the Nexus 4.
4.7-inch IPS Display 1280 x 768 pixel resolution (320 ppi)
1.5GHz Quad-Core Snapdragon S4 Pro Processor
8GB/16GB Storage (No microSD card slot)
8MP Camera/1.9MP Camera
2100 mAh battery (Non-Removable)
2GB of RAM
Wireless Charging
NFC
And, the Xperia Z.
5-inch Reality Display with 1920 x 1080 resolution
1.5 GHz Snapdragon S4 Pro quad-core processor
16GB Storage (microSD Card Slot)
13.1MP rear camera/2.2MP front-facing camera
2,330 mAh battery (Non-Removable)
2GB RAM
NFC
As with just about every smartphone comparison, there are a few key takeaways from the specification match up here. First, the Nexus 4 is limited to either 8GB or 16GB of storage as it doesn't feature a microSD card slot. The Xperia Z comes with 16GB standard with a microSD card slot.
Neither sports a non-removable battery, which means that those looking for a little extra juice aren't going to be able to do it with either the Nexus 4 or the Xperia Z.
And finally, while the Nexus 4 sports on-board wireless charging, which will be useful once the Wireless Charging Orb arrives, the Sony Xperia Z does not and will likely have to take advantage of third party products, if available, in order to do that.
Software
One unique aspect of the year Nexus smartphone is its software. For starters, a Nexus always comes with a vanilla version of Android, meaning it's untouched by the hands of its manufacturer. So in this case, LG's fingerprints cannot be found on the Nexus 4's software. It's a pure Google Experience instead.
A Nexus also means that it is easily customizable at it has an unlocked bootloader and it also means that Google will issue software updates to it long before other devices. The Nexus 4 was one of the first to Android 4.2 Jelly Bean, seen below, and it will be one of the first to Android 5.0 Key Lime Pie, rumored for Google I/O in May, as well.
Even the T-Mobile-locked Nexus 4 will be one of the first to the new version of Android.
The Sony Xperia Z will not receive the same type of treatment in the software department. Furthermore, it will arrive with Android 4.1 Jelly Bean, seen in the video below, which is the previous version of Jelly Bean from Google.
Sony has said that it will at some point get Android 4.2 Jelly Bean, according to them it will come shortly after launch, but with no release date mentioned, it's hard to say if it will come any time in the first quarter.
The company did do something right from a software standpoint though. Gone, is the ugly Xperia UI that has come on other Xperia smartphones, and instead, the company has toned it down and offered a much better looking, almost vanilla version of Android on the Xperia Z.
In fact, the company has toned down the UI so much that it decided not to give it a name.
Carriers
There are two versions of the Nexus 4, one, an unlocked version sold through the Google Play Store that is compatible with T-Mobile and AT&T, and a carrier locked version that can be bought through T-Mobile itself.
The locked model, the on-contract version for T-Mobile, runs on T-Mobile's HSPA+ 42 network which is its fastest 4G network. A comparison between HSPA+ 42 data speeds, and 4G LTE data speeds can be seen in the video below.
HSPA+ 42 is fast, but in most cases, not as fast as LTE. And while T-Mobile will be offering 4G LTE sometime this year, the Nexus 4 likely won't run on that network.
The unlocked model can run on GSM carriers like AT&T and T-Mobile without the need for a contract. For AT&T, the Nexus 4 will run on its HSPA+ 21 network and below while on T-Mobile, it can run on HSPA+ 42 and below. Users will need the proper SIM card in order to use the device on these networks.
For more information on the network differences for the unlocked Nexus 4, see our comparison.
So far, the Sony Xperia Z has not been announced for any carriers in the United States. Last year, Xperia devices were scarce on American carriers so it's possible that it won't come to any at all. If that's the case, the device will more than likely only be available unlocked which means that, like the Nexus 4, it will be able to run on GSM networks like AT&T and T-Mobile.
There is hope of a 4G LTE powered Xperia Z in the U.S. though. UK carriers Three UK, Vodafone and O2 have confirmed it for their networks. That doesn't necessarily mean its heading stateside, even if demand is higher than normal, but it is a sign that carriers are interested in Sony's new offering.
Price
Maybe the most unique thing about the Nexus 4 is its price. The unlocked version of the Nexus 4, which is sold through the Google Play Store, is one of the least expensive unlocked Android devices on the market, making it extremely attractive to those not looking to sign a contract.
The Nexus 4 is a mere $299 for an 8GB Nexus 4 and $349 for a 16GB Nexus 4. Those prices, found through Google, are virtually unbeatable for a device of the Nexus 4′s caliber and are one of the big reasons why the Nexus 4 has been sold out since December.
Those looking to get a quick fix through places like eBay will likely encounter prices that are much more expensive than Google's asking prices. Of course, T-Mobile also sells the Nexus 4 on-contract and commands a $199.99 price for the privilege of buying one.
As for the Xperia Z price, we're still unsure exactly. Sony did not announce any sort of pricing at CES 2013. We imagine that the device will become available unlocked, at least at first, to customers in the United States and that should mean a price tag of around $600 or more plus shipping costs.
If and when the device does land on a carrier in the United States, we could see it emerge for a familiar $199.99, a price that many carriers use in order to make their devices look enticing next to the iPhone which has a similar price tag.

As an Amazon Associate I earn from qualifying purchases.