Nexus 5: 7 Last Minute Details
From the looks of things, the Nexus 5 could be released in just a few short days with Halloween again rumored to be the Nexus 5 release date. And with rumors swirling in recent days, we wanted to take a look at the most important details that we've seen emerge, details that should help buyers prepare for its upcoming arrival.
Over the past few months, the Nexus 5 has been a hot topic, thanks to a number of leaks and rumors that have sprouted up, some of them from Google itself. What started as a leak inside of an Android 4.4 KitKat promo video from Google itself has spiraled into a full on unofficial launch, as just about every Nexus 5 detail has been subject to rumor.
In the past two weeks, the Nexus 5 launch has really begun to heat up as rumors continue to suggest that we're closer than ever to an arrival.  And right now, it's looking like we could see a Nexus 5 finally emerge from the shadows to appease consumer demand.
Buyers are likely starting to prepare for the Nexus 5's arrival, smart, not only because it's close but because the Nexus 5 is going to be facing some serious opposition when it does arrive. From the iPhone 5s to the Samsung Galaxy S4 to the Galaxy Note 3 to the Lumia 1020, consumers are going to have a ton of options to choose from once the Nexus 5 does land on shelves.
With only a few more days left before the Nexus 5 release date, we want to make it as easy as possible for those trying to gather as many details as they can, in an effort to make a final decision about their next smartphone. Here, we breakdown seven last minute, key details for those that are thinking about buying the Nexus 5 at some point in the next few weeks.
Nexus 5 Release Still Not Confirmed
The Nexus 5 has been rumored for months now. We've seen it show up at the FCC. We've seen it appear in a host of photo and video leaks. We've even seen it appear on Google's Play Store. And still, we have no concrete, one hundred percent confirmed, Nexus 5 release date. We do, however, have one credible rumor that lines up with things we've heard in the past.
MobileSyrup, a site that is in tune with smartphone rumors in Canada, claims that the Nexus 5 will be released on October 31st, or, Halloween. This is a date that we've heard mentioned in the past and it's a date that we speculated could be the Nexus 5 and Android 4.4 KitKat release date for various reasons. The site claims that the release date will land on October 31st in the U.S. and a little later in Canada.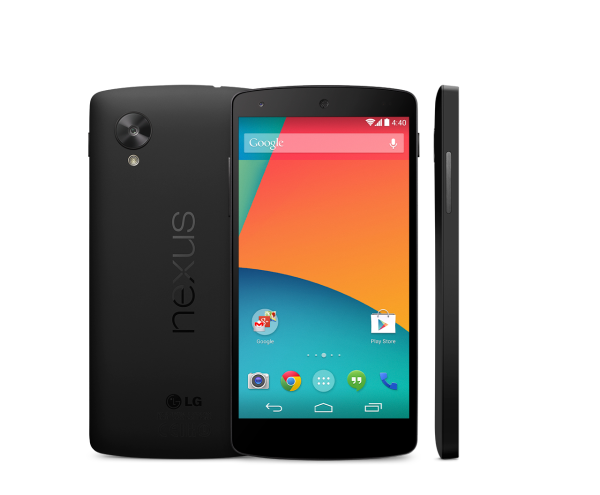 While we've heard all sorts of rumors, this is the same place that leaked out a Nexus 5 render from Canadian carrier Telus, which leads up to believe that they have someone on the inside feeding them information. So while nothing is confirmed, October 31st is looking like it could be the big day for Nexus 5 owners.
We don't expect Google to simply put the Nexus 5 on sale without warning so we expect there to be some kind of announcement next week, for October 31st or otherwise, finally outlining the company's plans for the Nexus 5, Nexus 10 and Android 4.4 KitKat update.
These Are the Nexus 5 Specs
Google hasn't confirmed anything yet but thanks to a wealth of rumors, we have a very good idea about what to expect from the Nexus 5 in terms of specifications. The most important thing to note here is that while Nexus 5 release date rumors have been swirling, the rumors surrounding the specifications have not changed and buyers should not expect them to.
What this means is that the Nexus 5 rumors should pan out and the LG-version of the Nexus should have these specifications on board when it arrives on shelves:
5-inch 1080p Display with 441 Pixels-Per-Inch
Qualcomm Quad-Core Snapdragon 800 Processor
16GB/32GB of Storage
8MP Camera with OIS
2GB of RAM
Sleek Black Matte Design
2,300 mAh Battery
These specs appear to be concrete and these are what prospective Nexus 5 buyers need to consider when weighing the device against other phones. It's going to have a high-res display, it'll have a speedy processor, it will come in two sizes without a microSD card slot, and it will have a good camera with Optical Image Stabilization. In other words, it's going to be a juggernaut.
Nexus 5 Price All But Confirmed
For those that missed it, the Nexus 5 actually leaked out onto Google's Play Store a few days back. Thanks to the tag on the Nexus 5, we now know that Google is planning to offer it starting at $350. Here is what the company's description of the Nexus 5 looked said, exactly:
"Capture the everyday and the epic in fresh new ways. Starting at $349."
So unless that was bogus information or Google's plans have changed over the course of a few days, the Nexus 5 will check in with a price tag of $350 for a 16GB model.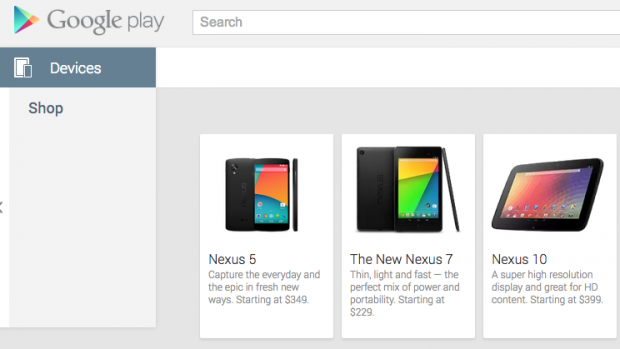 Given that Google likes to charge $50 more for more storage space, the 32GB Nexus 5 is expected to command a starting price tag of $400.
Those prices, while steeper than the Nexus 4 price tag, are still extremely low for an unlocked smartphone of this caliber. While the pricing hasn't been confirmed by Google, these are likely going to be the prices that Nexus 5 buyers face when buying the device.
Still No Verizon Nexus 5
Awhile ago, an FCC filing pointed to three Nexus 5 carriers including AT&T, T-Mobile and Sprint. AT&T and T-Mobile are both sure things as they have carried many Nexus devices in the past and because it's hard to argue with FCC filings, Sprint looks like a lock as well. Many consumers have been hoping for new information in regard to carriers and unfortunately, none has surfaced.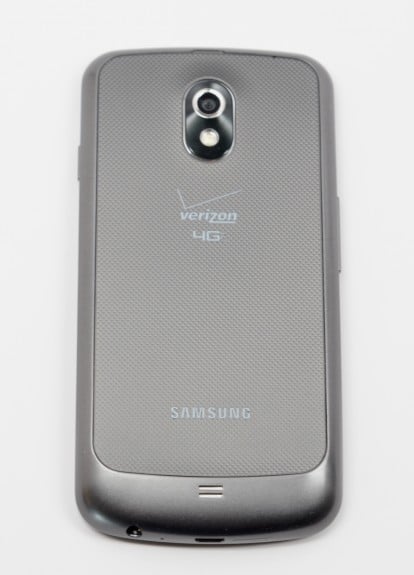 So at this point, a Verizon Nexus 5 is a long shot. It's possible that Google has hidden it from view but we typically learn Nexus carriers well in advance, the Nexus 7 being the most recent example, so we highly doubt that this is going to change at launch. One thing that will definitely be on board is LTE, something that the Nexus 4 didn't have and something that will be an extremely enticing part of the Nexus 5.
Nexus 5 Accessories
Earlier today, we showed off some Nexus 5 cases from Spigen that are already on sale, ahead of the Nexus 5 launch, on Amazon. While many people probably shrugged off the news, we find this to be important. What it means is that Nexus 5 buyers should have some selection on day one. Spigen is unlikely to be the only Nexus 5 accessory maker prepared for this launch so we should see a good amount of accessories arrive within the first few days of the Nexus 5 release.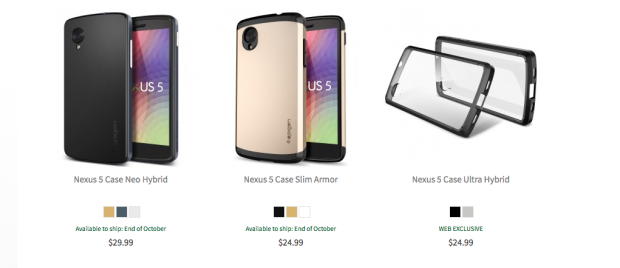 Google has been extremely, extremely slow to get Nexus accessories out to buyers on the Google Play Store and we don't expect that to change here, even as third-party manufacturers get their products out fairly quickly.
Nexus 5 Competitors
From the looks of things, the Nexus 5 competition is set. Sure, there are devices like the HTC One Max that will be coming to the United States soon but we don't expect that phone to be on the same level as the Nexus 5. In our opinion, buyers should be weighing the Nexus 5 against devices like the Moto X, Samsung Galaxy S4, HTC One, and the iPhone 5s and iPhone 5c, all of which are out on shelves.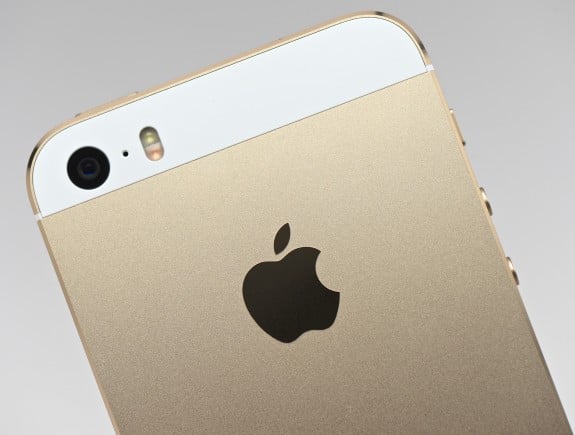 In fact, because the Nexus 5 launch is so close, we highly recommend spending some hands-on time with these phones in particular ahead of the Nexus 5's arrival. These represent the Nexus 5's direct competition and buyers would be wise to spend this weekend taking a look at them.
No Android 4.4 KitKat Wow Factor So Far
Android 4.4 KitKat will launch alongside the Nexus 5, buyers should have little doubt about that. What Nexus 5 users should have some doubts about is the software itself. So far, we haven't seen anything that suggests that this software is going to be a massive upgrade for smartphones. Yeah, leaks have pointed to some nice additions but Nexus 5 buyers need to stop expecting the world.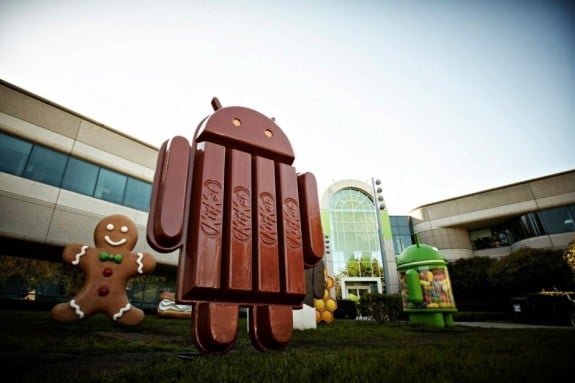 We could see the Nexus 5, armed with its Snapdragon 800 processor, offer some of the always listening functionality that the Moto X and Galaxy Note 3 have on board. However, there are no signs that the Nexus 5 will offer anything extraordinary from the software side of things. While it could certainly change, we're banking on the Nexus 5's big features being LTE, price and the big time camera.  Those are what buyers should be focusing in on, not the software.

As an Amazon Associate I earn from qualifying purchases.