Nexus 5 Android 5.0.1 Lollipop Update Breakdown
In December, Google rolled out its first Android 5.0 Lollipop bug fix update to Nexus users, an update dubbed Android 5.0.1 Lollipop. We've been using the Nexus 5 Android 5.0.1 Lollipop update for about a month now and we want to take a look at how Google's current update is holding up on its aging former flagship. This is our updated Nexus 5 Android 5.0.1 review.
Last summer, Google released an Android L Developer Preview (essentially a beta) for the Nexus 7 2013 and the Nexus 5. The Android L Developer Preview gave Nexus 5 and select Nexus 7 users an early look at its next operating system. In November, the beta ended and Google finally rolled out its Android L update to Nexus users around the world though it was no longer called Android L.
Google's new Android operating system is called Android 5.0 Lollipop and it's a massive change from its previous Android 4.4 KitKat operating system. The Android 5.0 Lollipop update delivers a number of big time changes to Android including the new Material Design which alters the look and feel of apps, icons and more.
Android 5.0 Lollipop also delivered bugs and problems to Nexus users and Nexus 5 owners in particular were extremely vocal about those problems. In response, Google rolled out an Android 5.0.1 Lollipop update, an update designed to smash Android 5.0 Lollipop problems and stabilize the experience on its most recent Nexus devices including the Nexus 5. That was a month ago.
For the last month, I've been using the Nexus 5 Android 5.0.1 Lollipop update as much as possible in an effort to deliver feedback to fellow Nexus 5 users and prospective Nexus 5 buyers. Believe it or not, there are still a ton of people interested in this smartphone more than a year after its release. I don't blame them, it's one of my favorite smartphones of all time.
Today, I want to revisit Android 5.0.1 Lollipop on the Nexus 5. This breakdown will provide a look at the current performance of the Nexus 5 and it will also rope in feedback from other Nexus 5 users.
Nexus 5 Android 5.0.1 Review: One Month Later
Before I get into my updated review of the Nexus 5 Android 5.0.1 Lollipop update, I want to note that I'm using a stock version of Android 5.0.1 Lollipop. I've never rooted my Nexus 5 and I've never installed any custom software. This is as pure as it gets.
I should also note that mileage is going to vary from person to person. That is to say that my daily habits are probably different than yours. I might watch more video than you do. I might use my Wi-Fi connection more than you do. And I almost certainly use different applications. Keep that in mind as you read this. I always encourage people to gather as much feedback as possible. You can't rely on one review.
Apps
I have about 50 applications installed on my Nexus 5. Most of them are common applications like Facebook, Twitter, Instagram, and Netflix. I also use some uncommon apps like Asana and Slack. It's a good mixture of applications, some big and some small.
Thus far, I've had a fairly good experience using applications on Android 5.0.1 Lollipop. I've experienced sporadic crashes in Facebook and the official Twitter application but apps like Yelp, Spotify, and Accuweather have all been performing well. In fact, a majority of my applications have been performing excellently over the past month.
Of course, it's important to point out that I continually update my applications. Bug fixes, Android 5.0 compatibility updates, you name it. They are all on board my Nexus 5. That's made a big difference because companies have been very diligent about getting their apps updated to support Android 5.0. They've also done a great job fixing bugs.
Facebook has always been problematic on Android dating back to my days with the Galaxy Nexus so this is probably not an Android 5.0.1 problem. Rather, it's probably a Facebook problem. They can't seem to get the app experience nailed down.
I've heard about the memory leak that's causing apps to crash but I've only seen apps crash a handful of times over the past month which is nothing out of the ordinary. Same thing happened in Android 4.4 KitKat. My only advice is to update your applications and report bugs to the developer. You could install custom software but I'd do a ton of research before making a move.
Battery Life
Nexus 5 battery life has never been good and thankfully, Android 5.0.1 Lollipop hasn't made it any worse. I still can get close to a full day out of the Nexus 5 provided I'm using mostly Wi-Fi. It's certainly not on par with the iPhone 6 and it can't even come close to devices like the Samsung Galaxy Note 4 or the LG G3. Sad but true.
Now, I am very proactive when it comes to battery life conservation. I've put together a list of things that I use to help keep battery life afloat and I suggest that you take a look at that if you are experiencing battery life issues or abnormal drain.
There are tons of complaints on the Nexus Help Forum about Nexus 5 battery drain. And while some users are blaming Google, there's a very good chance that your habits, your apps, or your settings are causing the issues. So before you lash out, take a look at those tips. I really do think that they might help you mitigate your issues.
Connectivity
Wi-Fi, AT&T LTE, and Bluetooth all remain stable a month into the Android 5.0.1 Lollipop era. I haven't seen any significant problems with any of these and I've used them a ton over the past four or so weeks. These are pain points for many Nexus users though as I've pointed out, there are some things to try if they start acting up.
Speed
The Nexus 5 is still very smooth. I'm able to zip around Android 5.0.1 Lollipop and animations and transitions are extremely fluid. I haven't noticed any abnormal lag at all in my month with the update. The Nexus 5's processor and other guts have handled the transition from Android 4.4.4 KitKat to Android 5.0.1 Lollipop quite well.
Nexus 5 Android 5.0.1 Problems
Performance in those areas is solid though I have started noticing an issue that other Nexus 5 users have been complaining about since the arrival of Android 5.0 Lollipop back in November: Random reboots.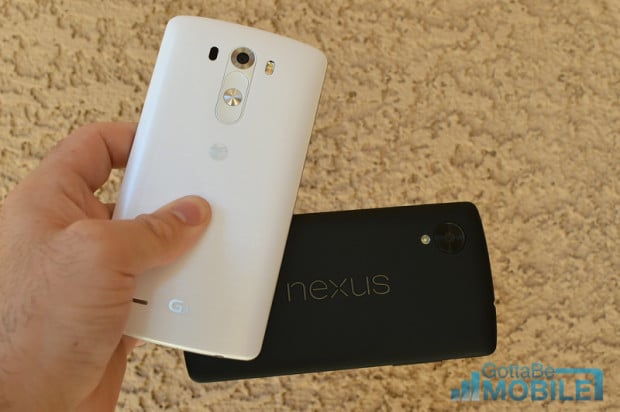 I've only had around three or four that I can remember but that's more than I saw in the weeks after installing Android 4.4.2 KitKat. I've seen an uptick over the past two weeks or so. I thought it was due to an app I installed but I got rid of the application and the problem popped up again. It's clear that I am not the only one dealing with this problem and my hope is that another update arrives to patch up potential memory leaks.
I'm not seeing any of the other problems that Nexus 5 users are complaining about. For me, the Nexus 5 Android 5.0.1 has been very stable. Smaller bugs are difficult to spot so there's always a chance that I'll run into something down the road. If you are having problems, check out our tips or check out the Nexus Help Forum.
Final Thoughts
For me, Android 5.0.1 Lollipop is pretty stable. There are a few hiccups but that's to be expected from an Android update for a Nexus smartphone. There are always bugs and problems.
Android 5.0.1 fixes some of the bigger issues plaguing Android 5.0 Lollipop but it doesn't appear to fix them all. It's not clear when Google plans to roll out the Nexus 5's next update so if you're already on Android 5.0.1, you're going to need to be extremely active. Keep your device updated, monitor your applications, update your applications, hunt for potential fixes.
It's not perfect but I've been enjoying my experience with Android 5.0 Lollipop. This is the best update Google's released in years and it's certainly going to keep my Nexus 5 around for the foreseeable future.
How is the Nexus 5 Android 5.0.1 Lollipop update treating you?

As an Amazon Associate I earn from qualifying purchases.