Nexus 5 Android 5.1 Update: Is It Worth Installing Right Now?
We've been using the Nexus 5 Android 5.1 Lollipop update for a number of weeks. And now that the update is rolling out in full force, Nexus 5 users are faced with a decision about whether to install Google's latest firmware. With some experience under our belts, we want to help with your decision. This is our Nexus 5 Android 5.1 review at the three week mark.
In March, Google released a new version of its Android 5.0 Lollipop operating system dubbed Android 5.1 Lollipop. Like its previous Android 5.0.1 and Android 5.0.2 Lollipop updates, the Android 5.1 Lollipop update brought bug fixes for Android 5.0 Lollipop problems. Unlike its predecessors, Android 5.1 Lollipop brought an absolute ton of fixes to Nexus users. It also brought some small feature tweaks to devices like the Nexus 7, Nexus 10, Nexus 6, and Nexus 5.
Slowly but surely, Google's finally started to get its top Nexus smartphones and tablets upgraded with Android 5.1 and its enhancements. Last week, the Nexus 5 Android 5.1 update finally started to pick up the pace as Google started rolling out a brand new Android 5.1 Lollipop build known as LMY47I. The new update is small and it comes at least one fix, a solution for SIM card problems.
We continue to get (and see) questions about the Nexus 5 Android 5.1 update and especially now that the update has finally started to hit devices around the world. And while we've already taken two dives into our experiences with Android 5.1, we felt it appropriate to take another look at the update at the three week mark in an effort to provide feedback to those of you on Android 5.1 and those of you thinking about installing the new software. Our goal here is to help push you to one side of the fence or the other.
Here's how the Nexus 5 Android 5.1 update is holding up after three weeks of use.
Nexus 5 Android 5.1 Update: Three Weeks Later
Let me start this updated review out by saying that I've owned the Nexus 5 since its release back in the fall of 2013. I've installed every single Android update from Google, from Android 4.4.2 to Android 5.1, and my device has never been rooted.
I should also remind you that I am just one person with one version of the Nexus 5. Android updates impact devices, and users, differently so I encourage you to seek out more feedback before installing the Android 5.1 Lollipop update or moving back to an older version of Google's operating system.
With that in mind, here's my Nexus 5 Android 5.1 experience at the three week mark.
Apps
My app experience on Android 5.1 Lollipop has been pretty up and down. While my apps were working fine in the aftermath of the installation in March, I've seen a bit of a decline in the weeks following the initial release.
Most of my apps are working fine but there are some problems. Android 5.1's memory leak issue is real. If you're not familiar, the bug causes device memory to build up and fail to clear out. This in turn causes problems for memory intensive applications. Play Music continues to crash and I've also seen apps like Twitter, Facebook, Chrome, YouTube, and others crash on the Nexus 5. The crashes are pretty sporadic on my Nexus 5 though that doesn't make them any less annoying. Other apps like Asana and Slack are working just fine.
Google apparently fixed the Android 5.1 memory leak problem though it's still not clear when the fix will roll out. There's speculation that Android 5.1.1, an update that was seemingly confirmed on April 1st, will bring the fix though there's no telling when the update will arrive. If it even arrives at all for the Nexus 5.
If you're seeing issues similar to mine, all you can do is remain patient and hope that the issues get ironed out. I recommend installing the latest app updates too, those tend to help.
Battery Life
While app performance has taken a hit, Android 5.1 battery life on my Nexus 5 has stayed pretty consistent. I haven't encountered anything out of the ordinary when the device is in use and it's still holding an excellent charge when it's left in standby. It's also charging normally. Slow charging issues often plague Nexus users after major Android updates, that's why I am pointing that out.
In the past three weeks, I've seen a ton of Nexus 5 users complain about battery drain. Not everyone is dealing with bad battery life but there are more than a few people seeing problems after installing Android 5.1.
In response to these issues, I recently put together a list of tips that might just help those of you suffering from bad Nexus 5 battery life after Android 5.1 Lollipop. Like all fixes for Android problems, these aren't guaranteed to work, but they are a great starting point for those of you that are noticing some oddities on the Nexus 5 with Android 5.1 on board.
Give them a shot before doing something drastic like smashing your phone with a hammer.
Connectivity
Nothing to complain about here either. Wi-Fi is still working fine. I've been able to connect the Nexus 5 to an assortment of Bluetooth speakers and headsets. And AT&T's LTE network is still delivering solid speeds when I take the Nexus 5 out of the house.
I know that some Nexus 5 users are struggling with their connections though and that's why I put together a lit of potential fixes for connectivity issues and other bugs.
Bugs & Issues
Nexus 5 users have been complaining about an assortment of Android 5.1 problems. If you don't believe me, head on over to Google's Nexus Help Forums. They are littered with complaints about Android 5.1 bugs and problems. After three weeks of use, I haven't run into anything of significance other than the memory leak issues.
My Nexus 5, like other Nexus 5's, will occasionally reboot itself. It's random though it seems to happen when the phone is under duress. The last time it happened though I was simply browsing Twitter. Some people are saying that it's hard to restart the phone after these random reboots though I haven't had any issues there.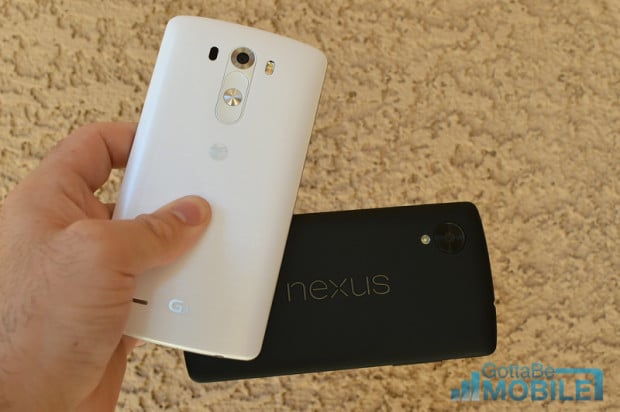 I've lost count of how many times my Nexus 5 has rebooted though it's definitely over 10 and definitely under 30. It's not frequent but it's still an extremely annoying issue that, in combination with the app crashes, has really ruined by day-to-day Nexus 5 experience.
On the bright side, I haven't encountered any other serious issues and I've yet to stumble upon any smaller annoying problems. If Google's able to solve these reboot problems, I think I'll be in pretty good shape.
If you're seeing Android 5.1 problems, you'll definitely want to consult our list of common Android 5.1 problems. I haven't found a permanent fix for these reboot issues but you can try factory resetting or dropping back down to Android 5.0.1, Android 5.0 or KitKat if you're alright with older software.
Speed
At the three week mark, my Nexus 5 is still fluid and fast. I haven't run into any sluggishness or lag and it's the same as it was with Android 5.0.1 on board and KitKat on board. Smooth and buttery.
Final Thoughts
So here's where my head is at at the three week mark. If you're on an older version of Android and you're not experiencing any major problems on your Nexus 5, I would not install Android 5.1 right now. The memory leak problems are very real and there's just too much potential for things to go wrong. The feature enhancements are nice but they're not going to be game-changing for most of you.
If you are experiencing issues on an older version of Android, my advice is to check out our list of fixes. If those don't work, dig around in forums and social media for other potential fixes. See if you can't get them fixed on your own. Android 5.1 does come with a ton of bug fixes but again, there's just too much risk involved right now, especially if the Nexus 5 is your only phone.
Android 5.1.1 appears to be a real update so if I were you, I'd wait and see what it has up its sleeve.

As an Amazon Associate I earn from qualifying purchases.