January Nexus 5 Android 6.0.1 Update: 5 Things to Know
It's not Android 6.1 but the Nexus 5 is getting another important update. Here's what you need to know about the January Nexus 5 Android 6.0.1 build that Google released this week.
In October, Google pushed out the Nexus 5 Android 6.0 Marshmallow update bringing new features, enhancements and fixes to the aging former flagship. Android 6.0 Marshmallow also brought problems and bugs to the Nexus 5.
In an effort to squash these problems and enhance security, Google pushed out a Nexus 5 Android 6.0.1 update. The update also delivered over 200 new emoji characters for the keyboard and an improved volume slider. Like Android 6.0, Android 6.0.1 also brought problems to the Nexus 5.
Earlier this week, Google confirmed a new Nexus 5 Android 6.0.1 update though it's not the big bug fix update that some users were looking for.
Google's rolling out a new January Nexus 5 Android 6.0.1 build that replaces the build from late last year. It's not a big update but it's an important one and this roundup is going to outline the most important things to know, right now, about this January Nexus 5 Android 6.0.1 update.
New Nexus 5 Android 6.0.1 Update Rolling Out
The Nexus 5 Android 6.0.1 update will start rolling out today. Sprint's confirmed plans to start pushing out its version of the new Nexus 5 Android 6.0.1 update and we expect others to follow. Not everyone will receive the new Android 6.0.1 build today though.
Google's Nexus Android update roll outs can take up to two weeks to complete. We own several unbranded Nexus 5 variants and none of them have received the new January security update. Yet. We expect them to get the update within the next two weeks.
You can check for the update manually in the About section located in the phone's Settings though you're most likely going to see it appear in your Notification tray.
Google's Nexus Android update roll outs are unpredictable so you'll need to keep a close eye out this week and next.
4th Jan: Android January Security updates are out.

Me: I'm gonna wait for the OTA to hit my Nexus 5

5th Jan: Update manually flashed.

— Punti (@punti_z) January 5, 2016
For reference, the Nexus 5 Android 6.0.1 update build name is MMB29S. The last version was dubbed MMB29K.
How to Get the Update Right Now
If you don't want to wait for Google you don't have to. If you want to install the new Android 6.0.1 build right now, you'll want to head on over to Google's website and locate the correct factory image.
If you're rocking an unlocked bootloader, you can download and load up the new build right now. This guide will take you through the process.
This new Android 6.0.1 build is small but you'll still want to set aside some time to download and install it on your phone. We recommend putting aside at least 30 minutes, more if this is your first time manually installing an Android update.
What's New
This is not a massive bug fix update. Instead, it's a security update that patches up some potential exploits.
Google notes that this January Android 6.0.1 build comes with five critical fixes, two high level fixes, and five moderate issues. The exact nature of these patches can be found on Google's website.
There doesn't appear to be any bug fixes for Android 6.0 Marshmallow problems so those looking for a new bug fixer from Google will have to wait.
Android 6.0.1 Problems & Fixes
Remember, you might not want to download and install the update right when it arrives. Like the previous Android 6.0.1 build, this new Android 6.0.1 update could come with some problems of its own.
This is a small security update but we've seen small security updates wreck havoc on the Nexus 5 in the past. The August and September Nexus 5 updates are two examples.
We haven't heard about any major problems yet but it's still very early. You'll want to keep an eye on Google's Nexus Help Forum for feedback. We'll also post our first impressions when the update arrives.
If you're already dealing with issues or you're feeling leery, take a look at our list of common Android 6.0.1 problems and fixes. You'll also want to take a look at our guide that will take you through our pre-installation process.
What's Next
This is a monthly thing. This update is part of Google's monthly security update initiative and you can expect another update in February. Beyond that, it looks like the Nexus 5 could be getting a much bigger update later on this year.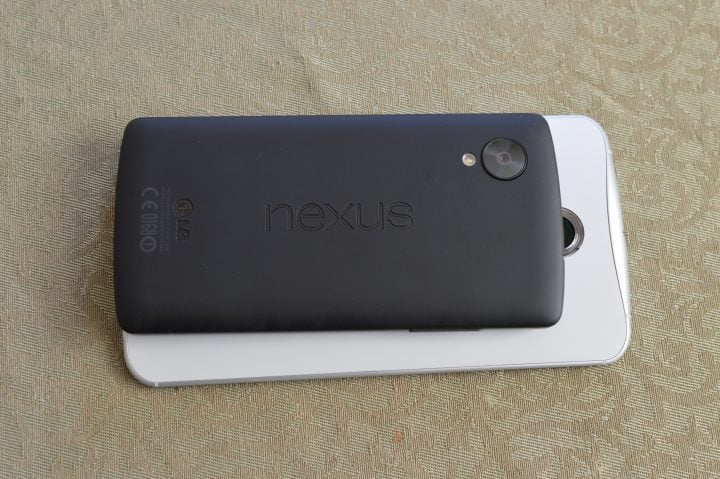 Sources claim that Google is planning an Android 6.1 update for 2016. Rumors put the Android 6.1 release date in June which means it could play a role at Google's annual developer conference. Last year's Android 5.1 update emerged much earlier. (February.)
Nexus 5 Android 6.0.1 Update: 5 Things to Know in April
April Nexus 5 Android 6.0.1Review
I've been using the Nexus 5 since the day it arrived in 2013 and the Nexus 5 Android 6.0.1 update since the day it arrived for my device in December. I've been digging into its performance for more than four months now and here's what I've found.
Google's current version of Android 6.0.1 Marshmallow (April security update) continues to deliver outstanding performance in key areas like battery life, UI speed, connectivity, and app performance.
I've seen some complaints about Doze and battery life but I haven't see anything out of the ordinary during my time with stock Android 6.0.1. The Nexus 5's battery continues to hold a solid charge and that's big for a device that's going to turn three years old later this year.
I've tested the device and its updates with three different routers and various Wi-Fi connections. I still haven't experienced any issues with range or speed. Bluetooth continues to excel and I've been able to pair it nicely with Bluetooth headsets and speakers.
The Nexus 5 is still fast at the four month mark. I haven't seen any odd lag or random stuttering during my time with its new April security update. Animations and transitions are all fast and fluid and opening apps is quick and painless.
Maybe the most important detail I can share is that I have yet to run into any experience-breaking problems with the April security update. Even the applications I use the most (Chrome, YouTube, Gmail) are performing at a high level.
It doesn't feel much different than the last security update which is to say that I'm still very satisfied with the device's performance.

As an Amazon Associate I earn from qualifying purchases.