Nexus 5 Cases Sneak Out Ahead of Release
The Nexus 5 isn't official but it looks like Nexus 5 cases have managed to sneak out ahead of its release date with Spigen cases now available to buy on Amazon with orders set to arrive as early as tomorrow for those that order today.
Nexus 5 rumors have been flying around for weeks now and while the Nexus 5 launch is thought to be close, possibly as close as October 31st, Google still hasn't sent out any invites or confirmed any launch dates for its new Nexus, the rumored Asus Nexus 10 or Android 4.4 KitKat, the update that while official, still doesn't have a release date.
We have, however, seen leaks, on Google Play no less, that point to a launch date and release date being right around the corner. Many people have likely already decided on the Nexus 5 as their next smartphone and for those willing to take the plunge, Nexus 5 accessories are now available to buy, ahead of the device's launch.
Spigen, a company that has been teasing Nexus 5 cases on Amazon for several weeks now, posted what appear to be official Nexus 5 cases on its website. The cases are clearly made for a device that resembles the Nexus 5 that has leaked out over and over again and they are available to ship by the end of October through Spigen's website.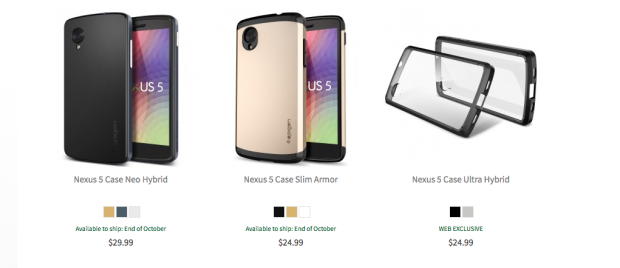 Those who look a little further though will notice that Amazon is currently taking orders for a hard matte Nexus 5 case. The case is labeled as in stock and will arrive for customers as soon as tomorrow.

Another Spigen Nexus 5 case that is available to order says that it will offer this to those that buy it today and get it delivered tomorrow:
Combination of TPU and Polycarbonate for dual protection from drops and scratches
Slim and form fitted to show the perfect shape of your device
Excellent grips to your hands
Advanced Shock Absorption Technology: Web Pattern TPU case
Compatible with Google Nexus 5 (2013)
As far as we can tell, this case can be ordered today and it will arrive ahead of the Nexus 5 itself. What we can't guarantee is that it will fit the actual Nexus 5 though Spigen's image there depicts a form factor that looks an awful lot like the Nexus 5 leaks.
Whatever the case may be, it's looking like these are going to be at least some of the Nexus 5 cases that Spigen offers for the Nexus 5, a far cry from the placeholder cases that we saw the manufacturer put up a few weeks ago.
These will likely only be a few of the Nexus 5 cases available to buyers at launch as we should see a number of other manufacturers release their own Nexus 5 cases. Just expect them to be released after the Nexus 5 arrives, not before.

As an Amazon Associate I earn from qualifying purchases.