Nexus 5 Deal Cuts Price Amidst Nexus 6 Rumors
A new Nexus 5 deal cuts a little bit off the device's stagnant price tag and offers consumers an attractive option amidst recent Nexus 6 rumors that point to a Nexus 6 release from Motorola later this year.
As we push towards the fall, Google's Nexus 5 remains the company's top Nexus smartphone. Thanks to an attractive set of specifications, updated software that now includes Android 4.4.4 KitKat, and a cheap unlocked price tag, the Nexus 5 is still one of the top Android smartphones that money can buy. Because it's so cheap, Google's asking price on the Google Play Store hasn't budged and Nexus 5 deals are few and far between.
That's what makes today's Nexus 5 deal so exciting. It's not a fire sale or anything close to it, but it does offer a discount on the U.S.-compatible LG-D820 Nexus 5 variant.
eBay is currently offering up a new Nexus 5 in black or red for $330. That's $20 off of its retail price. Again, the discount isn't huge but it does off some significant savings when you consider the fact that it comes with free shipping. Those buying through the Google Play Store are going to encounter fairly steep shipping fees so when you factor that in, eBay's deal is far more attractive.
It's not clear how long this Nexus 5 deal will last and it's also not clear how long the Nexus 5 will last on shelves. Last year, we saw Google pull the plug on the Nexus 4 in September ahead of the Nexus 5 launch and with the fall fast approaching and Nexus 6 rumors starting to swirl, we could see something similar happen to the Nexus 5 as Google works to finalize its plans.
A Nexus 6 looked dead in the water several weeks ago after the well-sourced evleaks suggested that the LG Nexus 6 was dead. However, rumors have sparked back up in recent weeks, just days after the head of the Nexus program went on record to dispel rumors of the program's death.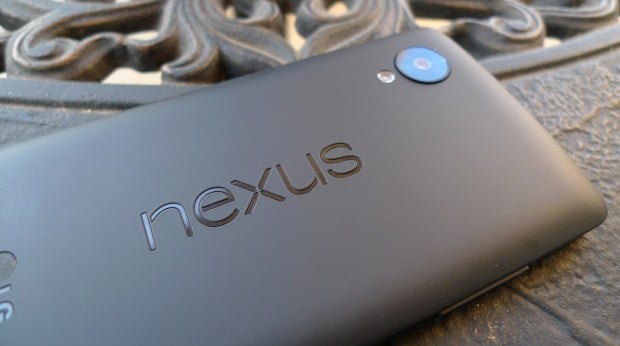 The Information and Android Police both suggest that Google is working on a new smartphone called "shamu." As we've pointed out many times in the past, Google likes to name its Nexus products after creatures that live in the sea which means that "shamu" could definitely be a new addition to Google's Nexus stable of devices.
Nexus 6 rumors are scarce, at least at the moment, though they point to several potential specs. Nexus 6 specs are thought to include a large QHD display, either 5.2-inches or 5.9-inches, a fingerprint sensor, a 2.6 GHz Snapdragon 805 Quad-core Processor with 3GB of RAM, 12-13MP rear-facing camera, 32GB ROM, 2.1MP front-facing camera, and NFC. The Nexus 6 is also expecting to run Android L, Google's brand new Android update that's rumored for release later this year.
For now, rumors point to a release late on in the year. Nexus 6 release date rumors specifically put the device's arrival inside of November. This fits in perfectly with Google's usual Nexus smartphone release window and it mirrors what we've heard about the Android L release date. Android L release rumors have put it inside Q4 alongside a Nexus 8 tablet from HTC.
We've seen rumors attempt to pinpoint Nexus 8 features ahead of launch. Nexus 8 rumors point to a high-end device with a zero-gap aluminum unibody design similar to the HTC One, an 8.9-inch 2048 x 1440 full HD display with a 4:3 aspect ratio, 4G LTE, 64-bit NVIDIA Logan 64-bit processor (Tegra K1), 8MP rear camera with Optical Image Stabilization, and a 3MP front-facing camera for video chatting.
So while the Nexus 7 and Nexus 5 remain the top dogs at Google, and cheap dogs at that, we could see replacements arrive in just a few short weeks as Google looks to keep pace with Apple.

As an Amazon Associate I earn from qualifying purchases.