Nexus 5 Deal Chops Price as Nexus 6 Release Looms
A brand new Nexus 5 deal chops the price of a new Nexus down and offers prospective Nexus smartphone buyers an alternative to waiting for the Nexus 6, a device that has made its presence known in recent days as Google gears up for the fall and a potential Nexus 6 release.
Almost a year later, the Nexus 5 remains on shelves as Google's top Nexus smartphone and the only Nexus smartphone sold through the Google Play Store. Thanks to solid hardware, updated software including Android 4.4.4 KitKat, and a price tag that has remained extremely cheap throughout its stay on Google's online portal.
Thanks to that cheap price tag, Nexus 5 deals have been fairly scarce though as we've pushed closer to the fall, we have seen new Nexus 5 deals pop up here and there tempting those that might be interested in a flagship running a stock version of Android.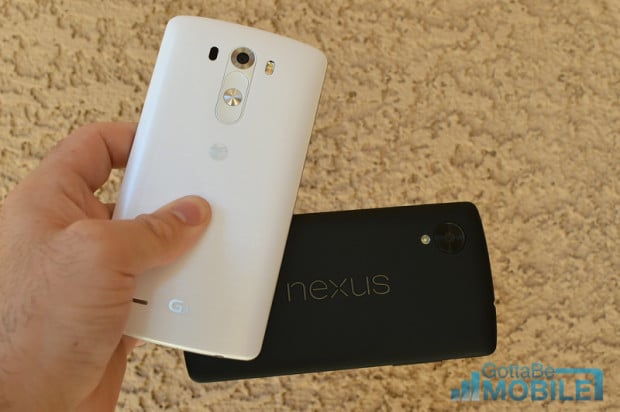 The latest Nexus 5 deal comes from eBay and it drops a new D820 version of the device down to $324.99. This is up there with the best Nexus 5 deals that we've seen. Not only does it shave $25 off the standard price of the unlocked Nexus 5, it comes with free shipping. Google charges quite a bit for shipping and handling making this a very attractive offer for those that have been thinking about pulling the trigger on a new Nexus 5.
Note that this is for the 16GB version of the Nexus 5 and not the 32GB model that is sits on the Google Play Store for $400 off-contract. The 16GB model is cheaper and commands a $350 price tag unlocked. By comparison, the 16GB iPhone 5s unlocked costs $650 through the Apple Store.
Google's flagship offers a beautiful 5-inch 1080p display, a speedy quad-core processor, solid 8MP camera with OIS, durable black matte design, Android 4.4.4 KitKat, and it will be getting Google's Android L update at some point down the road. It's still one of the best Android smartphones on the market though rumors suggest that it could be replaced later on this year by a brand new Nexus 6 from Motorola.
The Information and Android Police, both solid sources, agree that Google is working on a new smartphone called "shamu." As we've pointed out many times in the past, Google likes to name its Nexus products after creatures that live in the sea. For instance, the Nexus 5 is called hammerhead and the Nexus 4 is mako after the mako shark. In the past few days though, we've started to see more potential Nexus 6 details leak.
Motorola's version of the Nexus is expected to incorporate a fingerprint sensor into the design. Motorola was one of the first companies to offer a fingerprint sensor with a smartphone (Atrix 4G). Alleged Nexus 6 benchmarks point to a number of high-end features including:
2.6 GHz Snapdragon 805 Quad-core Processor with 3GB of RAM
5.2-inch 2560 x 1440 Quad-HD Display
32GB storage
12-13MP rear-facing camera
2.1MP front-facing camera
Android L
WiFi, Bluetooth, GPS, NFC, and more
Android Police and The Information claim that "Shamu" will be a "phablet" with a screen as large as 5.9-inches, something that contradicts these supposed Nexus 6 benchmarks.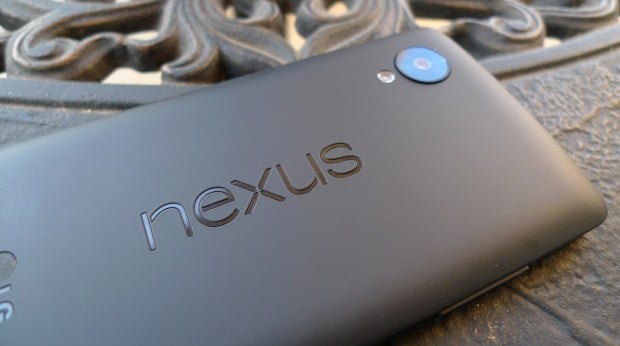 Early Nexus 6 release date rumors put the release inside of November. This fits in perfectly with Google's usual Nexus release window and it mirrors what we've heard about the Android L release. Android L, Google's next Android update, is rumored to be coming out alongside the Nexus 8 tablet in the third or fourth quarter.
PhoneArena claims that the Nexus 6 release will be released in and around Halloween without any sort of announcement. This would mirror what Google did last year with the Nexus 5, a device that emerged without a ton of fanfare late in the year. This seems a bit strange given what Google supposedly has on tap for 2014 (Android L, Nexus 9, Nexus 6) and given the competition that it faces (iPhone 6, Galaxy Note 4, others).
For now, the Nexus 5 remains top dog on the Google Play Store though from the look of things, its days could be numbered.

This article may contain affiliate links. Click here for more details.