Nexus 5 Pre-Orders Start Ahead of Launch
Google still hasn't confirmed the Nexus 5 smartphone but it appears that at least one company in Japan has started Nexus 5 pre-orders ahead of launch, offering buyers a chance to throw down money for a device that has leaked numerous times already but still hasn't been announced.
Nexus 5 rumors have been swirling in recent weeks with leaks taking place on a near daily basis. Those leaks have all but confirmed the Nexus 5 features and they point to a launch event taking place within the next few weeks as Google looks to replace the discontinued Nexus 4. The device still doesn't have a launch date but that hasn't stopped one Japanese retailer from taking pre-orders for the unannounced Nexus 5.
Redstar announced that it is now taking pre-orders for the Nexus 5 in Japan, calling it the the "world's fastest acceptance" for the device which it says still has a tentative name. The site redirects to a company called Gecko and Co. which claims that it will be taking SIM-free pre-orders for a Nexus 5 starting today. The company says that it expects the device to ship on November 14th though it's not clear if that date is based on internal information or if it's simply guesswork based on last year's Nexus 4 release which took place around the same time. The latter seems more likely.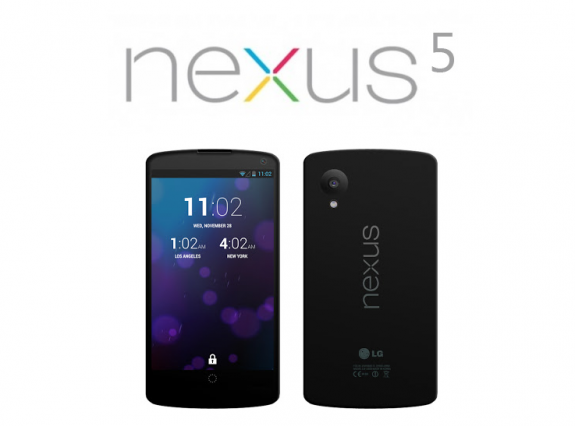 The company lists pricing for both the 16GB and 32GB Nexus 5 models claiming that it will be selling them for 44,600 yen and 49,800 yen respectively. That's the equivalent of $459 U.S. and $512 U.S. dollars. Neither of those prices is likely to stick in the United States where the Nexus 5 is rumored to cost $299 for the 16GB model and $399 for the 32GB model.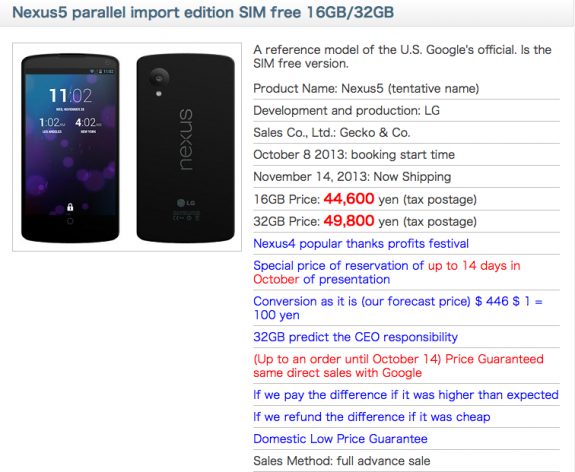 It's not clear if Google will be taking pre-orders for the Nexus 5 once it's official. The Nexus 4 was not available to pre-order through Google and neither was this year's Nexus 7 tablet. So it could be that consumers will have to rely on third-party pre-orders like this one in order to secure a device ahead of release day.
The Nexus 5 is rumored to be coming with hefty specifications including a 5-inch 1080p display, quad-core Snapdragon 800 processor, 8MP camera with OIS (Optical Image Stabilization) and Android 4.4 KitKat.

As an Amazon Associate I earn from qualifying purchases.