Nexus 5 Ready for Release
The Nexus 5 is ready for its release as a pre-registration page at Wind Mobile has confirmed the device's specs and new photos seemingly show the device sitting in an LG warehouse in Canada, waiting for Google to give it the green light.
It's clear that the Nexus 5 release date is imminent but for whatever reason, Google still hasn't announced the device. Thanks to leaks, November 1st is looking like it could be the day that the Nexus 5 is announced, or goes on sale, and recent leaks seem to back that up.
Earlier today, we saw the Nexus 5 show up in the inventory system at Carphone Warehouse, a sign that a launch is imminent. Now, two more leaks are backing up that imminent launch as Wind Mobile in Canada posted a Nexus 5 pre-registration signup page that revealed all of the Nexus 5's specifications before pulling it down. In addition, it appears that the Nexus 5 has been spotted lurking inside of an LG warehouse in Canada.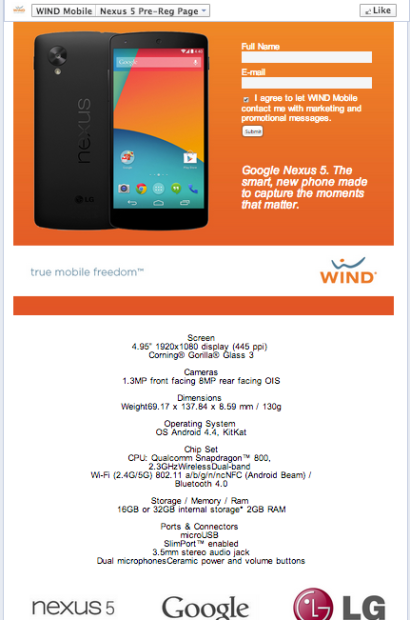 In a photo shared by a user on Neogaf, an alleged Nexus 5 sits inside of a warehouse. A close up of the box shows a design that is similar to the one that we saw leak out a few short days ago. A reverse image search has not revealed any similarities so while we can't confirm the authenticity of the images, it looks like these could be the real deal.
At the very least, the pre-registration page from Wind Mobile certainly is a sign that the Nexus 5 is ready for a release date. Of course, many would argue that the Nexus 5 has been ready for a release for quite some time. For weeks now, rumors have pinpointed just about every single piece of information about the Nexus 5, except for its launch date and release date. The device has even managed to leak out on Google's Play Store.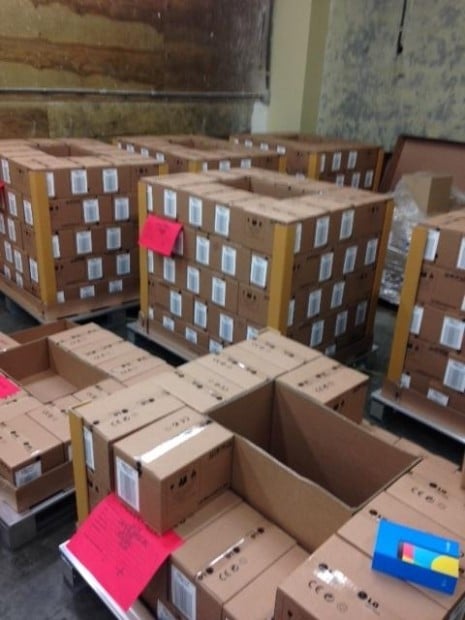 It's not clear what is holding Google back but it could be that the company is making sure that it has ample supply ready for the busy holiday season. Last year, the company grossly underestimated Nexus 4 demand which led to a sell out that made the device virtually impossible to find, at least for cheap, during the holidays and beyond.
Google's Nexus 5 is expected to up the ante with 4G LTE data speeds, a brand new 5-inch 1080p display, quad-core Snapdragon 800 processor, 8MP camera with OIS (Optical Image Stabilization) and Android 4.4 KitKat. It's also expected to be joined by an Asus-made Nexus 10 to replace the Samsung Nexus 10 that is on the Google Play Store right now.

This article may contain affiliate links. Click here for more details.