Nexus 5 Release Date: What to Expect
Google isn't talking about the Nexus 5 just yet but the rest of the world certainly is, thanks to numerous leaks that have emerged in recent weeks in regard to the Nexus 4 successor. The device, which is rumored to be launching within the month of October, is likely going to be released sometime before the end of the year. Here, ahead of its release, we take a close look at the Nexus 5 release date.
Over the past few months, consumers have become privy to Google's plans for a new Nexus smartphone. What started as a simple leak inside of an Android 4.4 KitKat promotional video has spiraled into a whirlwind of rumors, speculation and leaks that have not only all but confirmed Google's plans to release a new Nexus device but also revealed just about every bit of information there is to know about it.
Thanks to a wealth of leaks, it has become clear that the Nexus 5 is going to sport a 5-inch 1080p display, up from the 720p display on the Nexus 4. It's said to have a Qualcomm Snapdragon 800 processor, an 8MP camera with Optical Image Stabilization, Android 4.4 KitKat, and a sleek new design that appears to be modeled after the Nexus 7. On paper, this is a device that many consumers are waiting for and from the looks of things, they should have their device in the near future.
Rumors, credible ones, suggest that the device will, at the very least, launch sometime this month. October 15th has been singled out as a possible date for the Nexus 5's arrival. We've also heard that it may arrive at the end of October. Whatever the case, October is likely going to see a Nexus 5 launch from Google.
At that launch, we expect the company to detail the device's features, its carriers, its price tag and yes, its release date. Google, like Apple, is in the habit of offering specific release dates at its events and thus, we could learn of the Nexus 5's release date in just a few short days. Ahead of the Nexus 5 launch, here is what we expect from the upcoming Nexus 5 release date.
Nexus 5 Release Date Before Mid-November
All signs are pointing to a Nexus 5 launch date in October. It's not set in stone, but the right people are saying that a launch is going to happen so it's safe to assume that something is up Google's sleeve for this month. It helps that the last two Nexus smartphones, the Nexus 4 and the Galaxy Nexus, were both launched in October.
As we mentioned, Google typically announces specific release dates for its Nexus products at their launch events. It also typically gets them out within a few weeks of the event. What this means is that we expect the Nexus 5 release date to land sometime before the middle of November. If it's announced on October 15th, perhaps it will land on October 31st, Halloween. Remember, Google is partnering with Nestle with Android 4.4 KitKat, the Nexus 5's software, and we could see KitKat bars have the Android 4.4 update and the Nexus plastered on them. Halloween is a perfect way to promote their arrival.
If its announced in late October, we'd imagine that the device would be out somewhere in early November, before November 15th. The longest Google is likely to take is about two weeks. With Black Friday and the holiday shopping season coming up, and the Nexus 5 likely to be joined by an iPad 5 competitor in the Nexus 10, Google will want to get its products onto shelves with ample time to spare. Black Friday is November 29th, we expect the Nexus 5 to be released well in advance of that date.
Google to Stick to a Date
Back in July, Google announced a specific release date for the Nexus 7 tablet but it wound up releasing the device ahead of the schedule, a few days before the announced release date. With the Nexus 5, we fully expected Google to announce a date and stick to it, and not pull any fast ones with those looking to buy the new smartphone.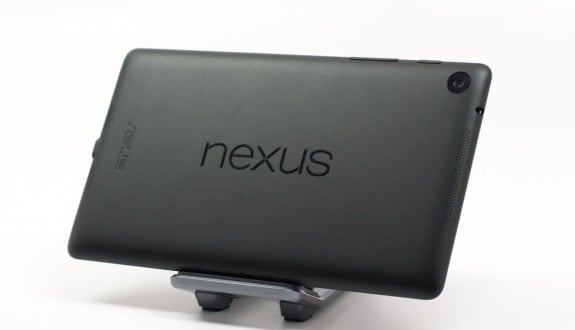 Our reasoning is this. The demand for the Nexus 5 is going to be a lot higher because it's a smartphone. There is going to be a ton of anticipation. And it would be extremely strange to see Google announce a date and then pull the ground out from underneath those who have planned to buy the device on a certain date, at a certain time.
So, expect Google to announce a date in the United States, stick with that date so as not to confuse or frustrate a user base that still remembers the horrific Nexus 4 launch.
Orders in the Morning
Apple generally puts its devices on sale at midnight the day they go on sale. It doesn't matter if it's pre-orders or general sales, Apple loves to put the devices on sale late at night. Google, does not. Typically, it puts its devices on sale the morning of the release date and that's what we expect to occur with the Nexus 5 when its release date arrives.
Consumers should expect the Nexus 5 to go on sale in the morning, PST. Doesn't matter if it's a pre-sale or a general sale, we expect Google to start taking orders at a more reasonable hour than Apple launches. While we can't predict a specific time, we wouldn't be shocked to see sales start somewhere between 7AM and 10AM PST on its release date.
Google Play Store Issues
The Nexus 5 is going to be a major release with tons of demand in the United States and around the world and we expect the Google Play Store to get hammered with foot traffic on the Nexus 5 release date. The Nexus 7 launch in July went off without a hitch and we suspect that happened for several reasons. One, demand wasn't through the roof. Two, Google made back end improvements to its website to ensure that there wouldn't be a meltdown even if there was huge demand. And three, it had a ton of supply.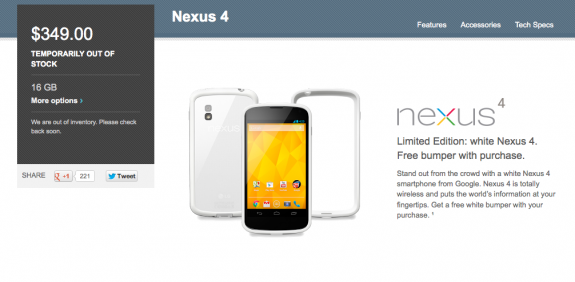 We expect the Nexus 5 to command a lot more demand but we also expect Google's website to do a much better job of containing it. That doesn't mean that there won't be issues on the Google Play Store on release day though.
Nexus 5 buyers will likely encounter some issues when placing an order, whether it's initial lag when the device goes on sale, or an order that gets fouled up in the ordering process, there are going to be some problems. There always are. The better prepared Nexus 5 buyers are going to be the ones that escape without dealing with major problems so we highly suggest having all of the pertinent information (credit card, Google log ins, etc) ready when the device goes on sale. It might even help to do a dry run through the Google Play Store right now.
A Major Sell Out
The Nexus 4 launch was nothing short of a chaos. Buyers encountered site issues, orders weren't messed up and worst of all, the device sold out until February thanks to a lack of supply. LG and Google both blamed each other but it's clear that someone underestimated the demand for the Nexus 4. That won't happen with the Nexus 5.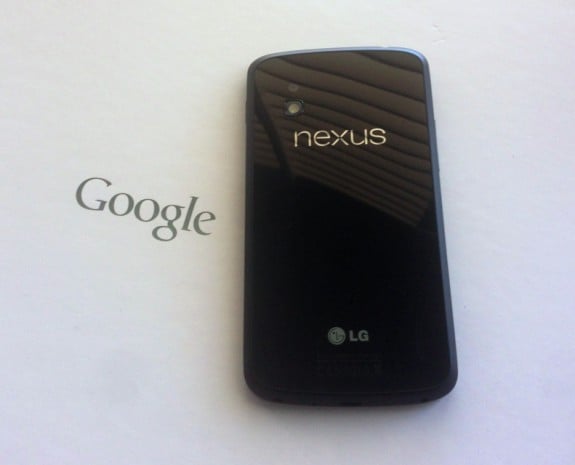 Google likely, and hopefully, learned its lesson and is properly prepared this time around. We expect it to be as it won't want to miss the holiday shopping season this time around. That said, we wouldn't be surprised to see shipping times, at least the initial ones, get pushed back a bit on day one. Perhaps, we see a minor sell out but not a major one. A major sell out that pushes shipping times into 2014 would be disastrous for Nexus 5 owners and for Google which is going to be competing against the iPhone 5s, iPhone 5c and many other big name smartphones.
Retail Options Besides Google
The Nexus 4 saw an extremely limited release. It arrived on the Google Play Store and at T-Mobile but it didn't land in retailers like Best Buy until much later. We think that will change, a bit, with the Nexus 5.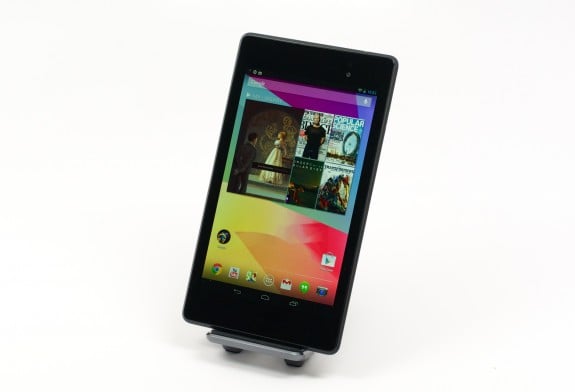 First of all, it's rumored for AT&T, T-Mobile and Sprint and thus, we wouldn't be surprised if a carrier or two released the device into its retail stores. We also wouldn't be surprised if Google used a Nexus 7 approach and pushed the device into several different retailers in an effort to allow buyers to go hands on. Many Nexus 4 buyers had to buy the device blindly.
We're not expecting it to land in a ton of retail locations but we do expect there to be options outside of the Google Play Store.