Nexus 5 Service Manual Leaks with Talk of 8MP OIS Camera and 32GB
While recently leaked pictures and a few rumors have painted a clear picture for the upcoming Google Nexus 5 they have been just that, rumors. This weekend however a leaked service manual of LG's Nexus smartphone courtesy of Android Police is reportedly sharing all the important information. Previous reports were only rumors but a service manual with over 280 pages of details is a bit more concrete.
Most of the leaked manual is quite technical with assemble and disassemble instructions, as well as flow charts and pictures of the processor, but the important details were also included. Those being all the specs we've seen countless rumors on in the recent past. Between the FCC filing, Android 4.4 KitKat video and now this, the specifications are all starting to fully come together.
The upcoming Google smartphone has been spotted multiple times already, but these files are giving us a few additional details on top of everything we already knew. While the files have been removed at LG's request, there's still plenty of information at hand. A few examples being the dual-stereo speakers on bottom, and the uniquely designed round earpiece speaker on the top front.
The LG Nexus 5 specs in this leak revealed the finer details we've been waiting for. Confirming the display size is 4.95-inches with a 1080p resolution, and that 8 megapixel camera will actually feature OIS (optical image stabilization) just like the LG G2. Along with this we've also learned there will be options for both 16 and 32GB of storage. Rather than the 8/16GB combo Google used with the Nexus 4.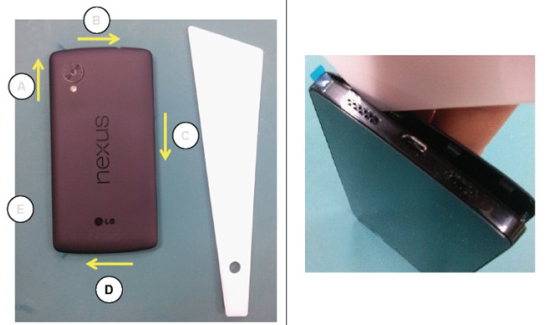 Then other specs have once again been confirmed here with talks of a quad-core Snapdragon 800 processor at 2.3 GHz and 2GB of RAM for improved multitasking. The leaked manual also confirms the battery will in fact only be 2,300 mAh, but Google will be including wireless charging with the Nexus 5. Then of course we have Bluetooth 4.0, NFC, and 4G LTE on board, although Verizon doesn't appear to be included.
Everything else you need to know about the Nexus 5 and its October announcement and release date can be found in our Nexus 5 Rumor Round-up.

As an Amazon Associate I earn from qualifying purchases.