Nexus 5 vs. Nexus 6: Concept Teases Larger Screen
A new HTC Nexus 6 concept features a large Samsung Galaxy Note sized display and shows us what a 5.7-inch Nexus 6 would look like next to the current Nexus smartphone, the Nexus 5.
As we move deeper into the new year, we're starting to hear more and more about rumored smartphones that companies have planned for consumers. iPhone 6 and Samsung Galaxy Note 4 rumors have been incessant and we've started to hear a little bit about the next Nexus smartphone that Google has planned, a device that could potentially bring the Nexus era to a close.
Nexus 6 rumors remain scarce though they have hinted at the device's manufacturer, its release date and some of its potential features. While we wait for Nexus 6 rumors to firm up, designers are taking it upon themselves to create their own versions of the next Nexus smartphone. Without much to go on, these designers have been forced to dream up their own ideas that aren't based on reality but are instead based on their own wish lists.
The latest Nexus 6 concept is one that was discovered by Concept-Phones. The device is far different than some of the other Nexus 6 concepts that we've seen emerge and it shows off a Nexus 6 that sports a massive Galaxy Note-sized 5.7-inch display. To show just how big the device is, the designer has put it next to a render of the current Nexus, the Nexus 5, a device that sports a smaller five inch display.
This new Nexus 6 concept features a design that is quite similar to the Nexus 5's plastic matte material that makes the device durable and easy to hold with one hand. It also comes with a camera sensor that has been shifted to the middle of the smartphone. The concept features an HTC logo and the camera placement is reminiscent of the sensor found on the HTC One M8, HTC's current flagship smartphone.
While the concept is nice, it's not based on any of the recent Nexus 6 rumors that we've seen emerge well ahead of launch. The Nexus 6 is expected to be built by LG, the company that developed the Nexus 4 and Nexus 5, and not HTC. While HTC is rumored to be developing the rumored Nexus 8 tablet, we haven't seen anything point to it being involved in this year's Nexus smartphone.
Nexus 6 rumors also suggest that the device will be based, at least in part, on the LG G3 that is set to arrive later on this month. The LG G3 is expected to deliver a QHD display that's a little smaller than the one seen here. Here are the features that are expected to arrive on the LG G3 in late May:
LG G3 Specs (Rumored)
5.5-inch 2560 x 1440 Quad-HD display
2.5 GHz Quad-core Snapdragon 805 processor
2-3GB of RAM
16 and 32GB storage options, and micro-SD support
16-20 megapixel rear camera with OIS, 2MP front camera
Android 4.4.2 KitKat
3,300 mAh battery
Dual stereo speakers
Android Geeks says that the Nexus 6 will come with a fingerprint reader, just like the iPhone 5s and Galaxy S5, but it's not clear how Google and its Nexus manufacturer will implement it. Both the iPhone 5s and Galaxy S5 have a sensor embedded in their home buttons. The Nexus 4 and Nexus 5 did not feature physical home buttons.
Another rumor out of Asia suggests that Google's Nexus could use a 64-bit MediaTek processor. The report says that the processor could be quad-core or octa-core. This type of processing power would put the Nexus 6 on par with devices like the iPhone 5s. The iPhone 5s utilizes a 64-bit A7 processor.
Unfortunately, consumers likely have a long way to go before the real Nexus 6 makes an appearance. Earlier this year, Android head Sundar Pichai confirmed that a new Nexus smartphone would not arrive in the first half of the year. The rumor was unsurprising considering Nexus smartphones tend to launch in October and hit shelves in November.
Pichai's comments have been backed up by a series of rumors that suggest that the Nexus 6 will land by the end of October though specific release dates remain out of reach likely because they do not exist yet.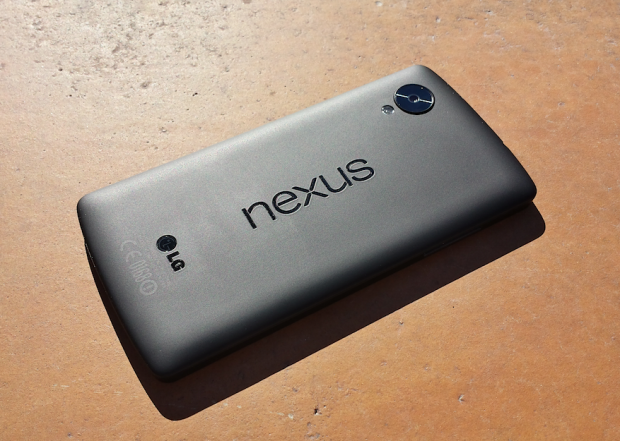 It's not clear how a Nexus 6 would impact the current Nexus 5. Last year, Google killed off the Nexus 4 in September, several weeks before the Nexus 5's arrival. Google announced the Nexus 5 on Halloween and released it a few days later where it joined several Google Play Edition devices on shelves including the Moto G and Galaxy S4.
Nexus rumors assert that the Nexus 6 could be the last Nexus-branded smartphone from Google. Reports suggest that Google could be ditching the Nexus program in favor of something called Android Silver.
Android Silver will evidently be aimed at the high-end market, targeting Apple's iPhone. It will reportedly be open to several manufacturers which means that we could see several different devices on shelves at once. In other words, it opens the door for an HTC-branded Nexus-like smartphone like the one seen here.

This article may contain affiliate links. Click here for more details.