Nexus 5 vs Nexus 6 (Rumored)
When it comes to buying a smartphone consumers have a lot of choices these days, especially if you're in the market for an Android device. The Nexus 5 has been available for almost a year, but it's about to be replaced by its successor in the Nexus 6.
All the final details have yet to finally be confirmed or announced regarding Google's new Motorola-built Nexus 6, but for those wondering if they should get the Nexus 5 now while good deals are to be had, or to wait for the Nexus 6, we have all the details below.
Read: Nexus 6 Release Date and Price Rumored
Last year Google announced the Nexus 5 on October 31st and released it a few weeks later. The same type of scenario is apparently set for 2014 with an all-new Nexus 6, Nexus 9, and the newest Android 4.5 or 5.0 L release software update. Google has big plans this fall, and you'll want to know everything about both of these phones before making a purchase, especially considering the rumors of a 5.92-inch Nexus 6.
The past few months have been filled with reports and rumors of a new Nexus 6 coming. Possibly as soon as late next week with a rumored October 15th announcement and November release. However, the new Nexus 6 reportedly will have a massive 5.92-inch display. A size that's bigger than the LG G3, Galaxy Note 3, and even the new Galaxy Note 4 coming out next week.
This has turned many buyers off from what we've been hearing in our inbox, and seeing on Twitter. While the Galaxy Note series is extremely popular for the large screen "phablet" experience, it isn't for everyone. That said, the new Nexus 6 has a lot more to offer than just a bigger screen, enough that prospective buyers should give it a second look even if that screen size is worrisome.
Read: Nexus 6 Rumors: What We Know So Far
Over the past few weeks, we've gotten a good look at what could be the Motorola Nexus 6, a device that's codenamed "Shamu." Android Police recently leaked a number of key details including a render of what the Nexus 6 may look like. That render shows a large smartphone running Android L and a form factor that differs from the current Nexus smartphone.
While we wait for Google to make an announcement, enthusiasts are taking it upon themselves to deliver early comparisons to current devices. One user on Reddit was able to figure out the Nexus 6′s potential size. He then compared that potential size to the dimensions of the Samsung Galaxy Note 4 and the iPhone 6 Plus. We'll start with that, then break down the rest of the details below.
Based on the image above, the Nexus 6 will actually be the smaller of these device, all while offering a bigger display at the same time. While it's too early to say what the Nexus 6 will offer, simply because it has yet to be announced, we have a pretty good idea of what to expect and hopefully can help prospective buyers decide which of these two phones is right for them.
Display
First up is the display, which may be one of the most important factors of the new Nexus smartphone. Previous versions were all 5-inches or smaller, but this year Google took a major leap and went straight for phablet territory and the new Nexus 6 will be nearly 6-inches. Rumor has it the display is a 5.92-inch screen with an impressive 2560 x 1440 Quad-HD display. Each Nexus before it received small increases, like 4.7 to 5.0 on the Nexus 4 and 5, but the Nexus 6 is making a big leap.
It's this, that has many buyers worried. That's a big phone, and you're right in being worried. That being said, Motorola (who's rumored to be building the Nexus) has sleek bezels around the display, small chins on the top and bottom, and have managed to keep the overall size quite small. Here's a leaked photo of what it could look like, and then two actual photos that surfaced last week.
Compare that to the 5-inch 1080p HD display on the Nexus 5, and buyers have a tough choice. The Nexus 5 display is still big, vibrant, and 1080p which matches most of the competition like the iPhone 6, so you can't really go wrong with either option. However, a bigger screen gives you more opportunity, so take it as you will.
With rumors of a new multi-window or dual-window more for two apps running simultaneously in Android L, a bigger screen could be extremely useful, and we welcome the change, even if it may be too big to use with one hand.
Design
Another big change is the design. All Nexus devices have been built of plastic, rather lightweight, and not the most durable or attractive looking devices. They aren't flashy, but that's not a bad thing either. The new Nexus 6 has a few big changes that will make it stand out. For one, it's rumored to have aluminum around the entire outer edge like the new Moto X for an improved look, better design, and improved durability.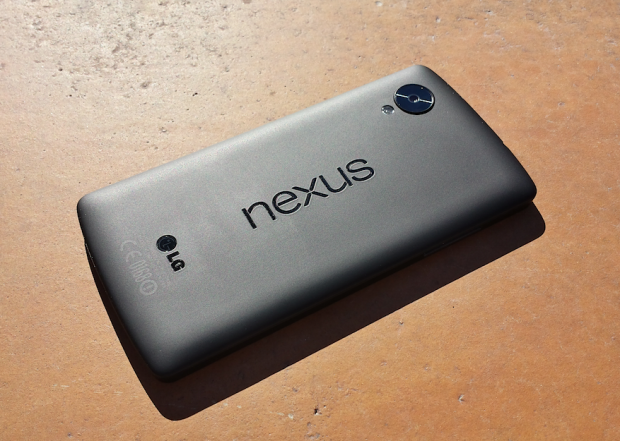 Motorola's Nexus 6 will also feature a front-facing speaker, a first for the Nexus lineup and one we've been waiting a few years for. These are two key changes, aside from the huge screen, that will make the Nexus 6 an excellent smartphone.
That aside, we're expecting the same soft touch matte black plastic design for the rest of the device, just like the Nexus 5 and Nexus 7 available today. Rumor has it the same design theme will be present in the Nexus 6 and 9 as we received last year. Matte black, big Nexus branding, and a small Moto dimple in the back.
There is nothing wrong with the Nexus 5 design, although it could be thinner and have better speakers, but there's no reason a buyer should skip it. It still has tons to offer, even if a better model is about to arrive.
Specs
The Nexus 6 is going to be one powerful smartphone with tons of new features thanks to Android L, and a few other things. While specs aren't everything, some like the cold hard numbers, so here they are.
Nexus 6 (Rumored)
5.92-inch 2560 x 1440 Quad-HD Display
2.7 GHz Quad-Core Snapdragon 805 processor with 3GB of RAM
32GB internal storage
Android 5.0 "L Release" (64-bit support)
13 Megapixel camera with OIS, 2.1 front camera
Dual Ring Flash similar to Moto X
Front Facing Speaker (bottom, look close)
Aluminum frame around device like the new Moto X 2014
3,200 mAh battery
Nexus 5 Specs
5.0-inch 1920 x 1080p Full HD Display
2.3 GHz Snapdragon 800 Quad-core with 2GB of RAM
16/32GB internal storage
Android 4.4.4 KitKat (will get Android L ASAP)
8 Megapixel camera with OIS, 1.3 front shooter (single LED flash)
Bottom facing speaker
Plastic design
2,300 mAh battery
Now there are a few important things to see here aside from the bigger and better display. The Nexus 6 will have a much improved camera with a dual flash system, a front facing speaker, aluminum bezels, and a huge battery. This has been a major downfall for the Nexus lineup, poor battery life, but the Nexus 6 will finally get it together.
As a comparison the Nexus 5 battery is small at 2,300. This is smaller than the HTC One M8, the 2,800 mAh Galaxy S5 battery, or the 3,000 mAh battery inside the LG G3. Google's finally rumored to have a big battery inside this Nexus, but then again, we've heard that before.
Software
Google's all-new Nexus 6 is going to debut with its latest mobile operating system update, which is for now being called the Android L release. Most likely Android 5.0 is the name, and it will be accompanied by an L-titled dessert like Lollipop, Layer Cake, Licorice, or anything else Google decides on.
Software isn't really a concern with this vs, as both will receive quick and timely update. Being a Nexus device, the Nexus 5 will likely get an upgrade to Android 5.0 L within 2 weeks of the release date. In fact, it already runs the Android L beta that was released back in June, so we can expect a smooth and quick update.
Here's a quick and very early look at the next version of Android in beta form.
Being a year newer the Nexus 6 will be supported by Google for a little while longer, but these days developers keep all Nexus devices up to date quite well, and software won't be an issue between these two devices. You won't have to choose one vs the other for software features.
Camera
One major flaw of the Nexus 5 was the camera. While some claim it's excellent, we've never achieved results that were very satisfying for an 8 megapixel camera with optical image stabilization. The 8MP shooter in the iPhone blows it away, and most 13 and 16 megapixel Android phones these days do too.
Google issued many updates to improve the camera too, which helped, but only so much can be done with software. The new Nexus 6 should employ a 13 megapixel camera with optical image stabilization and be much improved from last year. If the camera is something you consider heavily while buying a new phone, the Nexus 6 will be a better move over the aging Nexus 5.
Price
Android enthusiasts and Nexus fans know what they're getting into when they buy a Nexus device, so there's not too much we need to discuss here aside from what's been said above. However, price may be a big factor this time around considering the major upgrade.
Yesterday a few rumors arrived suggesting Google may increase the Nexus 6 to $449 and $499, vs the $349 and $399 price tag on the current Nexus 5. This makes sense given the increase in specs across the board, but then again Motorola's been making some of the most wallet-friendly smartphones for the past two years.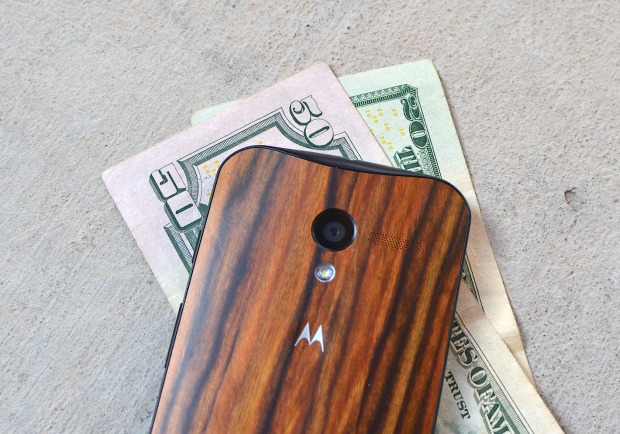 It's hard to say exactly what to expect, given everything we know so far are based on leaks, reports, and rumors. That being said, expect the Nexus 6 to cost more than the model before it, just hopefully not too much more.
Release Date
The Nexus 6 release date is still somewhat of a mystery for now, but we've heard over five different sources all claim it will be announced in October, and released either this month or within the first week of November.
Did I say Nexus announce for the 16th? Obviously I meant the 15th… <cough>

— Paul O'Brien (@PaulOBrien) October 9, 2014
Above, is a tweet from a popular Android developer who's been accurate with leaked information in the past. His anonymous sources confirm the new HTC Nexus 9 tablet will be launched on October 15th, and officially released and available to buy at a later date. This has also been rumored as the release date for the Nexus 6.
However, another report from AndroidAuthority claims October 15th or 16th, as the date isn't final. They also claim this is a launch date only, and an actual "release date" isn't until November 1st.
The biggest news though comes from the Wall Street Journal, who claims it will be announced and released inside of the month of October. Meaning within the next few weeks. Stay tuned guys!
Final Thoughts
Like we said above, there's nothing else buyers really need to know when it comes to getting a Nexus. We know it will run pure stock Android, offer timely updates, and likely never support Verizon Wireless. They usually are GSM-only phones (like AT&T, T-Mobile, and most other regions) but we have heard a few small whispers of a Verizon Nexus 6 this year. But we won't be holding out breath.
What it all comes down to is whether or not users are interested in a device with a large 5.92-inch display, and if you're willing to pay what will likely be a higher price tag for the new Nexus 6.