Nexus 5X & Nexus 6P Release: 3 New Details Emerge
When Google put the new Nexus 5X and Nexus 6P smartphones up for pre-order late last month they weren't ready to share any exact details regarding a release date, but now as the Nexus 5X and Nexus 6P release nears, more details have started to emerge. We now have an exact date so buyers know exactly what to expect.
At the end of September Google finally silenced all the rumors by releasing not one, but two brand new smartphones for 2015. A smaller 5.2-inch LG Nexus 5X, and a big all aluminum and premium 5.7-inch Nexus 6P to replace last years Nexus 6. Both phones have plenty to offer and went up for pre-order the same day, but buyers have been in the dark regarding an actual release date.
Read: Nexus 5X Release Date Breakdown
If the latest leaks, rumors, and official listings on the Google Store are any indication, some users could start receiving the new Nexus 6P as early as Wednesday, October 14th, and it looks like the Nexus 5X will be released on October 22nd. Read on for all the details.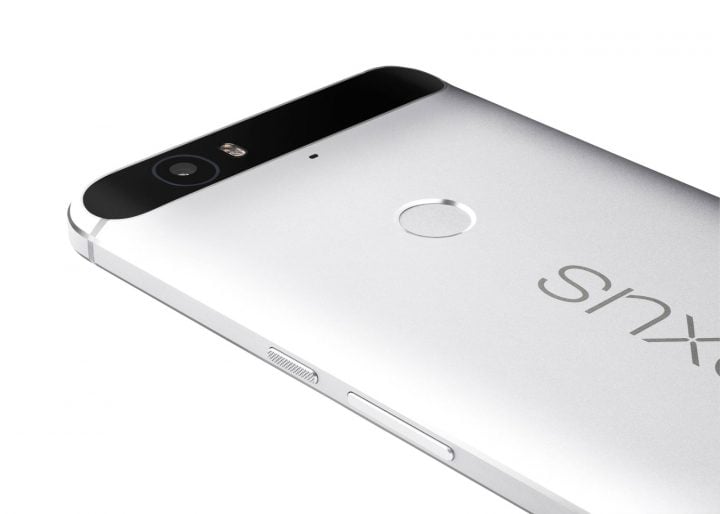 On September 29th Google had a small event in California to announce the latest Android 6.0 Marshmallow software update, and started rolling it out to all current Nexus smartphones and tablets the following Monday, on October 5th. However, the most exciting part of the event was two new phones.
In an attempt to better take on Apple and Samsung, this year Google too, is pushing a two-device strategy. Rather than one massive Nexus 6 like last year that was too big for most, and extremely expensive, this year buyers have two excellent wallet-friendly options to consider.
As you all probably know by now, Google announced another Nexus made by LG and one made by the Chinese manufacturer Huawei. A first for any Nexus smartphone or tablet.
Read: Nexus 5X & Nexus 6P Details Frustrate Buyers
When the Nexus 5X and Nexus 6P went up for pre-order on the Google Play Store the release date was extremely vague. Google listed the Nexus 5X as "leaving the warehouse in 3-4 weeks" and the Nexus 6P had a similar time-frame, stating it would "leave the warehouse in 4-5 weeks". Those were the only details given last month, but with the release date near, more details have emerged that should have buyers at ease.
Nexus 5X Release Date
Of course the actual release date could vary, especially given the wording, and those who pre-ordered on the first day should receive their devices first, with others possibly seeing a later arrival.
That being said, this weekend the Google Store changed from "3-4 weeks" to leaves the warehouse by October 22nd. This means they'll ship on (or possibly before) October 22nd for buyers. Those who chose 1-day shipping will have them earlier than many expected, and roughly right on schedule with the initial 3-4 week promise.
For now that's all the details we have, which has been confirmed by the Google Store itself. We've reached out to Google for further information, and will update once we learn more. Some users pre-order page now says order confirmed, and have exact ship dates, so be sure to check the Google Store order history yourself. That aside, we still don't have an exact date.
Nexus 6P Release Date
Initially we thought the Huawei Nexus 6P and its beautiful all aluminum design would arrive later than the Nexus 5X, as the Google Store had a longer wait time than the Nexus 5X. However, it too changed on the Play Store, and some leaked materials from Sprint suggests some could have the Nexus 6P as early as October 14th.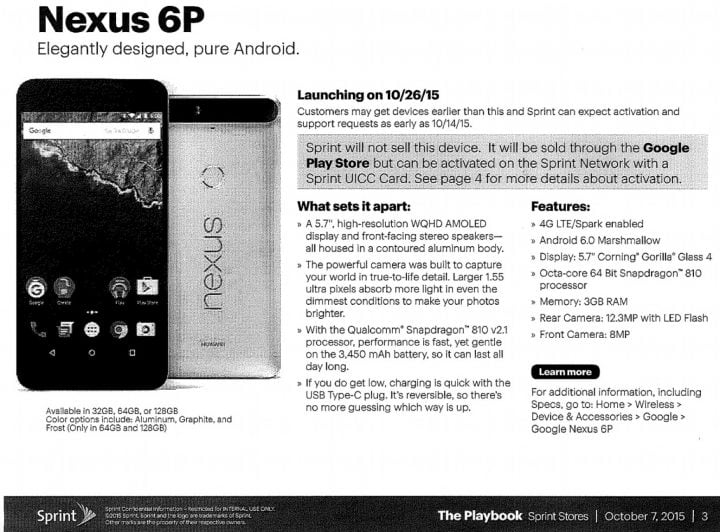 Shown above is a copy of leaked internal documents from Sprint, a large US carrier, clearly stating the Nexus 6P release date is October 26th. However, it also states that some users could receive their phones as early as October 14th (this Wednesday) and the carrier will be ready to activate devices in-store, on that date.
This is actually warning Sprint employees that some users will have them on the 14th, and be requesting activation. This is all somewhat confusing, but could be due to a wide array of things. Google will be sending review units out to press, the Google Store could ship earlier than the 4-5 weeks estimate, and Huawei is selling the Nexus 6P themselves as well, aside from Google.
For now it's too early to tell, but before the end of the week we'll likely have a much better idea regarding what to expect, and when to expect these new Android 6.0 Marshmallow powered smartphones to arrive.
It's worth noting that the Nexus 5X and Nexus 6P will not be sold by any carriers in the United States. However, both phones support all major carriers. Including Verizon, AT&T, T-Mobile, Sprint, US Cellular, and smaller regional carriers. All users need is an activated SIM, and they should work out of the box.
Nexus 6P Sold Out
Google's Nexus 6P went up for pre-order the same day it was announced, which was September 29th, and in less than two weeks it's almost completely sold out. The Nexus 6P is the first premium all aluminum Nexus, and the first to offer 128GB of storage as well. As a result, it's extremely popular, and those who waited to order may be in for a long wait and some bad news.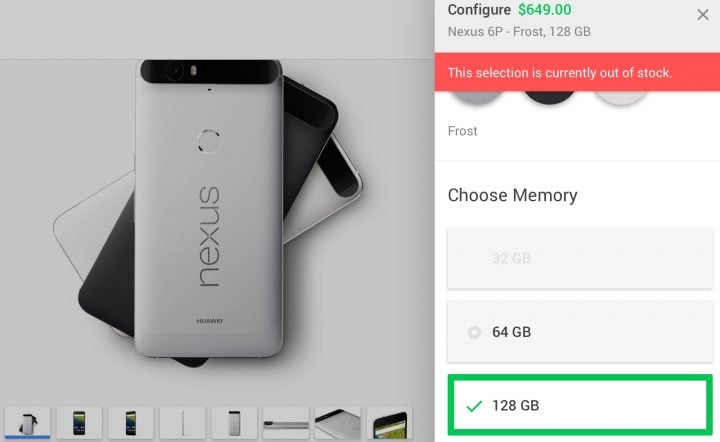 Heading to the Google Store users will notice the Nexus 6P has already sold out. Google is still accepting pre-orders for the 32GB Nexus 6P, which retails for an excellent wallet-friendly price of $499, but both the 64GB and 128GB options are sold out, with no return date in sight.
Most likely once the initial batch of pre-orders begin going out later this month more will become available, but for now only the 32GB Nexus 6P is available. Both storage options and all three colors of the Nexus 5X are still available, for those interested.
If you'd still like to pre-order the Nexus 6P with more than 32GB of storage, try heading to the Huawei Store, which has the 32 and 64GB variant. Huawei is not selling the 128GB, which is exclusive to the Google Store, but Huawei claims they'll begin shipping in early November. Stay tuned for more details.

This article may contain affiliate links. Click here for more details.