Nexus 5X Setup Guide: 10 Steps to Get Started
This week Google's brand new Nexus 5X smartphone started shipping to the doorsteps of buyers all around the globe, and our guide below will ensure each Nexus 5X user will get the most from their new smartphone. It runs great right out of the box with pure Android 6.0 Marshmallow, but these tips will make it more secure, more powerful, better prepared for the future and offer great performance as you enjoy your new phone.
Being equipped with a new USB Type-C port for reversible and faster charging, a new fingerprint scanner for enhanced security, Android 6.0 Marshmallow and more, means there is a lot more to this phone than most Android devices. As a result, users will benefit from all the details below.
Read: How to Customize the Notification Bar in Android 6.0 Marshmallow
Everyone is different when it comes to how they use their smartphone, and what for, but below you'll find a few essential tips to help you get started with the Nexus 5X. With Android 6.0 Marshmallow everything is bright and fluid, the lockscreen is smarter and easier to interact with, and information is a tap or voice command away with Google Now or Now on Tap, battery is better, but you'll still want to do everything we explain below.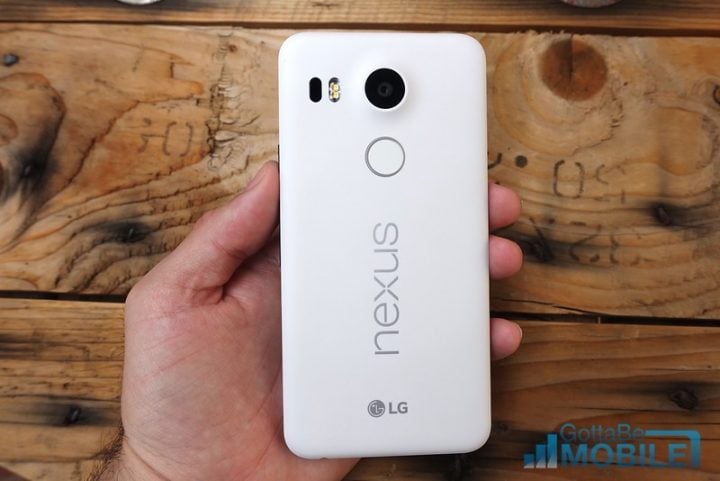 Owners will be happy to see they're already running the just announced and brand new Android 6.0 Marshmallow software, and not have to wait for an update. We've put together a detailed comparison between Android 5.1 Lollipop, to help users understand what's new, then you'll want to follow a few specific steps to get the most from the new Nexus.
Restore From an Old Device
On first boot you'll be greeted with a new restore option if you're coming from a previous Android phone called "Tap & Go" which debuted with Lollipop, and we'd highly recommend giving this a try. One tap will instantly restore your old devices settings, apps, app data, accounts, and even put your icons and widgets on the homescreen. It's really neat, and gets users off on the right foot from the beginning.
You can also bypass this and set it up from a different device, or start your Nexus 5X off fresh. Then we'll get to the fingerprint scanner, and other things. In the end we want users to have better security, set data usage limits, make battery saving changes, and a few other things to get the most from Android Marshmallow, so check them out below.
Read: How to Switch from iPhone to Android: The Google Way
It's also worth noting that those coming from iOS or Windows Phone can switch rather easily as well. Thanks to the guide linked to above, made by Google. If you're new to Android that guide will help, and everything we go over below will get you on the right track as well.
Add a Fingerprint for Added Security
One of the biggest new features for the Nexus 5X and Nexus 6P, as well as Marshmallow, is native fingerprint scanner support. This allows users to unlock phones with a fingerprint rather than a pin. It's very secure, and also very fast and convenient. Not to mention you can sign into apps, buy stuff on the Play Store, or pay for goods using Android Pay while out and about.
The video below is from our hands-on with the Nexus 6P, but we're starting it half-way through where we setup a fingerprint as the lockscreen security measure. The same steps and process are exactly the same on the Nexus 5X.
If you bypassed the fingerprint scanner part during setup, it's still extremely easy do to. Here's the quick steps.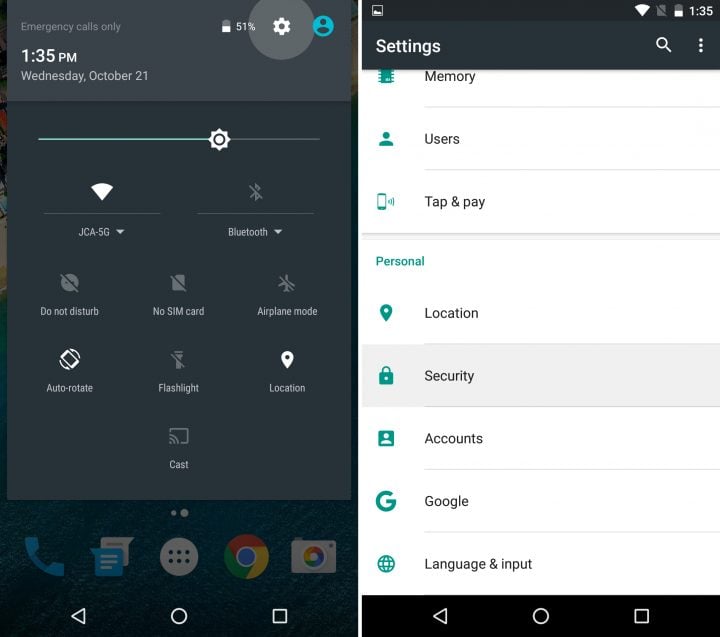 Head to Settings > Security
Tap on Nexus Imprint
Hit Continue, setup a backup password, pin, or pattern
Follow the steps, tap the scanner 6 times, to save a fingerprint
Once finished add more fingers, or one from your other hand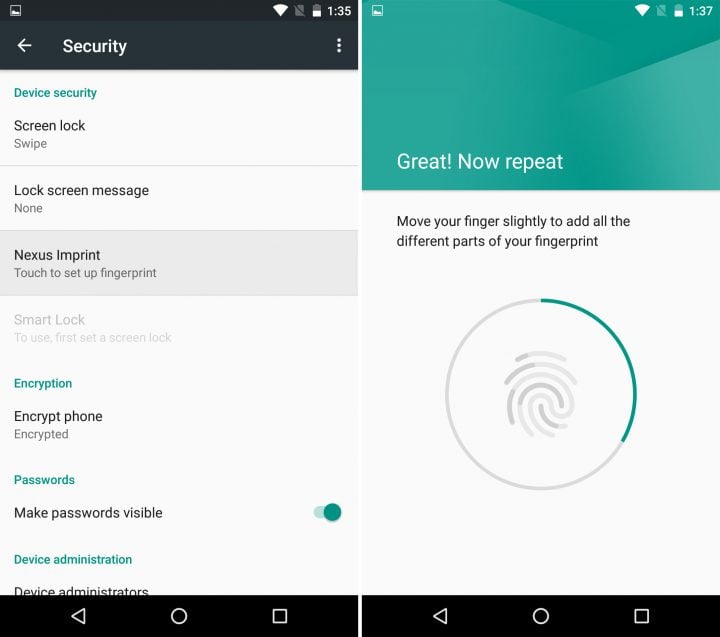 Once you've setup a fingerprint, feel free to open the new Android Pay app, add a credit or debit card, and start using wireless mobile payments with NFC. Android Pay is accepted at thousands of locations, just like Apple Pay.
Your phone will now be more secure and prepared for the future. Whether that be more secure from prying eyes, to protected in case of loss or theft.
Find a Lost Nexus 5X
Then of course you'll want to be prepared in case you ever lose your shiny new Nexus 5X. Using the Android Device Manager, this can all be done, but needs to be setup before it gets lost.
Head to the Android Device Manager or download the app, and prepare the device for those services. This will allow you to call, lock, or even erase the device if it's lost, missing, or stolen. There's even an alarm so you can find a lost device at home too, for those in need.
This is extremely helpful in case of loss or theft. It typically will find your smartphone right down to within a few meters. Perfect for locating a lost device. And if you must, wipe it out to safe precious information from the wrong eyes.
Enable Google Now on Tap
Google Now is great, but things are even better in Android 6.0 Marshmallow with a new feature, a game changer, called Google Now on Tap. It needs to be enabled though. Long-press the home button and turn on Google Now on Tap.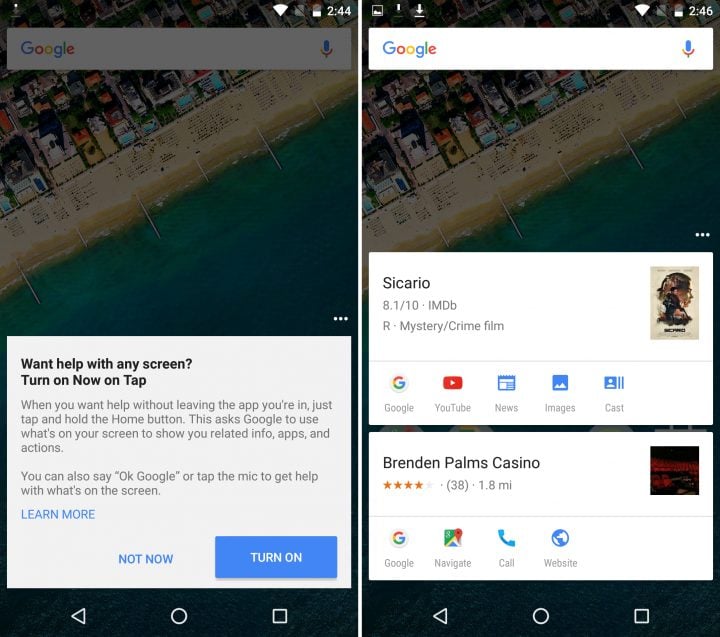 Once done, long-pressing home will let Google scan what's on the screen, analyse it, and give you relative information. Whether in an email, text message, Facebook messenger and more. Find out movie times, watch preview trailers and more without ever leaving a conversation. Once Now on Tap is done, you're right where you left off. It's extremely powerful, and will be a great way to multitask in the future. You can also say, "Ok Google" and get even more information all with typical voice commands.
Get New USB Type-C Cables
The Nexus 5X uses a brand new connector for charging and syncing, called USB Type-C. Not the micro-USB Type-A port we're all used to. This new port is universal and works in either direction, and is much faster.
It allows for turbo charging similar to Quick Charge, where phones fully charge in less than an hour, not 2-3 hours, and go from 0-50% in less than 30 minutes. However, all of your old cables will no longer work, and most Qualcomm Quick Charge certified chargers won't work either. Head to Amazon and get some USB Type-C cables, and some Type-A full-size to type-C adapters so you can use old existing chargers, sync to a computer with regular USB, and more.
Enable Backup & Restore
Google offers a backup and restore feature for smartphones and tablets, and it's even better in Android 6.0 Marshmallow. A quick swipe into the Backup & Reset option in settings will give you the rundown. During initial startup of your device, you may have restored from your Gmail account, but whether you did or not, you'll want to enable backup on your new Nexus 5X.
Not only will this backup data, WiFi passwords, and other information, but the automatic restore will even replace the settings and app data when an app is reinstalled. In Marshmallow restore goes a step further, and will restore settings, game-saves and more than ever before. This has improved lately with Google Services Framework, and will help the Tap & Go system above if you ever lose your device. We strongly recommend backing up your new Nexus 5X.
Set Mobile Data Limits
We all wish we had unlimited data options from carriers, but sadly that's becoming less and less of an option. As a result many users have 2 or 4GB data plans, or shared family plans are popular as of late. The Nexus 5X works with all carriers, even Project Fi, and you won't want to go over data limits and get extra charges.
Before you go over your data limit and get additional charges from a carrier, you'll want to quickly set a mobile data limit for the device. You'll do this by heading into:
Settings > Data Usage > Set Cellular Data Limit

From here you can slide the bars to your specific days in which your plan begin/ends, and even see what's taking up the most data. You can cycle through previous months, and even enable WiFi tracking in settings. As a reminder, this may not be 100% accurate with carrier data limits, so use caution. And with Project Fi, just $10 gets you an extra GB, and if you don't use it all they'll refund the remaining amount in dollars at the end of the month.
If you tap the actual button to "Set Cellular Data Limit" it will kill all data once you reach the limit, not just remind you and still let you go over. The slider will give you warnings, but the toggle switch will actually prevent overages from happening. It's the little things.
Battery Tips
The Nexus 5X runs Marshmallow and has a big 2,700 mAh battery, so should easily last through an entire intensive day. However, we always want a little more, and here's a few tricks to do just that. Here we'll just mention a few quick and easy ones to enable during initial setup. This is a beginners guide, and we'll dive into the battery later for advanced users.
Doze is a few feature that puts your phone and apps into a deep state when not used, think sitting on a desk or overnight. SMS and emails still come through, but everything else goes into a Doze sleep state until you pickup your phone. So battery shouldn't be an issue, but these tips can get a little extra juice from the Nexus 5X.
Screen brightness, sleep time, and location settings are the three key areas we wanted to focus on for battery life. For starters you'll want to head in and choose screen brightness. Many opt for auto-mode, but that will make the screen fluctuate so much, especially outside, that it can in turn make the battery die faster. All my friends and family for some reason blast screen brightness to 90-100%, then complain about battery life.
The display is usually the #1 battery drain, so turn it down. I use somewhere around 25-30% myself, which is hard to judge from a slider, but go ahead and turn it down. You don't need the screen to be a spotlight, and your battery will thank you.
Ambient Display is another neat feature, which lets the screen glow on and off in a low-power state warning users of notifications. But one tap and it turns on completely. I was accidentally turning my phone on in my pocket, and this drains battery life. Some love it, I disable it. It's under settings > display > ambient display.
Settings > Display > Brightness (and don't forget to set the "sleep feature" I use 1 minute, default is 30 seconds)
Disabling things like animations in the developer settings can improve battery, but Android 6.0's animations are what make it beautiful and a great user experience. The third screenshot above is location settings. It looks a bit different in Marshmallow, but works the same. This was new to Android 4.4 KitKat, and will help you better control what uses location services, and when. GPS for Maps, Google Now, and Facebook kills data. Personally I turn all location services off, except for the essentials.
Settings > Location > Mode > and select Battery Saving
High accuracy is the best, but Google Now has worked wonderfully for me with the battery saving mode enabled instead, but may limit Now on Tap from fully working. The phone will still use WiFi and mobile networks to determine location, and GPS won't be fired up and draining your battery. These are just a few tips of many, and expect more to be coming soon from the team here at GottaBeMobile.
Quick Launch the Camera
Another thing users can do to get the most from the Nexus 5X and its impressive new 12.3 megapixel camera, is launching it quickly. Rather than unlock the phone, slide open the camera, or use a fingerprint and open the app, just quickly launch it.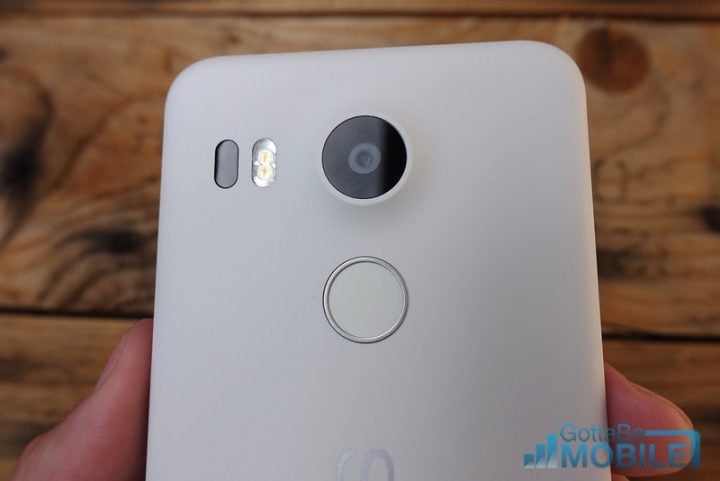 Double tap the power button quickly and it instantly launches the camera, ready to take photos in less than one second. This is actually faster than Samsung's quick camera opening feature, and users will love it.
Customize the Notification Bar
Last but not least, in Android 6.0 Marshmallow users can customize the notification bar. Change what is shown, what icons, and even move around the icons when you swipe down twice, where the quick toggles for WiFi, Bluetooth, or airplane mode and the flashlight are.
It isn't the easiest process, so follow this guide, and customize it as you see fit.
These are just a few of many things users can do with their new Nexus 5X. Stay tuned for plenty more hands-on, how to's, and more information about Google's new smartphone.

As an Amazon Associate I earn from qualifying purchases.