Nexus 5X Unboxing & First Impressions
Late last month Google introduced two brand new smartphones, the Nexus 5X and the Nexus 6P. The Nexus 5X is Google's return to the budget market, delivering a well-rounded phone that does it all without breaking the bank. It has a stunning 5.2-inch display, a fingerprint scanner like Samsung and Apple, great battery life, dual front-facing speakers and more all for the same wallet-friendly $379 price as older Nexus phones. This is our Nexus 5X unboxing and first impressions.
Rather than one huge expensive phone like in 2014, this year Google hit both categories, The do-it-all champion has returned with the Nexus 5X, and a bigger premium Nexus 6P made of aluminum is available for those who want it. Read on for more details about the Nexus 5X.
Read: Nexus 5X & Nexus 6P Pre-Orders Selling Out Fast
For two years Google and LG teamed up to delivers some of the most loved Nexus smartphones ever, the Nexus 4 and then again with the Nexus 5 in 2013. Google changed that and went with a huge overpriced Nexus 6 in 2014, but now Google's returned with a phone everyone can love. The Nexus 5X delivers what everyone would need in a smartphone, but does it at a price that won't break the bank.
Since the original Nexus 5 in 2013 users have been asking for a successor. A replacement that isn't huge or expensive. The Nexus 6 had a massive 5.96-inch screen, average features, and a huge $649 price that put it out of reach for most.
On September 29th Google answered that prayer for many Android users or budget shoppers with the Nexus 5X. It has a perfect size, a great design, better new camera, good battery life for a change, great sound and more all for $379. That said, there are a few compromises which we'll cover later in a full review.
We've only had a day or so to spend with the Nexus 5X, so can't share too many thoughts just yet, but the hands-on video and unboxing below should share plenty of details for those considering one of Google's latest smartphones.
As you can see from the video above, the Nexus 5X is exactly what millions of Nexus users wanted. It isn't too big, not too small, yet is still an extremely capable and powerful smartphone. It's enough to be called a "flagship phone" and no one should call it a mid-range one, just because it doesn't have the latest 8-core processor. Our short time with the Nexus 5X was nothing short of impressive, especially considering the price.
Those wanting a flagship phone with all the bells and whistles will want to consider the Nexus 6P or the Galaxy Note 5, but if you're in the market for something a little smaller, pocket friendly, yet still a great all around smartphone, the Nexus 5X could be the perfect option.
We mentioned plenty in our hands-on video above, but below are a few addition details about the specs, design, build quality, speakers, and that brand new fancy fingerprint on the Nexus 5X.
Nexus 5X Specs
5.2-inch 1920 x 1080p Full HD AMOLED Display
6-core Snapdragon 808 processor with 2GB of RAM
16 or 32GB of storage (no micro-SD slot)
Android 6.0 Marshmallow
12.3 Megapixel Camera (1.55 um), Laser auto-focus, 120 FPS Slow-motion
5 Megapixel front
Rear Fingerprint Scanner
Dual front-facing speakers (single speaker, ported)
2,700 mAh battery
Fast Charging
USB Type-C port
more
As you can see the Nexus 5X cut back in a few areas, but nothing that should sway buyers from seriously considering it. It has the same powerful 6-core processor as the LG G4 or Moto X, a better camera than the original Nexus 5, a big battery, faster charging and so much more, we'll have to share it all in a full review coming soon. That said, after spending two days with it, this is one well-made, fast, fluid, and capable smartphone running Google's latest Android 6.0 Marshmallow release. It's the first smartphone to be released with Android 6.0 Marshmallow.
Read: Android 6.0 vs Android 5.1 Lollipop: What's New in Marshmallow
The Nexus 5X doesn't have the latest Quad-HD display or a stylus, nor does it have a powerful 8-core processor and a micro-SD slot. It doesn't need those things though. Buyers wanting a pure Android experience without spending $600-700 on phones from the competition got exactly what they wanted from the Nexus 5X.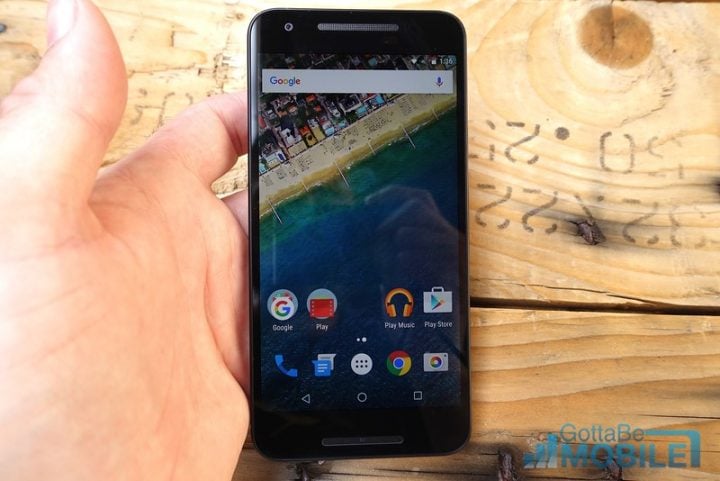 Two downsides to the Nexus 5X are the 2GB of RAM and only 16 or 32GB of internal storage, but at the same time, it only costs $379 or $429, making it one of the most capable smartphones under $400. Those needing more storage should consider the Nexus 6P, which comes with 32, 64, or 128GB storage options.
First Impressions
Google sent over the new Nexus 5X and Nexus 6P, but I've only had a few short days with each phone, mostly the Nexus 6P, so more details will be coming soon in a full review.
What I can say though, was said in the hands-on video above. The Nexus 5X is a perfect smartphone for the price, one that many have been asking for. Phones these days are either huge, or small and not very powerful while missing a lot of features. Google didn't do that with the Nexus 5X. Yes they cut back in a few areas, but it's largely the same exceptional experience as the flagship Nexus 6P, just scaled back a bit to keep the price down.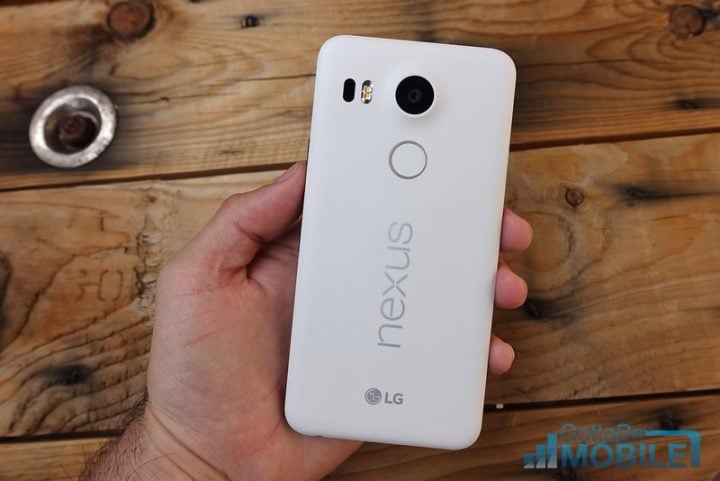 The first thing buyers will notice when they pull it out of the box is how lightweight, yet well designed it is. It's very similar to the original Nexus 5, yet smartly different. We now have a better phone in every way, shape or form, but it isn't expensive.
It's lightweight but doesn't feel cheap. It has the same soft-touch matte plastic design design as the 2013 Nexus 5, and comes in White, Black, or a light Blue color, similar to something you'd find in a Tiffany & Co store. However, it has all the latest and greatest specs and features too.
Users will enjoy having one of the easiest to use and fastest fingerprint scanners available. Which does everything from unlocking the phone to signing into apps, buying music on the Google Play Store, or making wireless mobile payments with Android Pay. It has the same 12.3 megapixel camera as the more expensive Nexus 6P, and so far we've been very impressed with it, but haven't had enough time to test all the features to say more. Google claims it's the best camera inside of any Nexus smartphone, and so far that's holding true. Low light performance is supposed to be a strong suite, so we'll be testing that soon.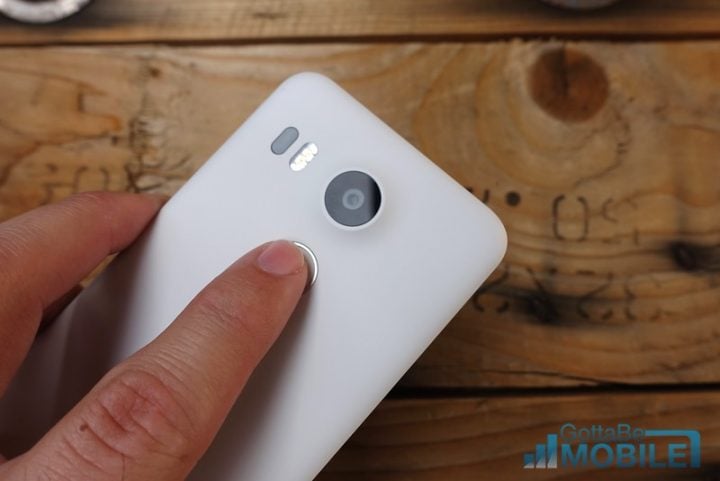 One thing we weren't to happy about is even though it has what appear to be dual front-facing speakers, it's only one speaker that's ported to the other. It isn't true stereo dual speakers, like the Nexus 6P. Between the two though, is a big 5.2-inch 1080p screen that looks great. It's very crisp, bright, and looks good even though it isn't a Quad-HD screen like some of the competition. The lower resolution will also keep battery life in check, which is a 2,700 mAh battery.
For a comparison, the Galaxy S6 has a 2,550 mAh battery. So in theory the Nexus 5X should last much longer, runs Android 6.0 which has new battery-saving technology, and features Quick Charging. It goes from 0-50% in 25 minutes, and will fully recharge in just over an hour. This is huge, as users won't have to constantly worry about battery life. The Nexus 5 in 2013 was a good phone but had a lousy camera and barely lasted 6 hours. The Nexus 5X here in 2015 has an amazing camera, and will easily last all day with moderate usage, and recharges extremely quick thanks to the new USB Type-C fast charger in the box.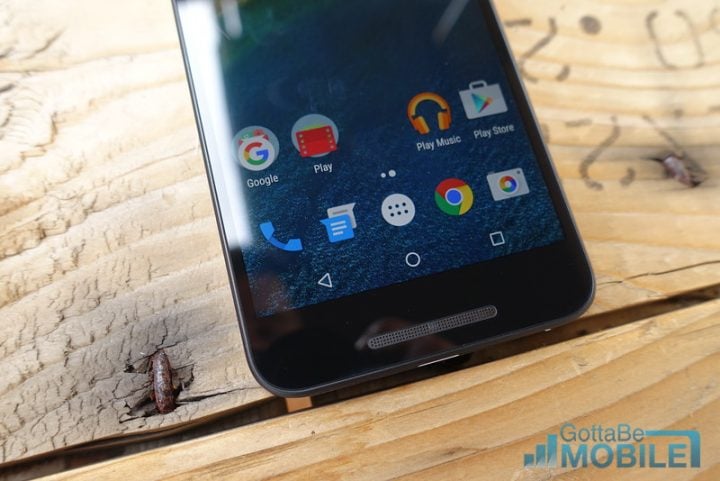 Without saying too much, as we'll have to save something for the full review, the Nexus 5X appears to be, without a doubt, the best smartphone for $379. It offers more than anything else in this price range, doesn't cut corners like the OnePlus Two, delivers the latest Android 6.0 Marshmallow, and has a fingerprint scanner that's perfectly located right where an index finger is while users hold a phone. The fingerprint scanner is one of my favorite new features, one that many should be excited about.
What potential buyers do need to know though, is the Nexus 5X offers a whole lot for only $379. We'd recommend most aim for the 32GB version for $429 though, as you'll want the extra space to comfortably download songs, music, games, and apps from the Google Play Store. It's worth noting both the new Nexus 5X and Nexus 6P are unlocked, sold directly from Google, but work on all carriers in the United States. Meaning T-Mobile, Verizon, AT&T, Sprint and smaller regional carriers. Just drop in a SIM card, and it universally works with everyone.
Again, a full review and tons of hands-on video, comparisons, camera samples, battery life tests and additional details will be coming soon. For now, enjoy the photos below and stay tuned for more.

As an Amazon Associate I earn from qualifying purchases.