Nexus 5X vs Nexus 5: What Buyers Need to Know
This week Google finally unveiled another Nexus 5. It has been two years since the popular Nexus 5 was released in 2013, and this year Google went back to the design and price that was its most successful. If you're a Nexus 5 owner debating the upgrade, here's everything that's new and what you need to know about the new Nexus 5X.
After months of leaks, rumors, and photos, on September 29th Google took the stage and announced another Nexus 5X, and the X stands for the X in NeXus, which is the staple of Google's Nexus lineup. It's perfect middle ground, do-it-all smartphone, that won't break the bank. Here for 2015 the Nexus 5X delivers the same style but with improvements across the board to make it a worthy alternative to the aging Nexus 5.
Read: Nexus 5X Release Date Breakdown
In an attempt to make as many buyers happy as possible, this year we received a 5.2-inch Nexus 5X, and a bigger 5.7-inch Nexus 6P. Both have bigger batteries than previous models, better cameras, and loads of new features to integrate with Android 6.0 Marshmallow. If you're considering the new Nexus 5X, here's what you should know.
Google's original Nexus 5 wasn't without its flaws. It did a little of everything pretty good, but had a few areas that needed improvement. It went on to be a very popular Nexus smartphone though, and many users still enjoy it today. Owners have loved the perfectly sized 5-inch 1080p HD display, the powerful processor, and the camera. At the same time the camera, battery, and bottom speaker were three flaws that needed to be addressed.
Here in 2015, Google fixed all three of those while delivering much much more, and for nearly the same wallet-friendly price that made the original such a success. If you're still the proud owner of the Nexus 5, and passed on the massive 6-inch Nexus 6 last year, here's everything you need to know about the new Nexus 5X and how it compares to last year, so you can decide if the upgrade and low price point are worth it.
Display & Design
The original Nexus 5 was pretty plain, and somewhat uninspiring for many. Coming with a bland black or white soft touch plastic shell, aluminum buttons, and a big bulging camera around the back. At the same time it had a big 5-inch screen similar to many phones during its time, the latest powerful processor, and was a great phone. This year though, it's even better.
For 2015 buyers will get a bigger 5.2-inch screen with the same 1920 x 1080p HD resolution, but that's the only area that didn't see a major upgrade. It's bigger, but the same resolution. Everything else though, is vastly better. Here's an early leaked photo, which ended up 100% accurate, comparing it to the original.
We now have Black, White, and a Mint Blue color to choose from, 16 or 32GB of storage, and a much bigger 2,700 mAh battery. The Nexus 5X has the same overall look, but is a much different phone. There's dual front-facing speakers for improved sound, the bigger battery mentioned above, and an all-new 12.3 megapixel camera on the back. Speaking of the back, there's also what Google claims to be the fastest fingerprint scanner of any phone.
This will unlock the Nexus 5X, even when the screen is off. Offer better security, one tap easy logins and Google Play Store purchases, and use of Android Pay to wirelessly make mobile payments. This phone can do it all.
Nexus 5X vs Nexus 5 2013 Specs
Google's new Nexus 5X is also very powerful. And while it doesn't pack the same 8-core chip as the Nexus 6P, it's still got plenty of power to do nearly anything and everything. From delivering slow-motion video with the new camera, to playing games smooth and delivering great battery life. Numbers aren't everything, but here's the rundown.
Nexus 5 (2013) Specs
 5.0-inch 1920 x 1080p Full HD Display
2.3 GHz Snapdragon 800 Quad-core with 2GB of RAM
16/32GB internal storage
Android 4.4.4 KitKat (Now on Android 5.1.1)
8 Megapixel camera with OIS, 1.3 front shooter (single LED flash)
Bottom facing speaker
Plastic design
2,300 mAh battery
Nexus 5X (2015) Specs
 5.2-inch 1920 x 1080p HD Display
6-core Snapdragon 808 Processor with 2GB of RAM
32 and 64GB of internal storage
12.3 Megapixel Camera with 4k video, Slow-Motion recording, laser auto-focus
5 Megapixel Front Camera
2,700 mAh battery with Fast Charging
Fingerprint Scanner on back
Front Facing Speakers (single speaker ported to two grills)
USB Type-C Connector with Quick Charging Technology
As you can see above, there are some major changes across the board. A bigger screen, bigger battery, better hardware, more color options, powerful processor, excellent camera that's already winning awards, a fingerprint scanner, and a new USB Type-C charging port that is reversible, and also features Quick Charging. The 2-3 hours it took to recharge the original won't apply here and the Nexus 5X will fully recharge in under 90 minutes, and go from 0-50% in around 30 minutes.
There's no question the new Nexus 5X is a marked improvement over last years model. Google fixed everything users didn't like about last year, although it is slightly bigger due to a bigger screen, and larger bezels for the two speakers on top and bottom.
Camera
The original Nexus 5 had a pretty average at best camera. It was the first Nexus with optical image stabilization, but the 8 megapixel camera just wasn't up to par when compared to some of the competition, like the Galaxy S4. Photos weren't the best, and the auto-focus was slow.
New for 2015 is a completely redesigned camera, and Google is aiming for the top with it. Bigger than the new iPhone 6s and others, is a 12.3 Megapixel camera with a large 1.55 um sensor that allows for more light capture.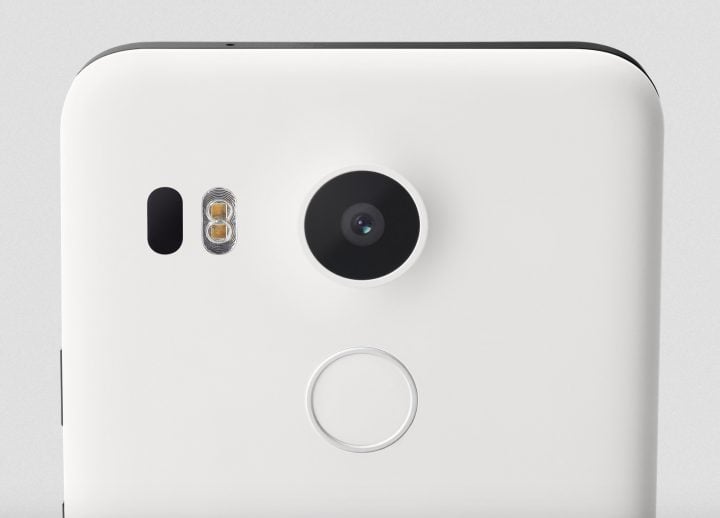 So much in fact, that Google claims it didn't even need optical image stabilization. Initial impressions are extremely favorable though, with tests on the Nexus 6P showing it to be a very good camera and one of the top in the market. The laser auto-focus is fast, and the bigger sensor allows for quicker shutter speeds to reduce shaking during photos and video. Which in the end delivers excellent results. This should have a camera that is leaps and bounds better than the original.
Oh, and the front camera is a 5 megapixel f/2.0 lens that's very fast and works great, especially compared to the terrible 1.3 MP camera on the original. Selfie photos should look great on the new Nexus.
Battery
My biggest complaint about the original Nexus 5 was the battery life. It barely managed to ever make it more than 6 hours, no matter how much tweaking or custom kernels I flashed. It had a small 2,300 mAh battery while similar devices like the LG G2 had a 3,000 mAh battery.
Google's Nexus 5X has a bigger 2,700 mAh battery, which while could be bigger, should be suffice. Android is more efficient, as is the processor and display, Android 6.0 features something called Doze, for standby battery life improvements nearing 30%, and it charges quicker.
As we said above, the original would take forever to recharge, the new Nexus 5X will fully recharge in less than 90 minutes. A 20 minute drive home with the Type-C fast charging cord will get users nearly 50%, enough for the rest of the night out. We'll need to test it once it's released, but battery life should be promising, and better than others like the Galaxy S6.
Price
And the winner in the end is us, the consumer. Google stuck to their guns and decided the $649 price of the Nexus 6 was just too much, and went back to the old ways that made buyers happy.
The impressive Nexus 5X mentioned above, with all the improvements compared to the original, comes in at nearly the same price. The original Nexus 5 was $349 for the 16GB model, and $399 for 32GB.
This year Google managed to pack tons of improvements into the Nexus 5X. It's better in every way, yet is only a few dollars more. As you can see above, the Nexus 5X is $379 for the 16GB model, and $429 for the 32GB option. The Nexus 5X works on all carriers in the United States as well, and that includes Verizon Wireless.
All said and done, the new Nexus 5X is exactly what purists and Nexus fans wanted. A premium Nexus experience with the latest and greatest, without the huge price tag. It should be a worthy replacement over the original, and we'll have one in to review as soon as possible to share even more details.

This article may contain affiliate links. Click here for more details.