Nexus 5X vs Nexus 6P: 5 Key Differences
Earlier this week and for the first time ever Google announced not one, but two brand new Nexus smartphones. The Nexus 5X and Nexus 6P. And one is a premium phone made entirely out of aluminum. Buyers considering on of these pure Android devices have a tough choice to make, and below are a few key differences everyone should consider.
In the past the decision simply came down to storage space and color, if that, but now users have a tough choice to make as these two phones couldn't be any more different. Both offer great performance, stunning cameras, the latest Android 6.0 Marshmallow with instant updates, not to mention wallet friendly prices, but that isn't all.
Read: Nexus 6P Camera Tops iPhone 6 in Review
At first buyers will look at the size of the two phones, the screen and build quality, and maybe even the 6-core processor of the Nexus 5X vs the 8-core chip in the Nexus 6P, but there's much more to the choice than that. Below we'll explain some of the other important changes, and five key differences for those interested.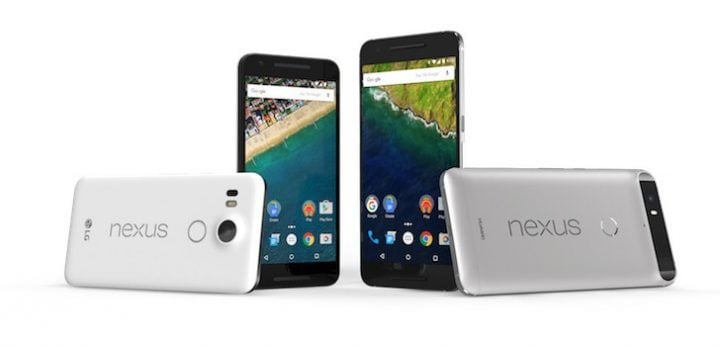 One is relatively cheaper than the other, which could make the choice for many. That being the wallet-friendly Nexus 5X coming in at only $379. At the same time, for a few dollars more the Nexus 6P has much more to offer. More than just a bigger screen or aluminum design. There are small differences to the camera, speakers, LED notification light and more.
Display & Design
the Nexus 5X keeps to the same tradition as past LG Nexus phones, by offering a soft-touch all plastic design with a 5.2-inch 1080p HD display. On the flipside, the new Huawei Nexus 6P comes with a bigger 5.7-inch Quad-HD AMOLED display, and is made out of aluminum. The P actually stands for "premium" and it's exactly that. Covered in aluminum with chamfered edges for a premium look and feel, strong glass on the front, and a black bar around back that protects the camera.
While many consider the black bar an eye-sore on the Nexus 6P, it serves a big purpose. Behind its gorilla glass 4 construction is the 12.3 megapixel camera, dual LED flash, laser auto-focus, NFC, and antenna's for 4G LTE. The radios and connectivity need to escape the aluminum somewhere, and that's where it all takes place. Personally, I think it adds character.
The biggest thing here comes to the screen size and the resolution. The Nexus 5X is much smaller having a 5.2-inch screen that's only 1080p resolution, while the Nexus 6P has a bigger 5.7-inch Quad-HD Samsung AMOLED panel that will surely look better. That plays a role in the price, not to mention some of the other changes. Oh, and the Nexus 6P is thinner, even with better features, aluminum design, and a bigger battery.
Those who enjoyed the original Nexus 5 or smaller phones won't be looking at the Nexus 6P as their next phone due to the size, but if a bigger phone is something you'd like, it's the better choice for a wide array of reasons.
Specs
Of course the Nexus 6P offers a little more power and storage, as it's the "flagship" Nexus this year and costs more. However, for those wondering what all the differences are, below are the full specs, and our next few categories will help explain other differences between these phones, many of which are due to the processor under the hood. The specs are actually important for those considering one of these phones.
Nexus 6P Specs
5.7-inch 2560 x 1440 Quad-HD AMOLED Display
8-core Snapdragon 810 processor with 3GB of RAM
32/64/128GB storage (no micro-SD slot)
Android 6.0 Marshmallow
12.3 Megapixel Camera (1.55 um), Laser auto-focus, 240 FPS Slow-mo, more
8 Megapixel front f/2.4 camera (Nexus 5X could have a better front camera)
Rear Fingerprint Scanner
Dual front-facing speakers
3,450 mAh battery
Fast Charging
USB Type-C port
Aluminum Design
Nexus 5X Specs
5.2-inch 1920 x 1080p HD Display
6-core Snapdragon 808 with 2GB of RAM
16 or 32GB of storage (no Micro-SD slot)
Android 6.0 Marshmallow
12.3 Megapixel Camera, laser auto-focus, 120 FPS Slow-mo, more
5 Megapixel f/2.0 camera (faster for better photos)
Rear Fingerprint Scanner
Single Front Facing Speaker (ported to second speaker for improved sound)
2,700 mAh battery
Fast Charging
USB Type-C port
Plastic Design
As you can see above the Nexus 6P is obviously the better phone, but a lot of the differences aren't extremely noticeable. The Nexus 6P has a bigger battery, more storage, a higher megapixel front camera, truly dual front facing speakers (instead of just one on the Nexus 5X) and a better design.
The new USB Type-C port allows for Fast Charging, and Google claims the Nexus 5X can get 3.8 hours of mixed usage after just 10 minutes of charging. The Nexus 6P though, after just 10 minutes of charging is rated to have 7 hours of mixed usage. That's a huge difference that many need to know about.
Camera
Both of these phones have the same brand new 12.3 megapixel camera, but they're actually very different. So much in fact, that the Nexus 6P camera is now rated in the top three for best smartphone cameras. Higher than the LG G4, iPhone 6, and many others. Those same impressive scores won't transfer to the Nexus 5X, even if they have the same camera.
Google didn't add optical image stabilization to either phone, and instead added a huge 1.55 um sensor that allows in more light, for better photos with less shutter speeds. This means it's open for a less amount of time, doesn't need as high of an ISO, and takes great photos even without OIS.
There is a big difference with each camera though, and that's because of the processor inside the phone. The Nexus 6P has an 8-core Snapdragon 810 processor with tons of improvements that allows the camera to do more than the 6-core chip in the Nexus 5X.
As a result, the Nexus 6P takes slightly better photos, and can record slow-motion video at 240 FPS. The Nexus 5X can only record slo-mo in 120 FPS. The Nexus 6P has Smart Burst and Electronic Image Stabilization, the Nexus 5X does not. That's because the processor under the hood.
Both having the same 12.3 megapixel camera lead many to think they'd perform the same, but that's anywhere but true. The Nexus 6P will stance substantially better photos, better video, higher FPS video, has software stabilization, and can do burst photography and let the software choose the best photo. All of those things are missing from the Nexus 5X because of the less powerful 6-core processor. If you want the best camera, get the Nexus 6P.
Storage
If storage is important to you, the Nexus 6P is the phone you'll want to buy. These days we feel 16GB simply isn't enough, but for those that rely on the cloud or want a cheap phone, Google has you covered.
The Nexus 5X comes in three colors and two storage options. Those being a 16GB model, and a 32GB model. Personally 32GB should be the bare minimum, but Google chose otherwise. Most will want to get the 32GB Nexus 5X just for the extra space and piece of mind.
Google's Nexus 6P base model is 32GB, then comes with 64GB for a few dollars more, and 128GB for those who need tons of storage. It's also the first Nexus to ever have 128GB of storage.
Price
And finally, the leading factor for most buyers, is the price tag. Both of these Nexus phones will be great purchases that users will love for years. They both run the latest Android 6.0 Marshmallow with a promise of fast updates, have great cameras, feature quick charging and much more, but one costs much less.
The 16GB Nexus 5X costs a very wallet-friendly $379, then the 32GB model goes up to $429, making it very affordable.
However, for just a few dollars more we'd recommend almost everyone skip the 32GB Nexus 5X for $429, and pay a little more for the 32GB Nexus 6P which is only $499. Yes this is $70 more, but it's worth it.
The image above breaks down the price for those curious. It's worth mentioning that both phones work with all carriers in the United States, including Verizon Wireless. The Nexus 5X does appear to be shipping 1-2 weeks earlier than the Nexus 6P according to the Google Store, but both won't be arriving until late October.