Nexus 6 Android 5.1 Review
Google's Nexus 6 Android 5.1 Lollipop update has been rolling out slowly for several weeks and we're finally starting to see Google make a big push with the roll out. We've shared how to install the latest software, gave it an initial look and tested performance, and now we're sharing additional details in our Nexus 6 Android 5.1 Lollipop update review.
In early March, Google announced its Android 5.1 Lollipop update, a follow up to the Android 5.0.1 and Android 5.0.2 Lollipop updates. Google's Android 5.1 Lollipop update isn't your standard bug fixer. It comes with a ton of bug fixes for Android 5.0 Lollipop problems but it also comes with some useful tweaks and new features for Nexus smartphones and tablets.
Read: Nexus 6 Review
Lately there's been some news floating around that Google is already working on another Android 5.1.1 Lollipop update, which could fix a few bugs still causing problems along with the memory leak problem, but for now, Android 5.1 Lollipop is the latest software for Google's flagship smartphone. Lets take a look.
As we all know, the Android 5.0 Lollipop update hasn't been as smooth as Google hoped. They quickly released 5.0.1, 5.0.2, 5.1, and now a 5.1.1 is reportedly coming soon. The small updates are causing Samsung and other manufacturers to delay updates, and even Google's own Nexus 9 tablet is still stuck on Android 5.0.1 Lollipop and is waiting for the latest release.
Read: Android 5.1 vs Android 5.0 Lollipop: What's New
That all said, Android 5.1 Lollipop is here for the Nexus 6, fixed many key issues, and appears to be performing quite excellent on our unit. Here's a few additional details for those considering the update, or who've just received the OTA and want to know more details before accepting.
Nexus 6 Android 5.1 Update
While Google announced Android 5.1 back in March, the update took weeks to hit most owners, and some still haven't seen it arrive.  This is because Google does a very slow, gradual, and staggered rollout to make sure there are no show-stopping bugs in the software release.
That said, Google has released the factory images for the Android 5.1 update for the Nexus 5, Nexus 6, Nexus 7, and Nexus 10. And there's a how to at the top of the page. We didn't do a factory install here, and instead received the over-the-air update and installed that. This is the approach almost all owners will take, vs wiping out and flashing factory images, so this will best represent how most owners devices will be updated, and how they'll perform after the Android 5.1 upgrade.
If you haven't received it already, you can expect the Nexus 6 Android 5.1 update to arrive as an OTA update any day now. If it still hasn't come, consider flashing the factory image and wiping your device. If you don't get it today, or tomorrow, be patient as it will arrive soon enough. That, or flash it manually with the how to we mentioned at the top of the page. You can also get the update files and sideload the actual update, with a little know-how. We'd recommend most users simply wait for the update to arrive via a notification on their device, and update through the official way.
Nexus 6 Android 5.1 Review & Performance
Fast, smooth, stable, and impressive. The Nexus 6 is an extremely powerful phone and even with the bugs and issues in the early Android 5.0 release didn't slow it down too much, but now that Google's refined everything with Android 5.1, this device flies. Everything is buttery smooth, fast, fluid, and appears to be running like a well oiled machine.
Some users are still having battery issues or app crashes, but we're not experiencing any of those here. The famed memory leak issue hasn't been fixed, but I reboot my phone every few days so it hasn't been an issue here. If you're having constant app freezing or crashes, try rebooting more often, or wait for the Android 5.1.1 Lollipop update to arrive.
We've been pleasantly surprised by the noticeable increase in performance and general smooth operation since updating to Android 5.1 Lollipop. Not to say it was awful before, but it is noticeably better. One seasoned Android Developer took to Google+ to explain a few of the changes made to the Nexus 6 with Android 5.1, and it points out a few extremely good reasons for why the device runs so much faster, while getting better battery life at the same time.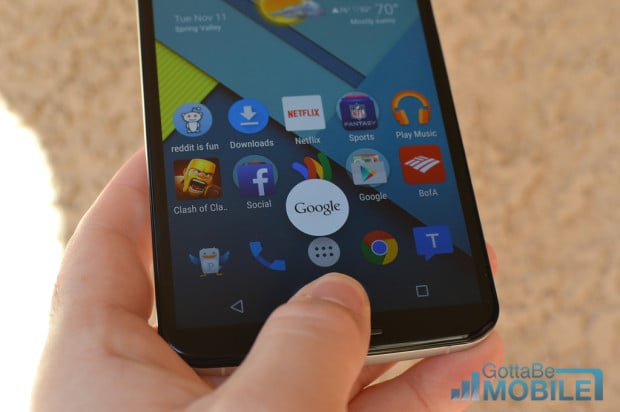 He explains Google's changes were for the better, and what exactly it all does, but it's quite technical. Just know that Android 5.1 should make the Nexus 6 perform better than ever, while also getting better battery life at the same time. It's a nice touch, and something other Nexus devices can look forward to.
Apps
As far as apps go I've only had one crash over the past 2-3 weeks, and that was Netflix. That said, I still can't download the popular app Credit Karma, but that's the developers fault for not supporting the large screen size. The Nexus 6 didn't have nearly the same amount of problems as the Nexus 7, and I rarely had app crashes. If you had problems before, try updating to Android 5.1 Lollipop and doing a factory reset. You can restore everything with ease using the new restore feature in 5.0, and enjoy your phone being like it was before in a matter of minutes.
My daily usage and games include Clash of Clans, Asphalt 8, and UNO, as well as running Facebook, Instagram, making calls, sending a few text messages with Textra, and used nearly every social network, all without fail. This morning I was streaming Sling TV with my Nexus 6 catching up on the latest news around the NFL on ESPN with the Nexus 6, and it was streaming live TV extremely fast and smooth. I've had absolutely zero problems since updating to Android 5.1 Lollipop, and will update once anything surfaces worth noting.
In Android 5.0 Lollipop Google confirmed there was a "memory leak" problem that was causing erratic behavior in many apps. Apps would crash, freeze, or just get laggy. This happened extremely quick for some, or would take a few days to finally start happening. A reboot would fix this temporarily, but not for long. I'm not having that problem here, and have no complaints. That said, each user is different, has different habits, and different apps installed.
Nexus 6 Android Lollipop Battery Life
Overall the Nexus 6 Android 5.1 Lollipop battery life is much improved. The changes made should make the quad-core processor run more efficient, less when not needed, and handle tasks in a different fashion. Overnight the battery drain was extremely low, and I'm typically getting at least another 1-2 hours more than when it was on the Android 5.0 release.
Google put in tons of effort with Android 5.0 (and 5.1) to improve battery life, and so far we're happy to report that it paid off. Sure some owners won't see a difference, but I'm averaging at least 3 hours of the all-important "screen on" time, while still having around 40-50% battery life left. That means I'm using it heavily throughout the day, and have enough juice when I get off work to not have to search for a wall outlet. And if I do, the Turbo Charger gives me enough juice with just 30 minutes on the charger.
WiFi & Bluetooth
Connectivity is a major area of concern after any update, especially a large one like this. And while the Nexus 6 didn't have too many issues, we're not experiencing any either, so that's good. I've used my Nexus 6 in the car, and connected to the JAMBOX speaker with no problems. WiFi, Bluetooth and more all work excellent. Update without worry.
Shown above is one of the many new features of Android 5.1 Lollipop, which is the improved notification pulldown bar. To take things further, Google's improved the quick settings. Right inside the pulldown bar you can tap the small arrows and switch, search, and connect to Wi-Fi in seconds, rather than fumbling through settings. The same works for Bluetooth for easy pairing. They've even added little animations to the icons, tap the signal bars icon for a quick glance at data usage, and more. It's a nice touch, and is working great here on this Nexus 6.
If you're having WiFi issues try forgetting the network you use, and re-establishing the connection and password. This could fix any weird issues.
Speed
With Android 5.1 built for any device, including Android One budget phones for emerging markets, there's no reason the Nexus 6 and its quad-core processor can't run it smoothly. This is why some of the performance issues were surprising when it first launched, but they've all been fixed in Android 5.1 Lollipop. The phone doesn't just feel faster, it is faster. Apps open quickly, things are smooth, and it is the top end experience buyers expect when they shell out $649 for it. Everything runs smoothly including the starting and switching of apps. So far overall speed, performance and reliability is great since updating. I do still have an occasional glitch where while typing on the keyboard nothing shows up, and I'll have to exit that particular app and try again. That's about my only complaint. Well, that and the camera could be a little better.
Should You Update to Android 5.1?
After nearly a month of running Android 5.1 Lollipop, I'd say yes. Yes you should update to Android 5.1 now. The initial Android 5.0 Lollipop update caused a lot of problems and left many owners angry and frustrated, and the Nexus 6 launched with plenty of those bugs and issues, but they're all gone now. Sure, there will still be bugs here and there, some may still have issues after updating, and we recommend a full wipe and completely fresh install for the best results.
If you are still on Android 5.0 on your Nexus 6 and didn't get 5.0.1, expect a few updates to be arriving soon. Android 5.0.1 didn't fix much, but this new Android 5.1 release is set to deliver you the best Nexus 6 experience possible.
At this point we see no reason to warn users against accepting the Android 5.1 Lollipop update notification once it arrives, if they haven't already. Yes, the 5.1.1 update we've heard rumors of could come any day now, but we'd still suggest updating to what's available now, then updating to 5.1.1 when and if it does arrive. How is Android 5.1 on your Nexus 6? Drop us a comment below.