Nexus 6 Concept Offers Realistic Vision of Future
Google's Nexus 5 is only a few months old and already, designers are dreaming up Nexus smartphones of the future. Today, another Nexus 6 concept has emerged, blending the Nexus 5 with a design that is reminiscent of the LG G Flex, a curved phone that is coming to the United States to battle the likes of the Samsung Galaxy S5.
The Nexus 5 is only a few months old. It arrived back on Halloween alongside Android 4.4 KitKat and it was quickly released for AT&T, Sprint and T-Mobile customers. The device is likely going to be the device that Google promotes for most of 2014 though we expect the company to deliver at least one more Nexus device to compliment its Google Edition smartphones.
Rumors suggest an inbound Nexus, currently dubbed Nexus 6, could be made by Lenovo, the company that just bought Motorola Mobility from Google. At this point though, that is far from confirmed, leaving the door open for designers to dream up their own Nexus 6 concepts of the future. We detailed one Nexus 6 concept earlier this week and now, we want to take a look at a new Nexus 6 concept from 91mobiles.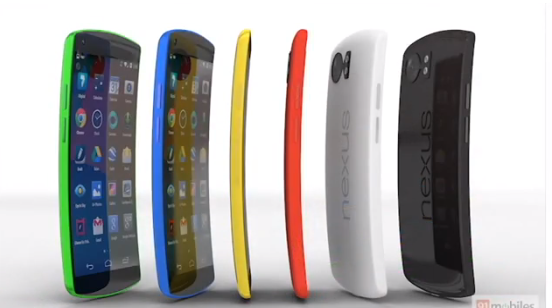 While many concepts depict smartphones that probably won't arrive for years down the road, this new Nexus 6 concept does not stray too far from reality. In other words, the concept is certainly fit for the real Nexus 6.
They have drawn upon, in our estimation, two real devices for this concept. The device looks a whole lot like the current Nexus 5 though there are also hints of the LG G Flex in there as well, mainly the curved display, something that isn't found on the Nexus 5.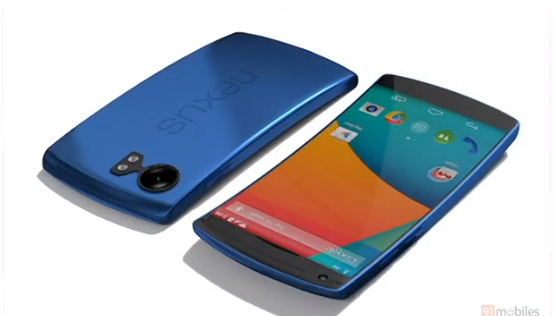 Instead of a black matte design, this Nexus 6 concept features a glossier design and one that utilizes even thinner bezels than the Nexus 5, creating a true edge-to-edge viewing experience. It remains plastic but the design retains the elegance of a plastic Nexus design. The screen itself is 5.2-inches, the size that is rumored to be on board the Samsung Galaxy S5.
It's also outfitted with a ton of high-powered specifications but it's the marriage between the LG G Flex and the Nexus 5 that is really the most interesting thing here. LG, the company that makes both devices, has made the past two Nexus smartphones so it's entirely possible that the company will stick with LG for at least one model in 2014.
Nexus 6 rumors likely won't flare up until much later this year. Google historically has launched just one Nexus smartphone per year and it usually arrives during the holiday shopping season. Last year's Nexus 4 lasted until September before it was pulled from shelves.
Google's Nexus 6 will likely face stiff competition with a Samsung Galaxy S5 rumored for March and an iPhone 6 supposedly arriving in the summer, fall, or both.