Metal Nexus 6 Concept Delivers Beautiful Design
A stunning new metal Nexus 6 concept delivers a beautiful design that isn't part of the latest Nexus 6 rumors but would certainly be good enough for the real Nexus 6 release.
Every year, Google releases a new Nexus smartphone, each one better than the last. The current Nexus smartphone, the Nexus 5, improved on the Nexus 4's design and brought new software and hardware upgrades to the table. Best of all, Google managed to do that without drastically increasing the price tag of its popular Nexus series.
With the Nexus 5 approaching its first birthday, all eyes are on Google and its plans for the Nexus program. And while Nexus 6 rumors have pointed to a release from Motorola, designers have taken it upon themselves to deliver their own Nexus 6 ideas ahead of its suspected release.
A new Nexus 6 concept unearthed by Concept Phones showcases a gunmetal Nexus 6 made by HTC. HTC is not rumored to be making the Nexus 6 though the company is reportedly developing the next Nexus tablet, currently dubbed Nexus 8 and Nexus 9. The Nexus 9 is, like this concept, expected to feature a premium metal design reminiscent of the company's HTC One series of smartphones.
This gunmetal Nexus 6 concept is complimented by HTC's BoomSound front-facing speakers, another feature that's rumored to be on board the Nexus 9 tablet, a large edge-to-edge display, two cameras, and virtual buttons for navigation. While it's not based on any Nexus 6 rumors, this metal HTC Nexus 6 concept is a great looking idea that would be good enough for Google.
Nexus 6 rumors center around a new device from Google and Motorola. Motorola, a company that up until recently was owned by Google, has never made a Nexus product before. Motorola Nexus 6 rumors have been rampant in recent weeks as leaks attempt to out its specs, release date and more ahead of the busy month of September.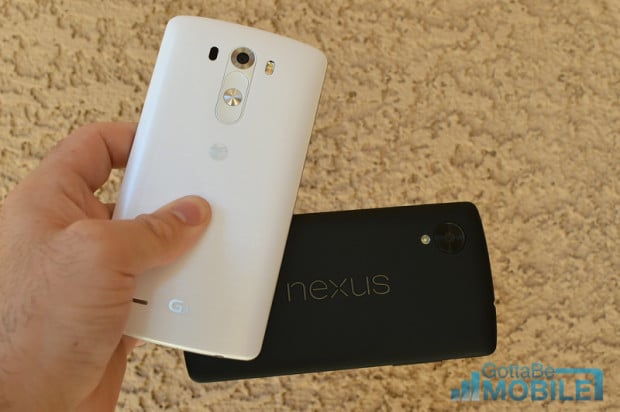 The Information and Android Police, both solid sources, agree that Motorola is working on a new smartphone called "shamu." Google likes to name its Nexus products after creatures that live in the sea and "Shamu" is a name for a killer whale that became popular back in the 1970's. While this codename doesn't confirm it to be a Nexus product, it means that there's at least a good chance that it is.
Motorola's version of the Nexus, a device that's referred to as Nexus 6 and Nexus X, is expected to incorporate a fingerprint sensor into the design. Motorola was one of the first companies to offer a fingerprint sensor with a smartphone (Atrix 4G). Alleged Nexus 6 benchmarks point to a number of high-end features including:
2.6 GHz Snapdragon 805 Quad-core Processor with 3GB of RAM
5.2-inch 2560 x 1440 Quad-HD Display
32GB storage
12-13MP rear-facing camera
2.1MP front-facing camera
Android L
WiFi, Bluetooth, GPS, NFC, and more
Both Android Police and The Information claim that "Shamu" will be a "phablet" with a screen as large as 5.9-inches, something that contradicts these supposed Nexus 6 benchmarks.
Early Nexus 6 release date rumors put the release inside of November. This fits in perfectly with Google's usual Nexus release window and it mirrors what we've heard about the Android L release. Android L, Google's next Android update, is rumored to be coming out alongside the Nexus 8 tablet in the third or fourth quarter.
If true, it could be that the new Nexus smartphone arrives much later than the iPhone 6 and the Samsung Galaxy Note 4, both of which are expected to arrive sometime next month. Samsung recently confirmed a Galaxy Note 4 launch date for September 3rd while the iPhone 6 launch date is thought to be taking place on September 9th.
So while we may not see an HTC Nexus 6 with a gunmetal design, we could perhaps see a Motorola Nexus 6 challenge the iPhone 6 and Galaxy Note 4 with a number of other high-end features.

This article may contain affiliate links. Click here for more details.