Nexus 6 vs Galaxy Nexus: 5 Reasons to Upgrade
Google's first Nexus device to ever become available on Verizon Wireless was the Samsung Galaxy Nexus. It has been a long 3 years since it was released, but the new Nexus 6 is giving Verizon a chance at redemption. This month Google officially announced a brand new flagship phone that may replace that old Galaxy Nexus, the Motorola-made Nexus 6 smartphone.
Now that the Nexus 6 is official and all the reports, rumors and leaks have been confirmed as accurate, buyers are probably pondering if it's worth buying. While many owners of the Samsung Galaxy Nexus probably caved to another device years ago, there's still plenty of users ready to upgrade.
Read: Nexus 6 Pre-Order Details Arrive
The Galaxy Nexus was announced in November of 2011, and hit Verizon in mid December, making it rather old. The terrible battery life and lack of updates led me to replace it with the Galaxy S4, but for those who haven't updated yet, read on to see why the Nexus 6 is worth the upgrade. Below is everything you'll need to know about the Galaxy Nexus vs the new Nexus 6.
Samsung's Galaxy Nexus was a premium device, and the last expensive Nexus smartphone until this years Nexus 6. Each model since it was released has been a budget device sold almost exclusively through the Google Play Store. Those being the Nexus 4 and Nexus 5 made by LG. Things have changed a lot since then, and the new Nexus 6 has plenty to offer. Two in particular being battery life, and it will finally be available on Verizon Wireless.
Back in 2011 the Galaxy Nexus had a lot going for it. The big 4.65-inch screen was AMOLED and had a 720p HD display that was slightly curved, it supported Verizon 4G LTE, and it was set to be the best and fastest Nexus ever released. And it was, but with plenty of sacrifices. If you have one you know what I'm talking about, so read on to find out five reasons you should upgrade to the Nexus 6.
Display
In 2011 a 4.65-inch screen was pretty big, but since then screen sizes have completely taken off. We now have 6-inch Samsung Galaxy Megas, and everyone is making huge phones, even Apple. Samsung's Galaxy Nexus at 4.65-inches is still one of my favorite sizes, and the Nexus 6 is a completely different beast. It has 4x the resolution of the Galaxy Nexus, and comes in at a whopping 5.96-inches and 2560 x 1440 quad-hd resolution.
Each user has different needs and wants, and this is what Google felt was best moving forward. Giving users more space to do what they want with Android 5.0 Lollipop and the 5.96-inch display on the Nexus 6. However, that huge screen is a Quad-HD screen with a 2560 x 1440 2k resolution display. Meaning it has tons of pixels, and pictures and video will simply look stunning.
Yes, the Nexus 6 has nearly a 6-inch screen, which is massive compared to the 4.65-incher on the GNex. It's even bigger than the Galaxy Note 4 or iPhone 6 Plus. This is a Nexus phablet.
This may be the biggest concern for buyers. The Galaxy Nexus was the perfect size for many, and making this big of a jump may be a lot. Those who've upgraded slowly have gradually increased the size, that won't be the case for Galaxy Nexus users going to the Nexus 6.
Below is a quick comparison between some other large devices recently released. Showing it's size compared to the Note 4 and iPhone 6 Plus, meaning it's pretty big.
This is a big phone. A "phablet" in every sense of the word.
Samsung's known for having some of the best displays on the market, and even the Galaxy Nexus display can still compete with some of the best 720p displays today, but it's no match for the new Nexus 6.
Design
The Galaxy Nexus had an odd curved display that was supposed to offer better viewing angles and protect the screen, and it did, but that's about all the design had going for it. It was all plastic, just like everything from Samsung. Previous Nexus devices have been built of plastic, rather lightweight, and not the most durable or attractive looking devices. The new Nexus 6 has a few big changes that will make it stand out. For one, it comes in a beautiful blue or white color, and is wrapped in a brushed aluminum ring for added durability, protection, and styling. No other Nexus has offered aluminum, except the original HTC Nexus One.
https://www.youtube.com/watch?v=wk-PY2dBKaA
Everything about Motorola's Nexus 6 screams big, although the back features subtle curves that wrap into the aluminum edges to make it feel extremely thin in your hand, even if it is nearly 10mm thick at the biggest point. It doesn't sound thin on paper, but will still feel excellent in your hands. Another key aspect of the design is front facing speakers, just like the Nexus 9 and the HTC One M8, the Moto Nexus 6 has dual front facing speakers. One integrated into the earpiece up top, and another below the on-screen keys down below. This should make sound much improved, especially compared to the Galaxy Nexus which has a single, small speaker on the back that faced the wrong direction.
The Galaxy Nexus was awesome back in the day, but it's surely starting to show its age. The front was all black and many will muss the notification LED it had, as the Nexus 6 doesn't have one. But that's about all you'll miss. The camera can't compete, it isn't on the latest Android 4.4 KitKat, and the battery life, oh the battery life. Just awful.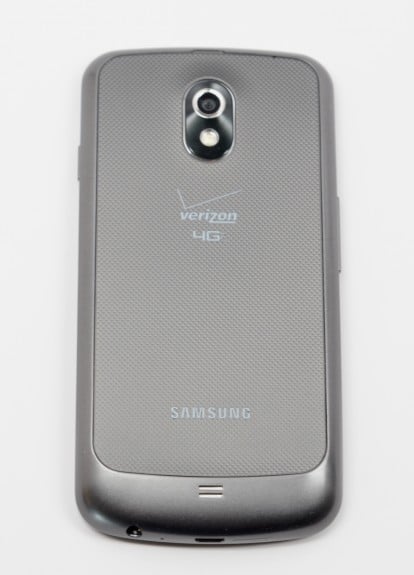 There was plenty to love about the Galaxy Nexus in 2011, and some in 2012, but now a good three years later and multiple Nexus launches, there's no reason not to switch.
Battery Life
I remember always searching for a charger when I had the Verizon Galaxy Nexus. I carried a spare larger extended battery that Samsung offered, and had a second extended battery inside the phone too. The original Galaxy Nexus only had a 1,750 mAh battery, but a 1,850 mAh made it into the Verizon model since 4G LTE would drain it quicker, and Samsung offered a 2,100 mAh extended battery and a new battery cover.
Even with as many tweaks as possible it was hard to get more than 6 hours out of the Samsung Galaxy Nexus, at least for me. Things have drastically changed since then. The new Nexus 6 has a massive 3,200 mAh battery under the hood, and the Qualcomm Snapdragon 805 processor has a quick charge feature. 30 minutes on the charger will give you an extra 8 hours of usage. That's more than a full Galaxy Nexus, on a good day.
There's no way around it. What was arguably my favorite Nexus had the worst battery life of any phone I've ever used. Any Gnex owner will say something similar, and you'll love being able to go an entire day, or longer, without needing a charger. We could end here, but that isn't the only reason you'll want to upgrade.
Specs
The Nexus 6 is the biggest, fastest, and best Nexus smartphone to date. It's also huge. It has all the top-tier specs users come to expect, rather than slightly undercutting the competition and offering a lower price. It's on par with the Note 4, Galaxy S5, and all other manufactures this year, if not beating many in multiple key areas. This means it's certainly an upgrade over the Galaxy Nexus in every sense of the word. While specs aren't everything, it's a big deal here.
Nexus 6 Specs

5.96-inch 2560 x 1440 Quad-HD Display
2.7 GHz Quad-Core Snapdragon 805 processor with 3GB of RAM
32GB/64GB internal storage
Android 5.0 Lollipop (64-bit support)
13 Megapixel camera with OIS, 2 MP front camera (4k video capture)
Dual Ring Flash similar to Moto X
Dual Front-facing speakers
Aluminum frame around device like the new Moto X 2014
3,220 mAh battery
Galaxy Nexus Specs
4.65-inch 1280 x 720p HD AMOLED display
1.2 GHz Dual-core TI OMAP processor with 1GB of RAM
16GB storage (32GB on Verizon) and no micro-SD
Android 4.0 Ice Cream Sandwich, now running Android 4.3 Jelly Bean officially
5 Megapixel rear and 1.3 front camera, 1080p video recording
Curved durable display
Rear facing speaker
1,750 mAh battery, extended option offered by Verizon and Sammy
and that's about it
That's all we have to say about that. Obviously every single aspect of the Nexus 6 will be better. Everything. You're only question will be if you can handle the big 5.96-inch display, and break the habit of constantly searching for a wall outlet.
Software
Software is a big aspect of these two devices, simply because the Samsung Galaxy Nexus will never be updated past Android 4.3 Jelly Bean. At least not officially. There are ROMs for Android 4.4, but your Verizon Galaxy Nexus will probably never see another update. This means the improved Android 4.4 KitKat, and the brand new beautiful update to Android 5.0 Lollipop won't ever arrive.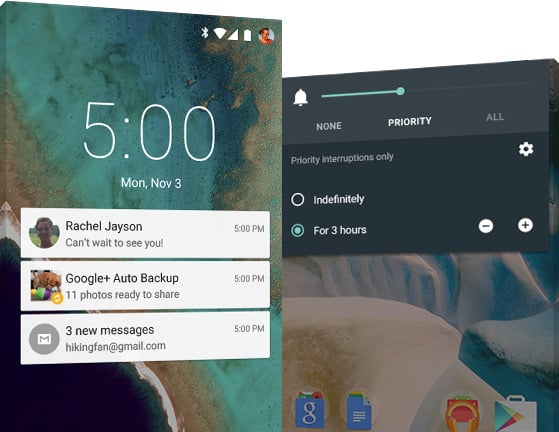 That being said, here's everything you need to know about Android 5.0 Lollipop. Google's added tons of changes from improved security, animations and effects for a more natural and visual response to touches, 64-bit computing support, guest mode for smartphones and tablets, redesigned the entire interface and notification system, and much much more.
The Nexus 6 and Nexus 9 will be the first devices to run the new Android 5.0 Lollipop release, but Samsung's already working hard on delivering the same update out for the Galaxy S4, Galaxy S5, Note 3/4, and many other popular Samsung devices. However, the Galaxy Nexus won't be part of that. Updates for Nexus phones are through Google, but the Verizon Nexus was done by Verizon. Either way, it won't get Android 5.0 unless you hack it and flash some custom software, and we all know how much that's has slowed down for the Gnex.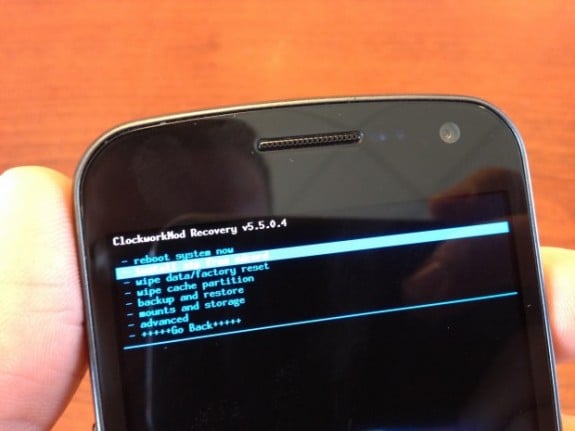 Android 5.0 Lollipop is a major change from the Android of old. Everything is more fluid, smooth, and pretty. There's tons of animations, effects, visual feedback and tons of options like never before. Camera tweaks, battery saver and guest modes and much much more.
Other Thoughts
There are a lot more than just five reasons to switch to the Nexus 6 if you're still on the old and aging Galaxy Nexus. We've outlined a few above but there are many more. Things like the camera, internal storage amounts, app support, future updates, and even just better 4G LTE coverage and speeds. X-LTE is a new thing you'll also be able to enjoy, a much better 4G LTE experience.
Average users don't get a new phone every year or every few months like some of us enthusiasts, so if you're one of the many that got a Samsung Galaxy Nexus in 2012 after it was available for a few months, and have yet to update with your 2-year upgrade option, now would be a great time. Whether that's the Galaxy Note 4, the Nexus 6, or the incoming DROID Turbo is up to you, but if you want the best Google experience that's similar to your Galaxy Nexus, the new Nexus 6 is your best bet.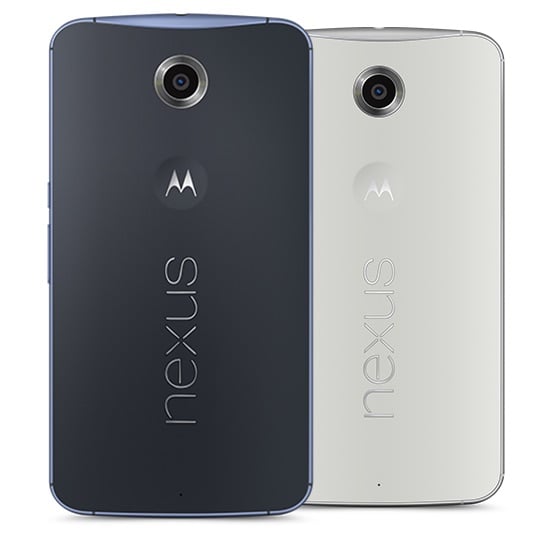 I still have my Galaxy Nexus, sitting in my closet and forever holding a place in my heart with love and hate. Get the new Nexus 6 and put yours to rest too. The new Nexus 6 is expected to hit most US carriers in November starting around the 12th with T-Mobile, and will be available for pre-order starting Wednesday, October 29th. We'll update once Verizon confirms release details for this years Nexus 6.