Nexus 6P Android 6.0.1 Update: Impressions & Performance
Google's brand new flagship Nexus 6P smartphone has only been in the hands of owners for a little over a month, but it's already getting a quick software update. Below is everything owners need to know about the Android 6.0.1 Marshmallow update. From installing it right now, how it's performing, what's new and more.
On October 5th Google finally released Android 6.0 Marshmallow to the public, and for manufacturers. Along with it was the Nexus 5X, and the impressive new Nexus 6P smartphones. Now less than two month later Android 6.0.1 Marshmallow is arriving for owners.
Read: How to Install Android 6.0.1 Marshmallow Right Now
A few weeks ago one of Google's VP's confirmed an update was coming soon to Android and no one expected it to be Android 6.0.1 Marshmallow, but that's what we received. It's a small update mainly aimed at delivering the December security patch, new emoji characters, and a few other things. That being said, here's what owners need to know about it.
Those already enjoying Android 6.0 Marshmallow on a new Nexus device, or one of the older Nexus smartphones or tablets from last year already know what to expect, but it's still worth finding out all the details before accepting an update. Everyone uses their phone different, so while it may be smooth for most, it could be problematic for others. So far we've experienced no problems, everything is running smooth, and a few new features have turned out to be surprisingly refreshing and fun.
Android 6.0.1 Marshmallow Update
Last week Google started pushing out the update to Android 6.0.1 Marshmallow for the Nexus 5, Nexus 5X, Nexus 6, Nexus 6P, Nexus 7, Nexus 9 and the Nexus Player. It took almost a week for it to arrive, and my over the air update surfaced on Saturday evening. Those who'd rather not wait can install it with the link provided at the top of the page.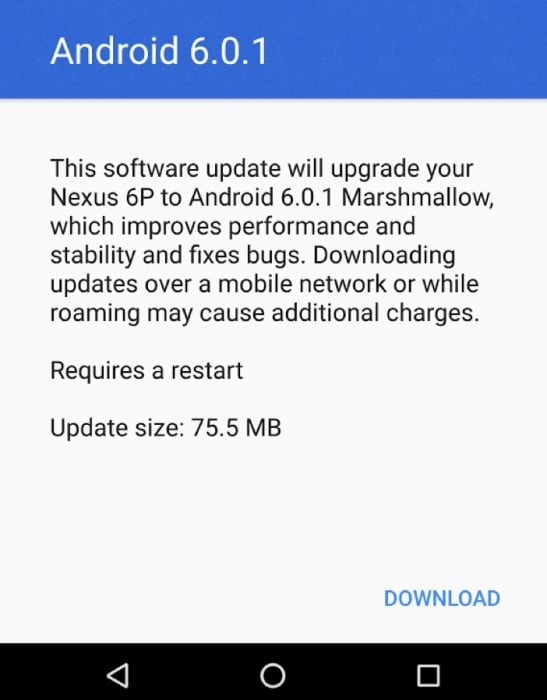 The update downloaded in less than a minute, installed, and rebooted, and I was up and running in minutes. Google suggests 50% battery life before doing updates, but it went smooth for me with a little less. The update won't erase anything, unless you choose to manually install it with the directions above.
Read: Google Nexus 6P Review
We didn't get a detailed breakdown or changelog regarding what's actually new, but the over the air notification did share a few small details. It states performance, stability and bug fixes, but that's all. However, we know it added over 200 new emoji characters, included the December security patch for improved security, and it appears to have fixed the MMS text bug from Android 6.0 Marshmallow, but more on that below.
Nexus 6P Android 6.0.1 Performance
The update specifically mentioned performance had been improved, as well as stability, but I didn't really have any of those issues to begin with. The Nexus 6P has been one of the fastest, most stable and reliable Android devices I've ever used. On top of having great battery life, recharging extremely quick, and running very smooth with the latest version of Android. Our review above gave it high praises, and that remains the same today after the small 6.0.1 Marshmallow update.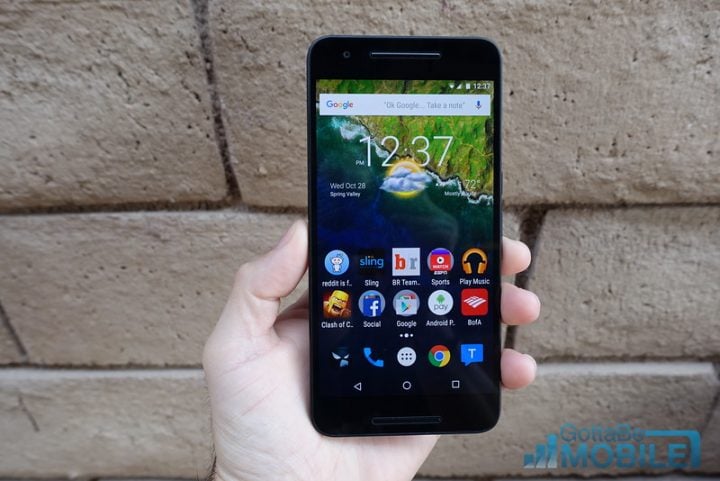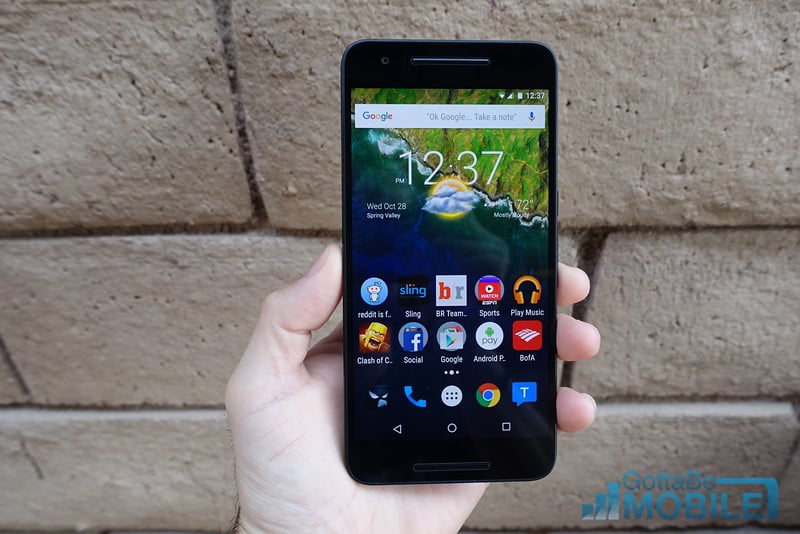 With more and more people running Android 6.0 or Android 6.0.1 Marshmallow I have noticed that Google Now on Tap, one of the best new features, seems to load a little slower than before. Which is the feature of long-pressing the home button and letting Google search read what's on the screen, and show relative information to the viewer. Not to mention apps that can help with whatever is on the screen. From nearby stores, movie theaters or trailers for a movie a friend sent a text about, and more.
I love Google Now on Tap, and it's still working great, but maybe not as fast as it was before. This doesn't seem like an issue though, and could just be because the phone does everything else so quick. When you think about what Google Now on Tap is doing, the small wait is more than worth it.
There was also a text message or picture message bug being reported about at the Google product forums for Android 6.0, but I've never experienced the problem. That said, it was also fixed in this update for those curious.
So far the update to Android 6.0.1 Marshmallow feels very minor, and shouldn't cause any issues for owners. You'll now have over 200 sweet new emoji in the keyboard to choose from, a slightly improved Google Now feature for screenshots, and the same great performance as always.
Apps
No complaints as far as apps go. I did have a force close with HD Widgets once, but that's the only problem I've faced since accepting the software update. However, there is more we have to say about Google Now on Tap. It received a fancy new feature itself, which allows for an all-new way to take screenshots on Android.
All Android devices use power and volume down (or power and home with Samsung) to take screenshots of what's on the display. With Android 6.0 or Android 6.0.1 and the recently updated Google Search app, this has been changed.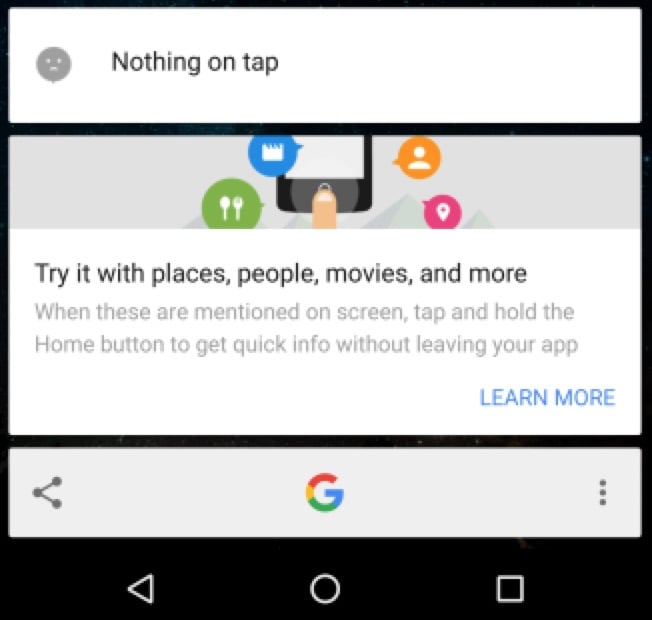 Now when users use Google Now on Tap by long-pressing home, there's a share button on the bottom left. This instantly takes a screenshot, and then brings up a share menu to instantly share it all in one tap. Rather than having to fumble with the key combo above, then slide down the notification bar, then select share, then which app and who to. Now it's all one smooth movement. This isn't showing up for everyone yet, but most are seeing it if they're on Android 6.0 and above.
I've ran Clash of Clans, Facebook, Instagram, NFL Mobile, Sling TV and others all without a single problem on Android 6.0.1 Marshmallow. We see no reason not to update at this time.
Android 6.0.1 Battery Life
I've been running Android 6.0.1 Marshmallow on the Nexus 6p for less than 72 hour, so it's hard to get a good feel for battery life. That said, I do seem to notice performance being slightly better, which could be contributing to improved battery life.
The new Doze feature still works great, and overnight the Nexus 6P rarely drops more than 4-5% total, giving me a full battery to work with in the morning, rather than feeling like I need to charge the phone before leaving for the day. Some updates cause issues or kill battery life, but that isn't the case here.
For those who may be struggling with Nexus 6P Android 6.0 or Android 6.0.1 battery issues, we'd suggest a factory data reset, or making sure rogue apps aren't wasting the battery or keeping the phone turned on when it should be sleeping. Head into settings > battery > to see what's using what.
WiFi & Bluetooth
Connectivity is a major area of concern after any update, especially a large one like this. The Nexus 6P has worked wonderfully with WiFi, especially on my 5G network, and Bluetooth never had problems to begin with. Below is an older screenshot showing some changes available in Android 6.0 Marshmallow, but we've experienced no issues.
The UI tuner is still available in Android 6.0.1 Marshmallow, which allows us to re-arrange the icons in the notification bar.
As shown above, long-press the gear-shaped settings button will enable a "System UI tuner" option in settings, which gives users some neat advanced controls over the interface and notification pulldown bar. The settings icon spins and unlocks this hidden tool, but mess around too much and you make cause issues, so use caution.
A lot of GPS problems have been talked about regarding Android 5.1 devices, especially those with LG phones, but none seem present on Android 6.0.1 Marshmallow. I've also installed it on the LG Nexus 5X, and it works great. No GPS, WiFi, or Bluetooth issues have been found. From connecting to speakers, wireless headphones, or to my truck for Android Auto, it all works without issues.
Should You Install the Android 6.0.1 Update?
It's such a small update that affects almost nothing, so we'd absolutely suggest all Nexus owners install this software update. It patches the latest security issues as a part of Google's monthly security promise, improves Google Now on Tap, improves performance, and delivers over 200 emoji characters to the keyboard. Now we can flip people off, use the taco emoji on Taco Tuesdays at Del Taco, and express ourselves like never before on Android.
Read: Android 6.0 vs Android 5.1 Lollipop: What's New in Marshmallow
Some users with older devices like the Nexus 5 or Nexus 7 may want to wait for more details or reviews, but so far everything seems the same if not slightly better than the original Marshmallow release.
Again, the update should be hitting all Nexus devices today or in the next few days, if it hasn't arrived already. We'd suggest waiting for the over the air notification and doing it that way, so users don't lose any information. However, if you'd rather not wait, the how to at the top of the page will get you Android 6.0.1 right now, but users will have to erase their device to flash the factory images. All said and done, Android 6.0.1 is a very minor update, but one worth installing. Give it a try today and let us know if you have any problems by dropping a comment below.