Nexus 6P Camera Tops iPhone 6 in Review
Today Google announced two brand new smartphones. The LG-made Nexus 5X and the Nexus 6P. Both have brand new 12.3 megapixel cameras without optical image stabilization, but huge sensors to allow for more light capture, which Google claims will make them excellent camera phones. And now an independent review has already crowned the Nexus 6P the second best phone camera on the market.
These days the cameras inside our smartphones are really good. Especially in Android phones were recent flagship devices like the Galaxy Note 5 and LG G4 have beat the venerable iPhone 6. In fact, the same DXOMARK benchmark site claims the Galaxy S6 Edge and Note 5 have the best camera inside any smartphone. Better than the iPhone 6, and better than the LG G4.
Read: Nexus 5X & Nexus 6P Details Frustrate Buyers
Initially when rumors said the Nexus 5X and 6P didn't have optical image stabilization and small 12.3 megapixel cameras, users were angry, but megapixels aren't everything. Today Google confirmed that these phones have stunning camera technology packed inside, and those reports have now been confirmed by at least one reliable source.
DxOMark is a popular website that tests cameras, and breaks everything down into two categories, which are photo and video. Each part of how the camera performs gets a score, and is rounded out for one overall result. The highest of any mobile device, beating the iPhone 6, iPhone 6 Plus, Moto X Pure, LG G4 and others is the Samsung Galaxy S6 Edge with a score of 86. And we're hearing the Note 5 scored the same, or higher.
Many will be surprised to learn that Google's Nexus 6P scored an 84, just behind the Galaxy S6, and is second on the list for the best smartphone camera. Ahead of the iPhone 6 and even the LG G4 and its 16 megapixel camera with OIS.
Today Google silenced all the rumors and unveiled both phones had a 12.3 megapixel camera, and weren't shy about mentioning the lack of image stabilization. This is a feature most flagship phones have, and finally arrived for the first time in an iPhone, with the new iPhone 6s and iPhone 6s Plus earlier this month. Apparently it isn't nearly as important as many thought, because the Nexus 6P does pretty good without it.
Google claims its new phones have such a big camera sensor, that it doesn't need image stabilization. Being able to capture more light makes up for small movements, and result in an overall excellent image, and top quality video recording. At first we weren't too sold on those claims, but the report above backs it up. The Nexus 6P (and technically the Nexus 5X) takes the 2nd spot in the list. Ahead of the LG G4, Moto X Pure Edition, and many other popular smartphones with higher megapixel cameras.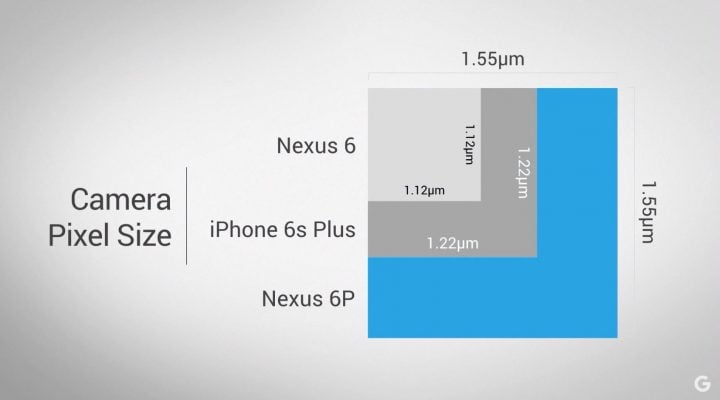 Above is an image from Google's announcement, which mentions the size of the sensor on the Nexus 5X and Nexus 6P. The large 1.55 (1/2.3"-type sensor) is bigger than the original Nexus 6, and even bigger than the new iPhone 6s Plus, which Apple made a big splash about. Claiming the new 1.22 um pixel size would deliver amazing photos.

We've heard good things about the new iPhone 6s camera, and multiple tests consider it one of the best on the market. Well, Google's absolutely topped that with the massive 1.55 um pixel size inside of its new smartphones. So far we don't have anything else to go on, aside from DxoMark, but they've been highly regarded in the past.
Their Nexus 6P camera review goes on to mention that as far as photos go the Nexus 6 does excellent, but video didn't score as high which lowered the overall results. Then the biggest dip came in stabilization, which of course makes sense because there is no optical image stabilization. Scoring only a 55 on stabilization while recording video.
That said, Google's claims are backed up here, and the bigger sensor on board allows the Nexus 6P to take stunning photos, clear video, and does so good that it took second overall of any smartphone released thus far.
What this all means is that the Nexus 5X and 6P will take amazing photos. These results should speak for themselves. If potential buyers had any doubts about the cameras inside of Google's new phones, don't, because apparently they'll perform quite excellent.
The all new Nexus 5X and Nexus 6P are available starting today at the Google Store, retailing for $379 for the Nexus 5X, and starting at $499 for the Nexus 6P due to having a bigger screen, huge battery, and all aluminum design. Right now Google is accepting pre-orders, and should start shipping before the end of October.
We'll have our hands on them soon enough, and will be sure to test out the cameras to see just how capable they are against any and all of the competition.