Nexus 6P Release Continues as Stock Returns
Google's brand new flagship smartphone the Nexus 6P finally started shipping to eager buyers over the past week, but the release hasn't been as smooth as many hoped. Earlier this month we confirmed pre-orders were facing delays and stock was all sold out, but this morning we have good news.
Those who've been considering the new Nexus 6P by Google and Huawei probably waited for reviews to start surfacing before buying one, and if so, weren't able to buy one because early last week inventory was completely sold out. Today and this weekend Google updated its store and added more, and now all three color options are now back in stock.
Read: Nexus 6P Review
Google's Nexus 6P has a lot to offer for a relatively low price. Things like an impressive 5.7-inch Quad-HD display, a great camera, good battery life, and finally a premium all aluminum design. It's one of the best Android phones available today, as we detailed in our review linked to above, and now more are finally available for those interested in buying one.
Google's Nexus 6P was announced and released on September 29th. Going up for pre-order the day it was revealed, but shipping dates were estimated to be 4-5 weeks away. Right on time and as expected, last week pre-orders started shipping. However, at the same time the Google Store was completely sold out, with no inventory for potential buyers, and Google had nothing more than a waitlist users could sign up for.
This weekend things changed, and the Nexus 6P release was put back on track. Google confirmed more stock has been supplied, and are currently selling all three colors of the Nexus 6P again. It's available in Aluminum (silver), graphite black, and white.
Read: Android 6.0 vs Android 5.1 Lollipop: What's New
The Nexus 6P is also Google's first Nexus smartphone to have a 128GB storage option, which also sold out first, and is the model that's facing delays. Initial pre-orders said 4-5 weeks for delivery, but many buyers, myself included, have received emails confirming 5-7 day delays. Instead of November 6-9th, my pre-order page has now been delayed to the 11-14thof November.
So while things aren't moving along as well as many expected, it's still leaps and bounds better than previous years where the Nexus 5 sold out in minutes, and was out of stock for weeks or months at a time.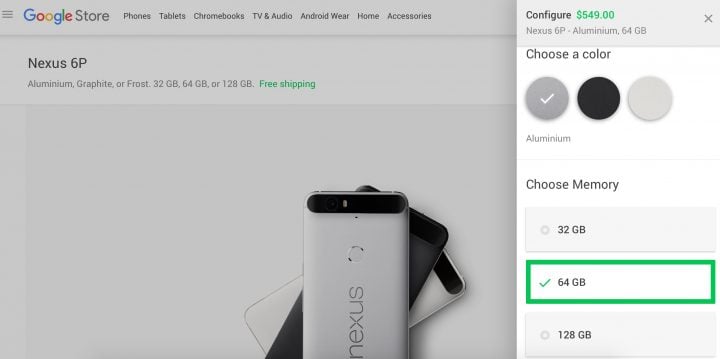 Currently those interested in the Nexus 6P can head to the Google Store and buy the Nexus 6P in all three color variants, but storage options are somewhat limited. Meaning users may have to wait longer, or sacrifice a color in order to get a different storage limit. At the time of writing this the 128GB version is only available in Black and White, aluminum is only available in 64GB, and Black is in stock in 32 and 128GB options, with nothing in the middle.
For now it looks like all Google Store orders are still on track to arrive inside the month of November, but shipping dates and estimates could continue to get further and further back, with some potentially ending up with a late November or early October arrival. We'd suggest buyers pre-order one as soon as possible, as this phone has been selling out fast.
As a reminder, the Nexus 6P has a 5.7-inch Quad-HD display, a powerful 8-core processor with 3GB of RAM, a new and improved 12.3 megapixel camera. It also sports a fingerprint scanner, dual front-facing speakers, a large 3,450 mAh battery with quick charging, USB Type-C, and the latest Android 6.0 Marshmallow all for just $499. It's one popular phone. The Nexus 5X is available in all colors and storage sizes as well, for those who want a similar experience for a lower price.

As an Amazon Associate I earn from qualifying purchases.