Nexus 6P Release Problems Continue
Last week we received some good news as Google's brand new flagship Nexus 6P smartphone finally started shipping. After being announced at the end of September with a promise to ship within 4-5 weeks, users started getting their own smartphones this week. However, we have bad news, and some pre-orders are facing delays.
On September 29th Google announced the impressive all-new and fully aluminum Nexus 6P, along with the Nexus 5X. Both fancy new Android 6.0 Marshmallow phones went up for pre-order the same day, but the Nexus 6P release isn't going as smooth as many hoped.
Read: Nexus 6P Release: 5 Things You Need to Know
After just two weeks the Nexus 6P in 64 and 128GB was completely sold out, and last week we confirmed (in the link above) the Nexus 6P was out of stock in all variants, unavailable from Google, with nothing more than a waiting list potential buyers can sign-up for and be notified when more arrive. However, today we received more bad news, and the Nexus 6P release problems continue.
The Nexus 6P is arguably Google's best Nexus smartphone ever released. It's made entirely out of aluminum. It's a flagship phone that can take on the Galaxy Note 5, iPhone 6s, and other flagship phones, and has a lot of "firsts" for any Nexus device.
It's the first aluminum Nexus, if you don't count the original Nexus One. It has a fingerprint scanner, a new USB Type-C connector that's universal, reversible, and charges quick, and it's Google's first phone to come with 128GB of storage as an option. It's popular for a reason, and sold out quick.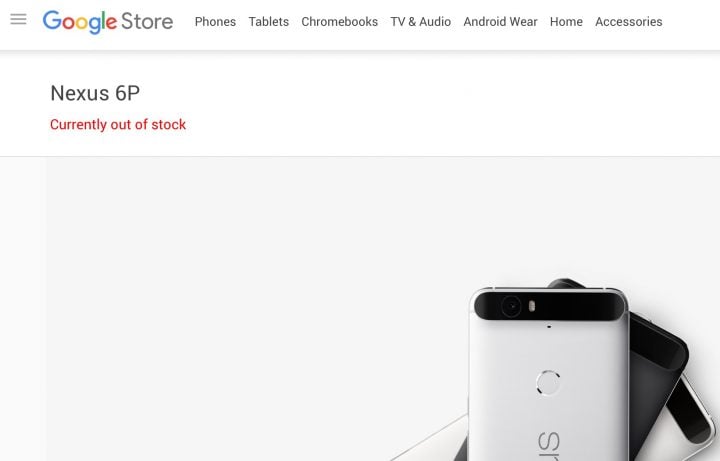 And while two weeks of availability is leaps and bounds better than the Nexus 4 or Nexus 5 from prior years, both which sold out in minutes, we're still not out of the woods with the Nexus 6P.
Today I received an email from Google, confirming that my Nexus 6P order had been delayed, and we're seeing similar reports around the web. There is a silver lining though, as the delay only appears to be about 6-8 days at the most, and as a result, Google's giving buyers a $25 refund for the extra wait.
As shown above, the Nexus 6P is completely out of stock. So those who waited for reviews to surface, can't buy one now. And those who ordered on day one, like myself, that chose a certain color or the 128GB storage option (we've heard a few with the 64GB model are seeing delays as well) won't be getting the phone as early as promised. Here's part of the email right from Google.
As you can see, the delay isn't too long. My initial order was placed on the 29th, hours after pre-orders went live, and my Nexus 6P was showing an estimated ship date of November 6-9th. Now the email above is stating the 7th-14th. Which means instead of the first week of November, I could be waiting until the end of the second week.
This isn't the worst news in the world, as it's only a few more days, but is bad news nonetheless. After reaching out to a few friends I'm seeing this more and more from those who ordered the 128GB Nexus 6P, as that's a lot of storage and typically not offered by most, but a few with the 64GB version (myself included) have received the same letter.
Google goes on to confirm the Nexus 6P will ship soon, and they'll still go out in the exact order the pre-orders were received, it just might be a few days later than expected. Users will get a $25 refund for the troubles, and have the option to cancel if they'd like.
With inventory already being completely out, we'd suggest just waiting it out. Huawei is taking pre-orders as well, but their site says shipping won't start until "late November" and is almost out of stock as well. We'd suggest keeping the Play Store order. If you've yet to buy one, head over to the Huawei Store before they're all gone. We'll update once we know more, or once these late orders start shipping.

As an Amazon Associate I earn from qualifying purchases.