Nexus 6P Review: Google's Finest Android Phone Yet
Google's Nexus 6P is by far the best Nexus smartphone ever released and possibly the best Android phone in general. It's that good. The Nexus 6P has all the makings for a top-tier "flagship" smartphone. The P stands for premium and that is exactly what buyers will get with an aluminum design, along with a beautiful 5.7-inch Quad-HD display and a great camera.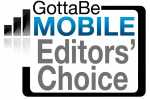 For a long time the best smartphone available has been an iPhone or Samsung, but times are changing. This year Google came to win, rather than sort of compete. The Nexus 6P has it all and does so while costing less than the competition. In fact, it's only $499. The price, premium build quality, excellent camera, fingerprint scanner, option of 128GB of storage and more are why the Nexus 6P earned a GottaBeMobile Editors' Choice Award.
Read: Nexus 6P Unboxing Video & Hands-on
Google's Nexus 6P delivers several features the iPhone and other Android competition can't. Not all phones have dual front-facing speakers or fingerprint scanners. These are just a few of the features that make this a fabulous device. Nexus phones have always been good, but were missing a feature here or there. This year is completely different. Google is finally playing in the big leagues. The Nexus 6P is a smartphone I'd recommend without hesitation.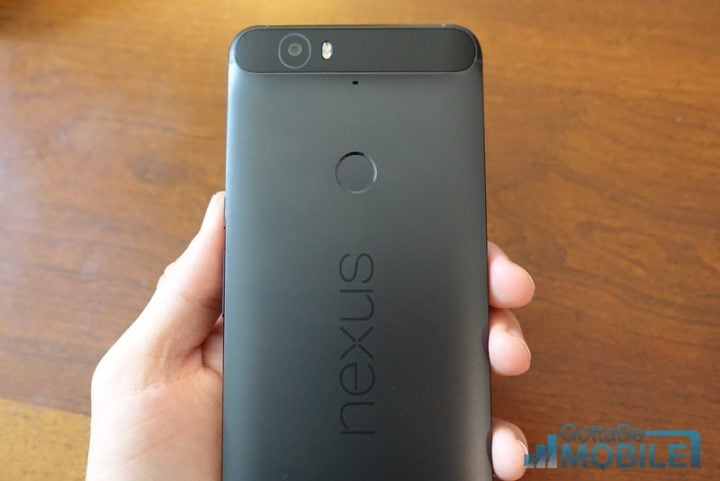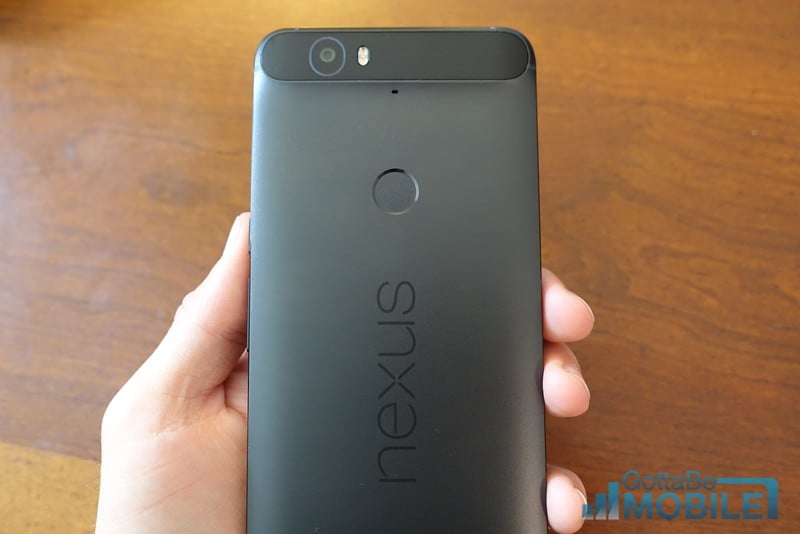 There's no getting around the fact that this is a big smartphone. It may be too oversized for some users. It has a smaller screen than last year's 5.96-inch Nexus 6, but physically the phone is bigger. It is taller, but easier to use because it is thin and not as wide. That said, this year Google and Huawei packed in all the latest and greatest technology. It has a fingerprint scanner, a huge battery and a quality camera all in a phone that's thinner, faster, easier to use and cheaper than the prior model. It's quite impressive, really.
What We Like:
Beautiful 5.7-inch Quad-HD AMOLED display
Finally, a good camera in a Nexus smartphone
All aluminum design that feels as good as it looks
Nexus Imprint (fingerprint scanner)
Excellent battery life
What We Don't Like:
Camera bulge on back
USB Type-C isn't common, and can be confusing
Bezels make it bigger than it needs to be
Bottom Line: The Nexus 6P retails for only $499. For that price, no phone currently on the market is better. Not one. Make no mistake, it isn't perfect and it's a big phone, but that is the trend these days. It's a huge phone that delivers everything a buyer would want. Pure Android with the promise of quick updates, great hardware and software, with no compromises.
Samsung's Note 5, a competing phone, is another good option in this size category, but it costs over $200 more. That demonstrates how Google evened the playing field when it comes to how a Nexus phone competes with Samsung or Apple. It did this while also lowering the price. The Nexus is finally in the big leagues with a premium "flagship" smartphone, unlike any Nexus before it.
Nexus 6P Display
The Galaxy Note 5, a competing phone to the Nexus 6P, has the best screen I've ever used in any smartphone, period. It has a 5.7-inch Quad-HD screen with a resolution higher than most HDTVs. The screen features vibrant colors, dark blacks and stunning viewing angles. Nothing has been able to come close to this screen… until the Nexus 6P.
In fact, the Nexus 6P might have the exact same display. We've not been able to confirm that, but there's hardly any difference. Huawei and Google spent a lot of money, time and effort on tweaking the screen. They nailed it. It looks amazing!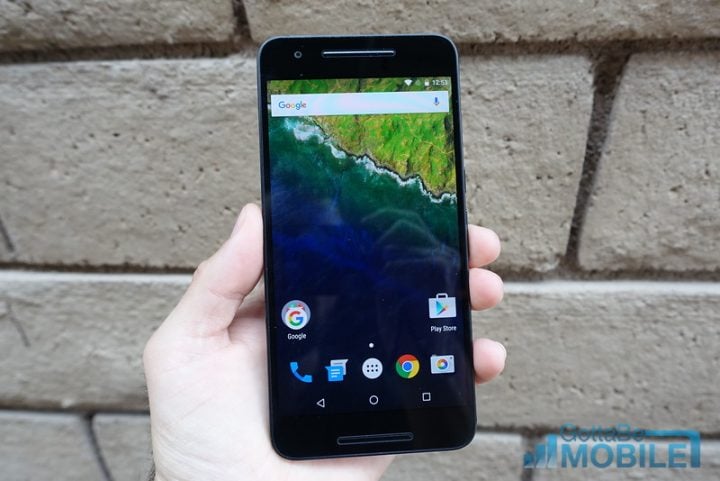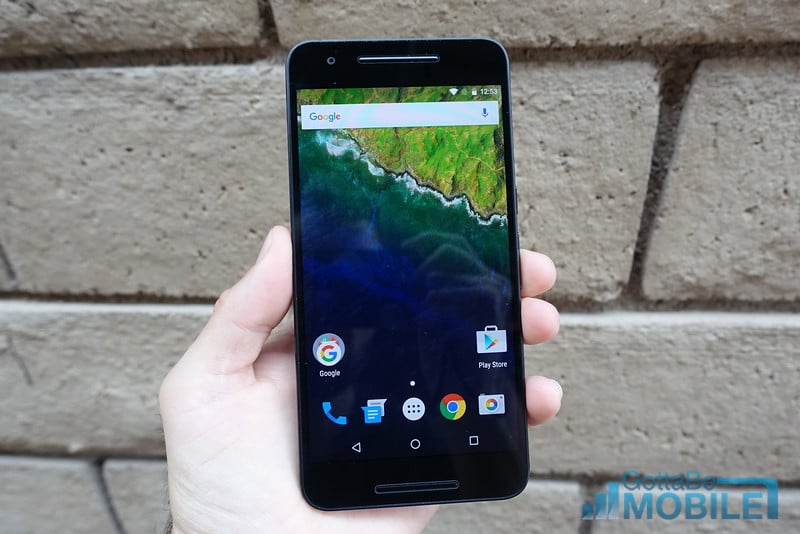 The Nexus 6P and its 5.7-inch Quad-HD 2560 x 1440 resolution AMOLED screen look better than the iPhone 6s Plus and its Retina Display. It's just as good as the Note 5 and is a joy to use. Google made a point to mention that they worked hard on making the AMOLED panel look fantastic by tweaking the colors and white balance. Some love AMOLED screens, while others think the colors are often over-saturated. Turning the brightness down typically results in odd blue or yellow hues on white screens. We've also heard complaints of a red tint if you look close, but we've noticed none of that on the Nexus 6P. Those who hated the faded and cloudy LCD on the Nexus 5 will absolutely love the Nexus 6P.
Google really did a good job on the display. It's one of the best screens on any smartphone. It looks good outdoors, gets very bright, has stunning colors, good viewing angles and more. Whether users watch movies, play games, send texts or browse the web everything is bright, crisp and clear.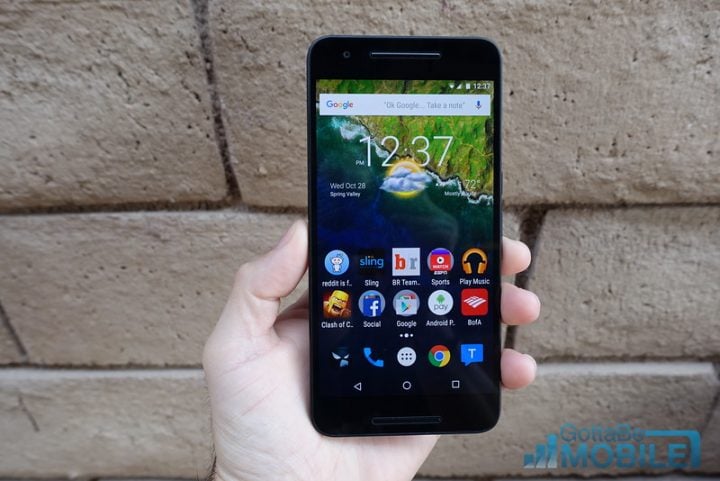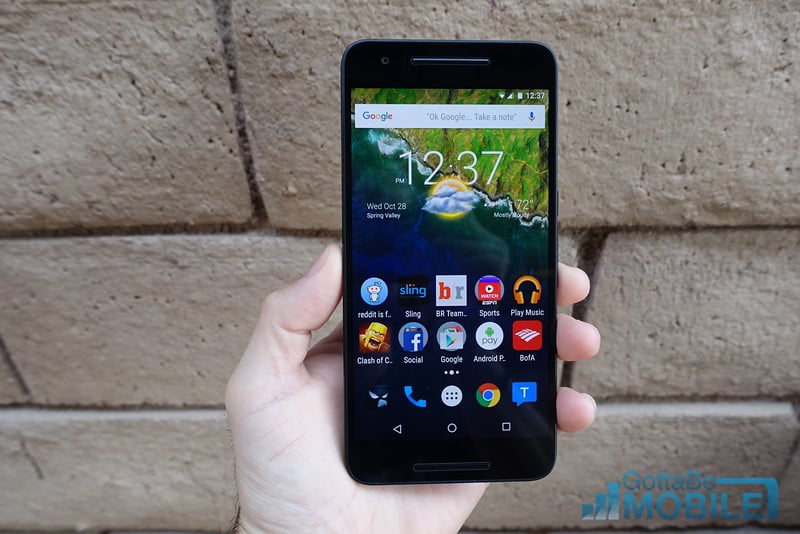 Another aspect of the display is the dual front-facing speakers on the top and bottom. They sound great. Google may not beat HTC with the front-facing speakers, but they're some of the best on the market.
The amazing colors of the big Quad-HD screen combine with the crisp, clear sound of the front-facing speakers to make this one of the best phones on the planet for watching movies or playing games. My biggest complaint about the competing phone, the Note 5, is the small single speaker on the bottom. It's right where a user would hold it and was always muffled. The Nexus 6P doesn't have that problem. As a result, users will have an amazing viewing experience and great sound to go with it. This is the ultimate gaming or consumption smartphone. Especially for $499.
Nexus 6P Design
We said Google was finally in the big leagues and this phone's design is one area where that is very apparent. There is no fake leather on back, soft-touch plastic that feels cheap or lightweight like other phones, or odd designs. It's all aluminum. We have the graphite black model, but it still is a premium phone made of aluminum. It comes in White, Graphite Black or a silver aluminum color option. They all look wonderful.
The Nexus 6P is made primarily of aluminum and glass with a few areas of plastic. These allow for better reception, WiFi signals and improved call quality. It isn't rounded on the sides or corners, but the aluminum sides have chamfered edges that are comfortable in the hand. The buttons on the right side are also made of aluminum and the power button is textured for ease of use.
It also has a fancy new feature which we'll talk more about below. Double-tap the power button (whether the phone is off, or you're reading an email) and it launches the camera in less than one second. It's a great feature, and launches faster than the LG G4 or Galaxy Note 5. This might be the fastest camera to launch on any smartphone.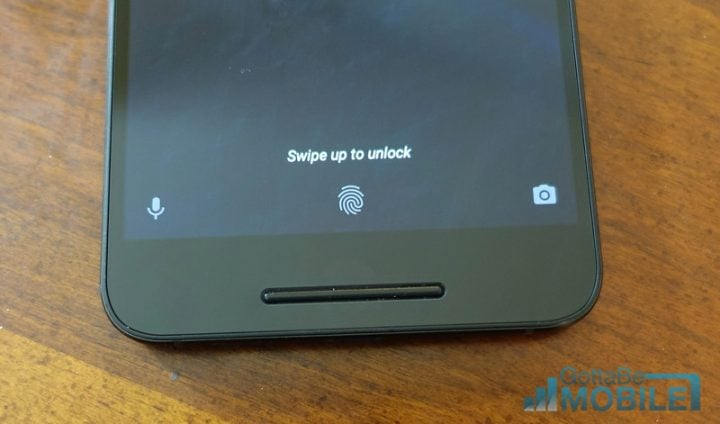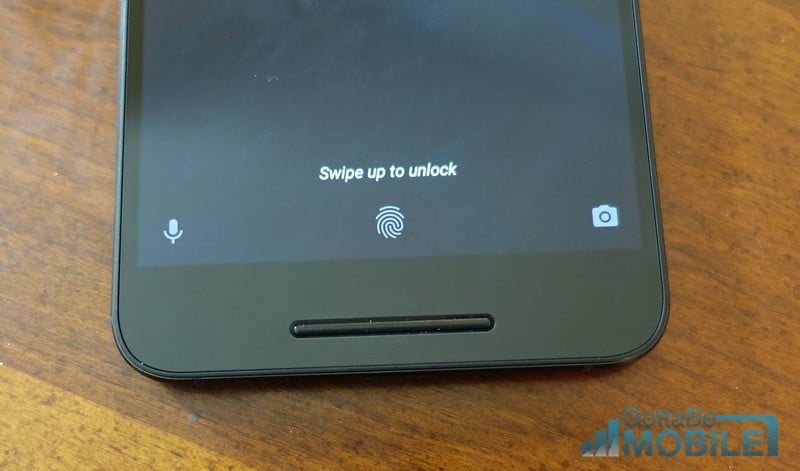 The bezel on the top and bottom of the screen is a little bigger than we'd like, especially considering how small they were on the Nexus 6. As a result this phone, with its smaller screen and similar dual front speakers, is noticeably taller than the Nexus 6 from 2014. It's big. Really big.
Then the Nexus 6P is covered in durable, strengthened Gorilla Glass 4 on the front and back. This means it won't scratch easily and probably doesn't even need a screen protector.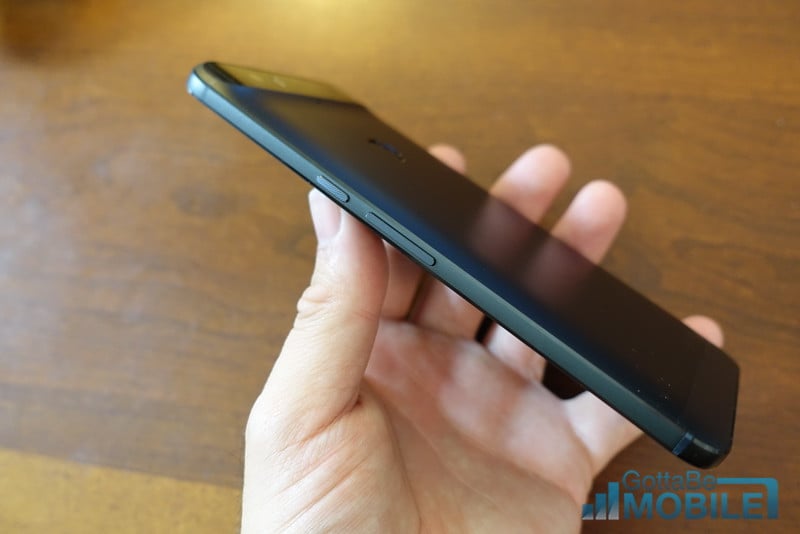 Around back and up top is the "hump" or "bulge." It looks awful in photos, but in real life it's actually barely noticeable. It's almost unfair to dock points about this because it's barely noticeable in your hand. It serves a purpose, too. Inside this glass visor on back is the awesome 12.3 megapixel camera with a huge 1.55 um sensor, two-tone dual LED flash, laser auto-focus, NFC antennas, WiFi and more.
I was worried that the bulge would make the Nexus 6P feel top-heavy. That doesn't seem to be the case because its weight is distributed properly. If anything, the visor and little panel give the phone character.
Although people didn't like it at first, Google's subtle curve to the back of the phone is actually quite pleasant. It's something no one should worry about if considering this phone. However, it is a fingerprint magnet, so make sure to wipe it clean before snapping photos.
And just for fun, take a look at the original Nexus One compared to the new Nexus 6P. Things have changed a lot in 4-5 years.
Nexus Imprint
There is one more design aspect to talk about and that's the fingerprint scanner, which Google is calling Nexus Imprint. It's a simple, barely noticeable and perfectly placed recessed circle on the back of the phone and it does wonderful things.
Just like Apple's TouchID or recent Samsungs, the fingerprint scanner on back is one of our favorite features. Google's decision to put it on back may bother some, but it's so perfectly placed you'll have no problem using it. While holding the phone, most users' index fingers neatly rest right on recessed circle which instantly unlocks the smartphone.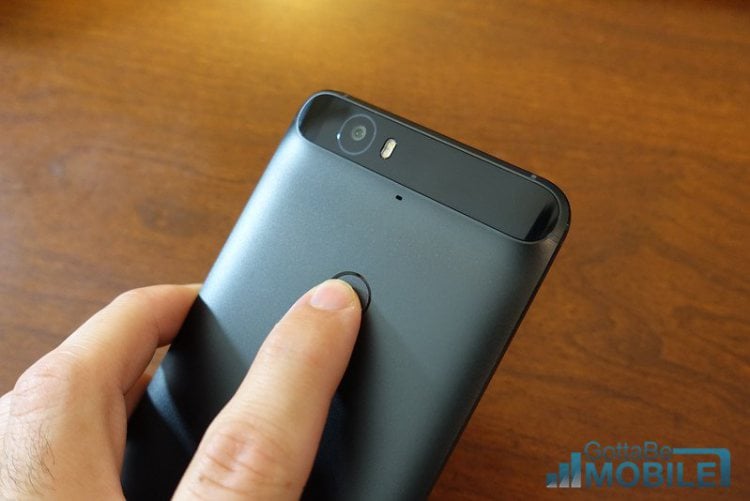 Tap the power button to check notifications on the lockscreen or tap your finger to instantly jump into the phone for use. No passwords, pins, patterns or anything. Just tap your finger on back and it instantly turns on and unlocks. You can't do it while the phone is laying on a table or desk, which is a problem Samsung and Apple users don't have.
Read: Nexus 6P Setup Guide: 10 Steps to Get Started
All said and done, Nexus Imprint works wonderfully. It's faster than the Galaxy Note 5 or iPhone 6s when it comes to unlocking the phone, easier and faster to setup, and the accuracy is amazing. I constantly have to tap my Galaxy Note 5 more than once because it didn't read my fingerprint, but not with Google's Nexus Imprint. Six taps of your finger is all it takes to save it during setup and it learns the fingerprint more during use, which means it continues get more accurate over time. As a result, it unlocks on the first try every time.
If owners don't leave their finger on the scanner long enough for it to register a print, it won't work. Since it unlocks in less than a second, so that's not really an issue as its easy to press again if you misjudge it. Overall it's lightning quick.
That isn't all either. Using Android Pay, users can sign into apps, websites, make purchases on the Google Play Store or make wireless payments by tapping the phone and tapping a fingerprint for security. This works like Apple Pay and is accepted at hundreds of thousands of locations around the United States.
Nexus 6P Camera
The worst part of any Nexus review has always been the camera. That is no longer the case. This year Samsung, LG and Sony all showed us that Android can have excellent cameras. The Nexus 6P has an excellent camera as well, one that even beat the iPhone 6 in camera reviews.
The previous generation Nexus 6 had a 13 megapixel camera with optical image stabilization, but it was still awful and didn't hold a candle to Samsung or the iPhone. In 2015, Google worked with Sony to use a brand new 12.3 megapixel camera with a big 1.55μm sensor, one typically not used for smartphones, and it takes amazing photos, as well as even better video.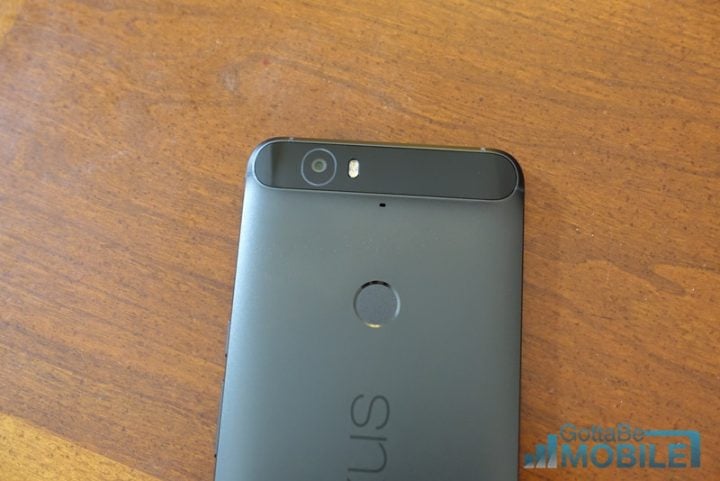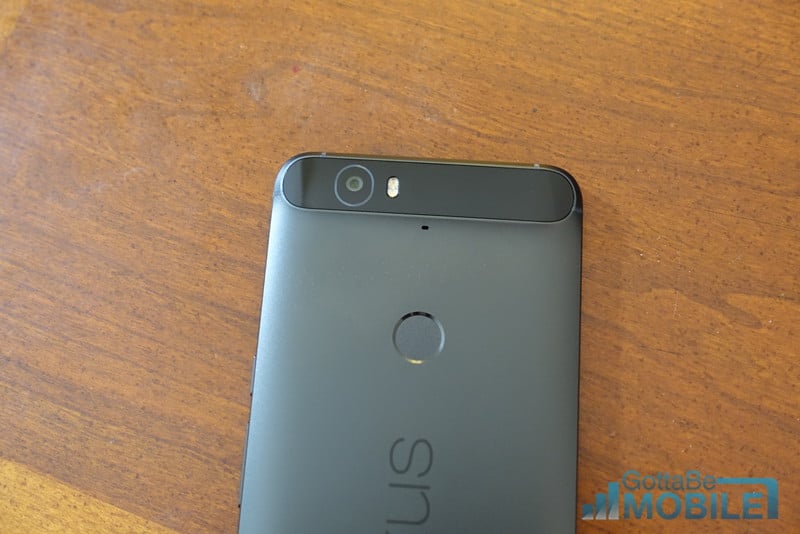 Sony's bigger sensor allows the Nexus 6P to capture more light and more details more quickly, which produces excellent photos. There is no optical image stabilization. This had many worried at first, but the Nexus 6P takes some of the best photos around.
Read: Nexus 6P vs Galaxy Note 5: Camera Comparison & Samples
Whether indoors or outside in direct sunlight, the Nexus 6P camera does great. Colors are wonderful and rich, maybe too rich at times. The color accuracy is excellent. Indoors and low-light are good too, because that big sensor captures more light. HTC tried this and failed, but Google got it right. Even the new iPhone 6s has a big 1.22μm sensor that was shown off when it was announced back in September. So Google and Sony are on to something here and it shows. Here are a few of many great photos taken with the Nexus 6P:
In really low light, we do miss the image stabilization as shaky hands can ruin a photo, but this was rarely the case. Double-tapping the power button instantly launches the camera and the laser auto-focus is blazing fast. You can open the camera and take a photo faster on the Nexus 6P than the Galaxy Note 5.
We also have 4k video recording and slow-motion video at 120 FPS, or the lovely 240 FPS, which results in stunning videos. Users can even edit photos or video right on the phone thanks to the powerful 8-core processor and 3GB of RAM inside.
The new camera, along with an improved Google Photos camera app, results in a great experience unlike any Nexus to date. There's a new burst shot mode that takes eight photos at once and then gives users the best one. You can select one or tap to use all eight photos and turn it into a GIF. It's like Live Photos on the iPhone, yet shareable because it's a GIF. Our only complaint is the time it takes to blend together panorama or live HDR images is a little longer than we'd like and slower than some of the competition.
The 8 megapixel front camera is far better than anything else released by Google. In the end it comes down to trusting the camera to take great photos without having to mess with settings. Owners will be able to pull the Nexus 6P out and know it will take great photos. Yes, the Note 5 or iPhone 6s might beat it in some cases, but they cost $200 more.
Nexus 6P Specs
Some like to know the finer details about a phone. All you really need to know is that the 8-core processor is extremely powerful. With pure stock Android 6.0 Marshmallow this is one of the fastest, smoothest and best performing Android smartphones on the market. You can't go wrong. That said, here are the numbers:
5.7-inch 2560 x 1440 Quad-HD AMOLED Display
8-core Snapdragon 810 processor with 3GB of RAM
32/64/128GB storage (no micro-SD slot)
Android 6.0 Marshmallow
12.3 Megapixel Camera (1.55 um), Laser auto-focus, 240 FPS Slow-mo, more
8 Megapixel front f/2.4 camera
Rear Fingerprint Scanner
Dual front-facing speakers
3,450 mAh battery
Fast Charging
USB Type-C port
Aluminum Design
There's one thing worth mentioning for sure: the 128GB storage option, a first for any Nexus. That's a big deal, as Google never puts micro-SD card slots in their phones. If buyers want to take 4k video and thousands of photos, 128GB should be more than enough.
The other specs are just numbers. The important part is the screen is amazing, the camera is finally good and this phone has a big battery that lasts longer than any Nexus ever released.
Nexus 6P Software
While we have a full Android 6.0 Marshmallow review and comparison to Android 5.1 already, users will want to know a little about the latest version of Android. The Nexus 6P runs Google's best release yet: Android 6.0 Marshmallow.
Read: Android 6.0 vs Android 5.1 Lollipop: What's New in Marshmallow
Android 6.0 Marshmallow built on the look of Lollipop but polished the edges, fixed some problems, improved battery life and made it faster than ever. There is a lot that's new, but most of it is under the hood and not noticeable at first glance.
The things buyers need to know or are wondering about are speed, performance and battery life. And they're all great!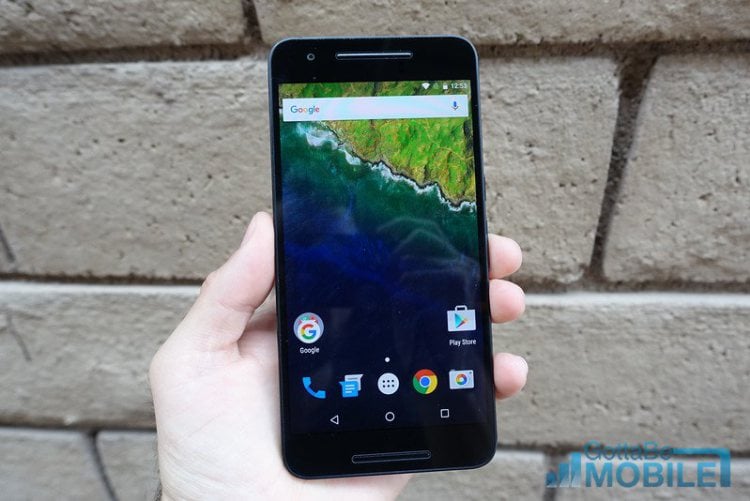 Google's Nexus 6P is extremely fast and fluid. The hardware and software work wonderfully together, not to mention the camera. It's Google's best experience to date. We're comfortable saying the Nexus 6P is in a league of its own and can finally compete with Samsung and Apple.
Android 6.0 Marshmallow has new permission controls for better security, more animations and smooth transitions from window to window or while opening apps. It is faster and more efficient than ever and has a feature everyone will love called Google Now on Tap.
With Google Now on Tap Google search and multi-tasking gets blended into one. Simply long-press the home button and Google reads and analyses whatever is on the screen, as well as gives users information relative to what's being shown.
Find out about movie times after a friend suggests it during a chat on Facebook Messenger or in a text, find nearby theaters, watch the trailer, read what it's about and more all without leaving the app. It's very powerful.
With Android 6.0 Google also changed the application tray a little, refined the widgets selection, changed and fine-tuned some settings and controls and just did all those little things that makes Android great.
Nexus 6P Battery Life & Charging
Here is where things are both good and bad. The Nexus 6P has a massive 3,450 mAh battery inside that sleek metal package and it lasts far longer than any Nexus I've ever owned. It also charges faster too, thanks to the USB Type-C port. This is a new standard that replaced the micro-USB charging cables. It's the future, but most chargers don't work correctly with it.
I've been able to go from 8AM to 9PM and still have 40% leftover with 2-3 hours of screen on time, which is very impressive. The fast charging of the Type-C port allows from 0-100% in 74 minutes and it even goes to 50% in less than 25. That gives users nearly 8 hours of battery life after a quick car ride home or charging, or while showering before a night out.
Android 6.0 has a new feature called Doze, which shuts down apps and background tasks while the phone sits idle. This is a game-changer and most tablets are seeing 30% better battery life. Everything sleeps or "dozes" and preserves the battery. Texts, calls and other important things still come through, but everything else is asleep. Standby battery is the biggest benefit of this: leaving a phone overnight I only saw 3% drop, when most lose well over 10%.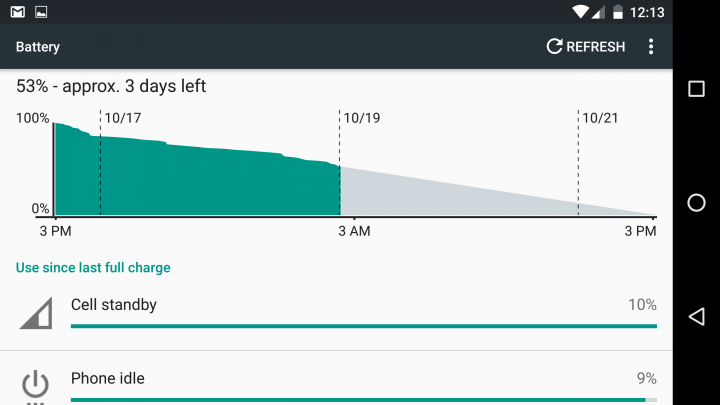 USB Type-C is versatile, reversible and works either way it gets plugged in, allows for faster charging than most phones (faster than Quick Charge 2.0) and it'll even let you charge other devices with the Nexus 6P. USB Type-C is powerful, and the future, but it hasn't fully taken off just yet. As a result only the included cable and charger will work; old chargers and cables are useless, and most quick or fast chargers don't enable the "Rapid Charging" status on the screen, which is what we want. Users can buy regular USB to Type-C cables and use old chargers, but most won't charge it as fast as the included charger, which is a huge plus, and very convenient.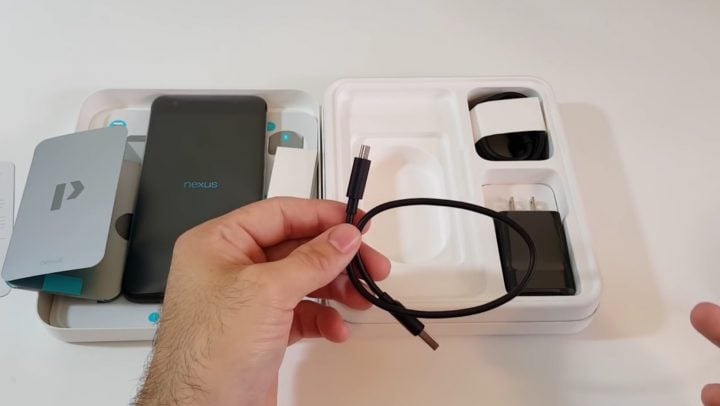 We love what Google is doing with USB Type-C and more will follow in the coming months and throughout 2016, but for now it's more of a novelty and pain in the butt, one with a huge upside later down the road.
Competition
With 2015 nearly over all of the competition for this phone has already been released, except for maybe the new DROID Turbo 2 from Verizon. There are other great 5.7-inch phones like the Moto X Pure Edition or the Galaxy Note 5, or even the smaller but still excellent Nexus 5X, with many of the same qualities of the 6P.
We're not trying to tell people what phone to buy, but below are a few comparisons and info about the competition to help users make the right decision.
Nexus 6P vs iPhone 6s Plus: 5 Things to Consider
Nexus 6P vs LG G4: Key Differences
Nexus 6P vs Moto X Pure Edition
Nexus 5x vs Nexus 6P: What's Different
Nexus 6P vs Galaxy Note 5: 5 Key Differences
Final Thoughts
In closing, all that really needs to be said, and what's explained above, is that the Nexus 6P is the best phone ever released by Google. It is also one of the best Android smartphones available right now, period. It's in a completely different league compared to past Nexus phones, yet stays inside that wallet-friendly price range that buyers love and the competition can't match.
Sure, other "premium" or flagship phones like the iPhone 6s or Galaxy Note 5 may have better cameras, a stylus, better apps or options, but they all come at a price. The Note 5 might be smaller and easier to use despite having the same size screen, but it's also over $200 more. Is a bloated smartphone and a stylus worth that? Or would buyers rather have an excellent experience with pure stock Android built right by Google and updated with frequency?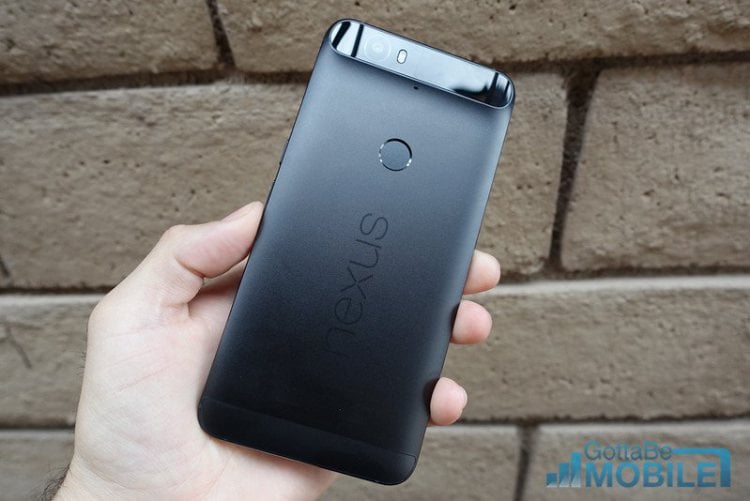 Does the customization and micro-SD card option on the Moto X Pure Edition make it worth getting a lower-end phone that starts at $399 for 16GB of storage, or would buyers rather have a top-tier experience across the board for a few dollars more. Maybe everything here looks great, but the price. If so, consider the Nexus 5X which retails for $379. However, it's made of plastic and not nearly as good. It's a mid-range phone. For just a little more, the Nexus 6P is arguably the best phone around and only costs $499.
As a reminder, the Nexus 6P is being sold directly by Google starting at $499. It works on any and all carriers in the United States. It's completely carrier unlocked. Nexus phones have always been good, but this time it's not only great, it's one of the best.
13 Official Nexus 5X & Nexus 6P Accessories
Nexus 6P Folio Case
Google doesn't have the best track record when it comes to cases or accessories, but they're working hard to change that with the Nexus 5X and Nexus 6P. Tons of cases are available now, or will be coming soon.
The Nexus 6P Folio Case comes in a beautiful refined leather design in brown or black color options. This is one of the few that is listed as coming soon, and arguable one of the best. It features cutouts for the front speakers, fingerprint scanner, all the ports, and has a magnet on the flip out cover to instantly wake the screen. It's an elegant case, but will be expensive.