Nexus 6P Setup Guide: 10 Steps to Get Started
On September 29th Google announced and released its new flagship smartphones for 2015 with the Nexus 5X and the premium Nexus 6P. And while the Nexus 5X is already arriving for buyers, the Nexus 6P won't start shipping until early next week. Once it does, the guide below will help new owners get the most from their phone, and be more prepared for the future with the Nexus 6P.
The Nexus 6P is Google's best smartphone to date, and has a lot to offer that previous Nexus (or any Android phone) doesn't. It sports a new USB Type-C port for charging that's extremely quick and can be plugged in both directions, a new fingerprint scanner for enhanced security, and runs the latest Android 6.0 Marshmallow. It has a lot going on, more than most Nexus phones. That's why we'd recommend users follow the guide below to fully enjoy the Nexus 6P.
Read: Nexus 6P Release Date Breakdown
Everyone uses their phone different, installs different apps, and has certain needs, but the essential steps outlined below can benefit anyone. With Android 6.0 Marshmallow everything is bright and fluid, the lockscreen is smarter and easier to interact with, and information is a tap or voice command away with Google Now on Tap. The Nexus 6P has a big battery that lasts long, but we can improve that and more below.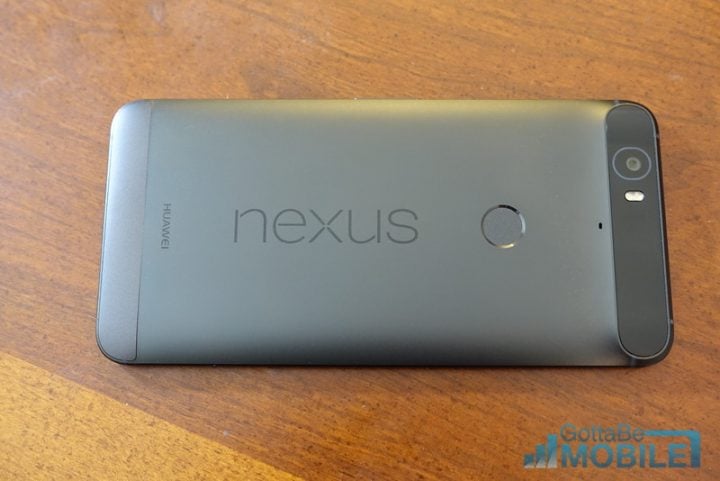 Right out of the box the Nexus 6P will run amazing, and the initial boot and setup process will have users do a few important things as well. Some might be too excited and skip that, or just want more details. It runs the latest Android 6.0 Marshmallow, which is a welcomed improvement over Android 5.1 from last year. We've put together a detailed comparison between Android 5.1 Lollipop, to help users understand what's new. Read that, then get started with these few tips and steps.
Restore Everything With Ease
On first boot you'll be greeted with a new restore option if you're coming from a previous Android phone called "Tap & Go" which debuted with Lollipop, and we'd highly recommend giving this a try. One tap will instantly restore your old devices settings, apps, app data, accounts, and even put your icons and widgets on the homescreen in some cases. This takes all the grunt work out of switching phones, so do it. You can also select from a list of previous devices, or start fresh.
If you'd rather not restore from a current device select one from the list of previous devices, or tap the drop-down menu and setup as a new device. Which will allow users complete control. After this we want users to have better security, set data usage limits, make battery saving changes, and a few other things to get the most from Android Marshmallow.
Read: How to Switch from iPhone to Android: The Google Way
If you're coming from iOS or Windows Phone, switching is a breeze, and easier than you think. Thanks to the guide above put together by Google.
Add a Fingerprint
One of the biggest new features for the Nexus 5X and Nexus 6P, as well as Marshmallow, is native fingerprint scanner support. Google calls this Nexus Imprint on its new phones. It's very secure, fast and convenient. No longer will you need to use patterns or pins to unlock a phone. Not to mention you can sign into apps or websites with a fingerprint, pay for apps and games Play Store, or use Android Pay throughout the United States.
The video below is from our hands-on with the Nexus 6P, but we're starting it half-way through where we setup a fingerprint as the lockscreen security measure. It's one of the fastest implementations of a fingerprint scanner we've ever used, and owners are going to love it.
If you bypassed the fingerprint scanner part during setup, it's still extremely easy do to. Here's the quick steps as well as a few screenshots for those already done with setup that want to add one now.
 Head to Settings > Security
Tap on Nexus Imprint
Hit Continue, setup a backup password, pin, or pattern
Follow the steps, tap the scanner 6 times, to save a fingerprint
Once finished add more fingers, or one from your other hand
I setup both of my index fingers, as that makes the most sense, but users an add more if they'd like, but doubt you'll be unlocking with your thumb, like on the iPhone or Galaxy Note 5. Once you've setup a fingerprint add a card to Android Pay, and start using wireless mobile payments with NFC. Android Pay is accepted at thousands of locations, just like Apple Pay.
Find a Lost Nexus 6P
If you ever lose your new Nexus 6P, owners will want to be able to track it down. Whether that be at a friends house, or unfortunately from theft. You need to do this before it happens, so lets take 1-2 minutes and do that right now too.
Head to the Android Device Manager or download the app, and prepare the device for those services. The ADM allows owners to call, lock, or even erase the device if it's lost, missing, or stolen. It even has an alarm feature to blast the Nexus 6P at full volume if its lost at home. Below is a screenshot of the Android Device Manager on my Nexus 5, but it works the same on all Android smartphones and tablets.
This is important in case of loss or theft. It typically can track a smartphone to within a few meters, and give you almost its exact location. Perfect for finding a lost device. Thankfully there's also an "erase" feature if its stolen, so someone can't access important information.
Turn on Google Now on Tap
Google Now or Google Voice are both awesome, but things are even better in Android 6.0 Marshmallow with a new feature called Google Now on Tap. It needs to be turned on though. Long-press the home button and turn on Google Now on Tap. Which will tell you what it does, and you're going to love it.
Once done, long-pressing home will let Google scan what's on the screen, analyze it, and give you instant information without leaving the app or conversation. Whether in a text message, Gmail, Facebook messenger and more. Find out movie times, a nearby store, watch preview trailers and more without ever leaving the app you're already in.
When a user is done getting information from Now on Tap, hit back, and you're right where you left off. That's true multitasking unlike ever before. While using Now on Tap all the typical Google voice commands work a well.
Enable Backup & Restore
Google has always had a backup and restore feature in settings, but it's the best version yet in Android 6.0 Marshmallow so make sure it's enabled on the 6P. A quick swipe into the Backup & Reset option in settings is all that's needed. During initial startup of your device, you may have restored from your Gmail account, but whether you did or not, you'll want to enable backup on the Nexus 6P, which will help out later on or when switching phones down the road.
This is also helpful for the Google Tap n Go restore we mentioned earlier. If enabled, the next time you wipe your phone, upgrade, or need to replace it, everything will restore in minutes, and we mean everything. Android 6.0 took restore to an entire new level with full app backups, including data, settings, and game saves. It now does it all.
Get More USB Type-C Cables
The Nexus 6P uses a brand new connector for charging and syncing, called USB Type-C. Not the micro-USB Type-A port we're all used to. This new port is universal and works in either direction, it's much faster and supports Quick Charging, but you'll need new cables in every room.
Type-C lets the Nexus 6P go from 0-100 in under 80 minutes, and to 50% in less than 30 for those who need extra battery in a hurry. Similar to Quick Charge 2.0, which you've probably heard of before. Sadly, future technology means old cables and chargers are worthless. Head to Amazon and get more USB Type-C cables for other chargers around the house, and some full size Type-A to type-C adapters so you can use old existing chargers. There's a small adapter in the box, but you'll want one longer than 6-inches.
Set Mobile Data Limits
We all wish we had unlimited data options from carriers, but sadly that's becoming less and less of an option. As a result many users have 2 or 4GB data plans, or shared family plans. The Nexus 6P works with all carriers in the United States, and fast 4G LTE service means you'll go through data in no time.
Before you go over your data limit and get additional charges from a carrier, you'll want to quickly set a mobile data limit for the device. You'll do this by heading into:
Settings > Data Usage > Set Cellular Data Limit

From here you can slide the bars to your specific days in which your plan begin/ends, and even see what's taking up the most data. This may not be 100% accurate with your carrier, but it's typically close enough.
If you tap the actual button to "Set Cellular Data Limit" it will kill all data once you reach the limit, not just remind you and still let you go over. The slider will give you warnings, but the toggle switch will actually prevent overages from happening. Choose what's best for you.
Quick Launch the Camera
Another quick tip everyone can enjoy is the quick launch feature for the new and improved 12.3 megapixel camera. Simply double tap the power button, and the camera is ready to go in less than one second. Rather than unlock the phone, slide open the camera, or use a fingerprint and open the app, just double tap the power button.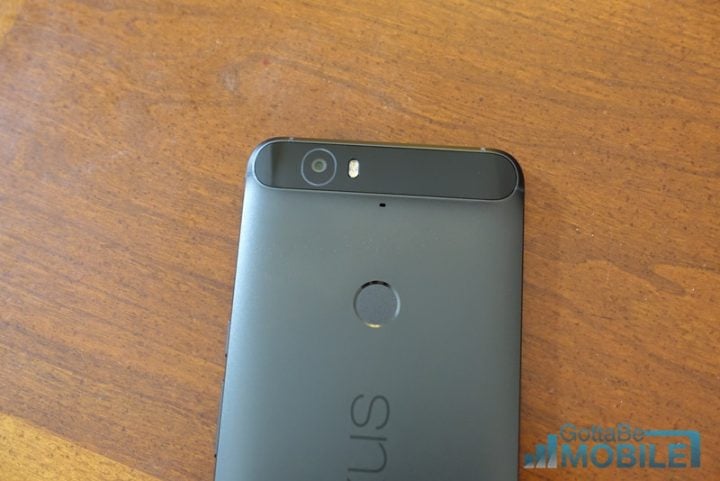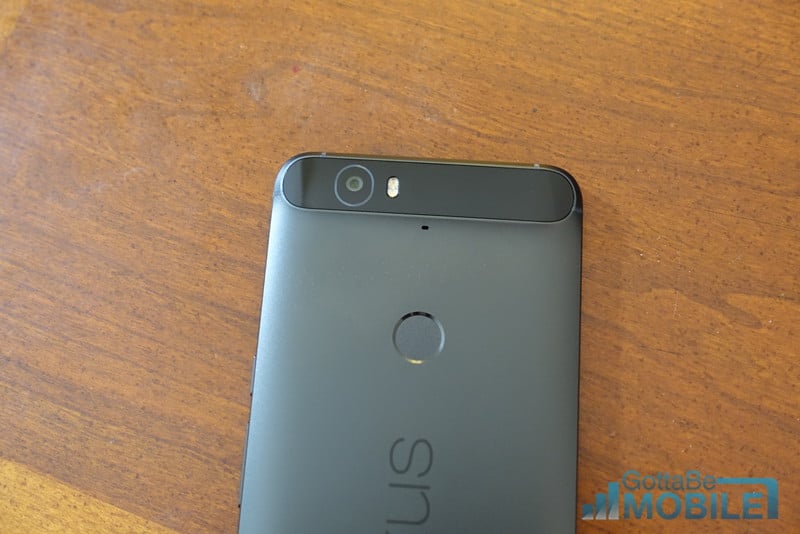 With a quick double tap the camera opens in less than one second, and the laser auto-focus means you'll be able to take pictures almost instantly. The Nexus 6P is faster than Samsung's quick camera feature. Google did an awesome job with this, but I'd prefer it be volume down or something else.
Customize the Notification Bar
Another small addition to Android 6.0 Marshmallow, is users can customize the notification bar. Change what icons can be displayed and even customize the quick settings. Swiping down twice, or once with two fingers, is a bunch of quick settings for WiFi, Bluetooth or the Flashlight. These can be rearranged with a little tweak in settings.
It isn't the easiest process, so follow this guide, and customize it as you see fit.
Improve Battery Life
The Nexus 6P runs Marshmallow and has a huge 3,450 mAh battery, so should easily last through an entire busy day. Our first impressions are good in terms of battery life, but we can always squeeze a little more out. These are just a few of many quick tips to improve battery life.
Screen brightness, sleep time, and location settings are the three key areas we wanted to focus on for battery life. For starters you'll want to head in and choose screen brightness. Many opt for auto-mode, but that will make the screen fluctuate so much, especially outside, that it can actually make the battery die faster. Don't use your phone with brightness at 80%. There's no need for it.
The display is usually the #1 battery drain, so turn it down. I use somewhere around 25-30% myself, which is hard to judge from a slider, but go ahead and turn it down. You don't need the screen to be a spotlight, and your battery will thank you.
Ambient Display is another neat feature on the 6P, which lets the screen glow on and off in a low-power state warning users of notifications. But one tap and it turns on completely. I was accidentally turning my phone on in my pocket, and this drains battery life. Some use this feature it, I disable it. It's under settings > display > ambient display. (Don't forget to set the "sleep feature" I use 1 minute, default is 30 seconds)
Disabling things like animations in the developer settings can improve battery, but Android 6.0's animations are what make it beautiful and a great user experience. The third screenshot above is location settings. It looks a bit different in Marshmallow, but works the same. This was new to Android 4.4 KitKat, and will help you better control what uses location services. GPS for Maps, Google Now, and Facebook kills data. Personally I turn all location services off, except for the essentials.
Settings > Location > Mode > and select Battery Saving
High accuracy is the best, but I use battery saving mode. The phone will still use WiFi and mobile networks to determine location, and GPS won't be fired up and draining your battery. I've noticed that Google Now still works fine with it set to battery saving, but we'll need to test how well Now on tap works with location being limited.
And finally, there's a new feature in Android 6.0 Marshmallow called Doze. This puts apps into a low-power sleep state when not used. Android did this before, but now it's more aggressive and can potentially increase battery life by 30%, mostly on tablets. If you pickup the Nexus 6P, doze is disabled. It works best during long periods, or overnight. You don't have to set this, it works automatically.
These are just a few tips of many, and expect more to be coming soon from the team here at GottaBeMobile.