Nexus 6P vs Galaxy Note 5: Camera Comparison & Samples
The brand new Nexus 6P was recently announced by Google, and one of many new features is the much improved 12.3 megapixel camera on the back. And while initial reviews have been positive, now that we have our own, below we'll be comparing the Nexus 6P camera to the Samsung Galaxy Note 5. A smartphone that has arguably the best 16 megapixel camera with optical image stabilization, and a lot to offer.
Samsung has made the camera a top priority over the past few years, while Google has always struggled in this regard, even with the Nexus 6 from last year. However, the new Nexus 5X and Nexus 6P claim to be the best cameras inside of any Nexus, and so far our initial hands-on time has been rather impressive, but we'll need a lot more time with each before we share more details.
Read: Nexus 6P Camera Tops iPhone 6 in Review
The link above shares a few additional details about the Nexus 6P camera. It has a new 12.3 megapixel lens with a big 1.55 um sensor that allows in more light, and promises to deliver a great camera experience without image stabilization. Other highlights are an all aluminum design, a 5.7-inch Quad-HD display, 3GB of RAM, a powerful 8-core processor, and the latest Android 6.0 Marshmallow software with the Nexus 6P.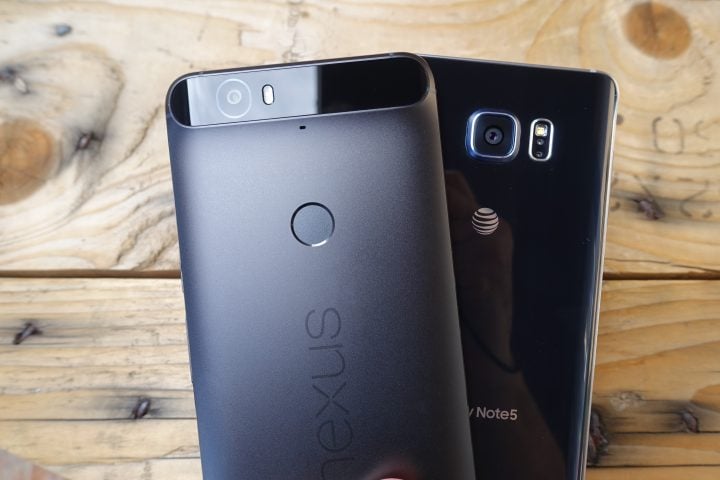 One thing worth noting is the speed each camera launches. Double tapping the home button launches the Note 5 camera, no matter what you're doing, and double tapping the power button does the same for the Nexus 6P. Google's quick-launch camera is faster than the Galaxy Note 5, every time. Samsung's was the fastest I'd used, until the Nexus 6P came and blew it out of the water. You'll never miss a shot with either, but you'll be ready to take photos faster on the Nexus 6P, and it has a fast laser auto focus.
The Samsung Galaxy Note 5 and Google's new Nexus 6P both represent some of the latest cutting edge camera technology. With things like optical image stabilization for Samsung, and laser assisted auto-focus from Google. Naturally we wanted to compare the two in what we'd call a "real-world" situation, the way average smartphone owners will use a device.
Not everyone has a tripod for their smartphones, or will ever take photos with a tripod. Almost every photo taken will be handheld, spur of the moment, and most likely set to automatic settings. Letting the phone do everything for you. That said, Samsung does have a Pro mode with tons of advanced controls, and the new Google camera has a few extra features as well.
As a reminder, the Samsung Galaxy Note 5 has a 16 megapixel camera with optical image stabilization, and an f/1.9 aperture. The Nexus 6P has a bigger sensor but less pixels. Featuring a 12.3 megapixel camera without image stabilization, an f/2.0 aperture, but a bigger 1.55um sensor that should be able to capture extra light quickly, allowing for great photos without the need for image stabilization. At least according to Google.
These phones both give you plenty of potential to work with when capturing the moments that matter to you. Naturally we shot a few different photos in different lighting to see how they handled the job, and it's up to you to decide what looks best.
All of the photos below were taken by hand, in similar situations, with each phone set to Auto, with HDR Auto enabled as well. The photos below are the Nexus 6P on the left, and the Galaxy Note 5 on the right.
Click to Enlarge or Scroll Through Images
This is an odd photo, but one of my favorites captured with the Note 5 and Nexus 6P. In a completely dark forest I saw water droplets on some leaves. Using my headlamp for lighting, and no flash, captured the above image. Again, Nexus 6P on the left, and the Galaxy Note 5 on the right.
The Nexus 6P shoots in 4:3 aspect ratio, so all the Note 5 photos are wider. I could switch them I suppose, and lower the Galaxy Note 5 to 12MP as well, but a straight-up comparison felt best. Here the Note 5 appears to capture more details, and is more clear, but color is a toss up.
Indoors the Nexus 6P (on the left) tried to adjust to the lack of lighting on this stick plant, and as a result it's a much warmer image. The true to life color was more accurately represented on the Note 5, but then again everyone has a personal preference.
It's worth noting that outdoors, the Note 5 was warmer and more vivid in color with the wood pallet, while the Nexus 6P was more on the colder side. Oddly. Completely different result going from outdoors to indoors. You be the judge.
Again with the Nexus 6P on the left, and the Galaxy Note 5 on the right, these phones both take great photos, but very different results. The Note 5 captures much more in each photo, taking a wider image, but it's also not as tall. Of course this can be changed on both in settings, and it all comes down to user preference.
My dirty truck showed more detail and to my eye, a crisper image from the Nexus 6P. While the Galaxy Note 5 captured the red TRD logo better, as it's a bit more vibrant. At the same time, the sky on the Nexus 6P looks better to my eyes.
Here are a few more sample shots of my Bearded Dragon, the sky in a parking lot, which turned out pretty poor on the Nexus 6P, as well as some garden gnomes. We'll let you guys decide. The Galaxy Note 5 appears to sharpen the photos a lot, but the results are all rather mixed.
Last but not least are a few more for fine detail, color and vibrancy, and other things. It's clear the Nexus 6P takes pretty good photos, but it could need some fine-tuning in some upcoming software updates.
The Nexus 6P camera is faster to start, faster to auto focus, takes better 240 FPS slow-motion video, they both can record in UHD (4K) video, and both have plenty to offer overall. All said and done this is a mixed bag of results. We tried toggling the always-on HDR auto mode, taking photos from different angles, and even zooming in, and both phones perform rather excellent. Buyers can't go wrong with either one, but a few low-light moments where the Nexus 6P needed a flash I had an odd halo around the image, which could of been due to the case, which was provided by Google as an official accessory.
These are just a few samples of many, and we'll be doing video tests, slow-motion video samples and much more in the near future.

This article may contain affiliate links. Click here for more details.