Nexus 7 (Cellular) Android 4.4 KitKat Update: What Users Can Expect
The Nexus 7 and Nexus 10 Android 4.4 KitKat update roll outs have begun, though, Google still has work left before all of its Nexus devices are upgraded with Android 4.4 KitKat. Ahead of the final Nexus 7 Android 4.4 KitKat updates, we take a look at what owners of the cellular versions of the Nexus 7 2012 and Nexus 7 2013 should expect.
In October, Google finally debuted the Android 4.4 KitKat update, an update that it first announced in early September ahead of the iPhone 5s launch and the arrival of iOS 7. The company though waited two whole months before it decided to finally confirm all of the Android 4.4 KitKat details to its Android users base. As expected, the Android 4.4 KitKat update not only boasts a ton of things to like but it's also going to be coming for a host of devices in the future.
At the time, Google announced that it would be rolling out the software to the Nexus 4, Nexus 7 and the Nexus 10. It decided against updating the Galaxy Nexus with Android 4.4, something that peeved its owners and caused thousands to sign a petition demanding an update. We don't expect Google to change its mind as far as the Galaxy Nexus is concerned.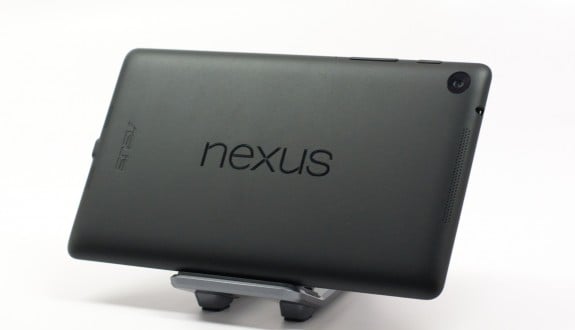 It also hasn't changed its mind in regard to the Nexus 7 and Nexus 10 roll outs either. Earlier this week, Google announced that the Nexus 7 and Nexus 10 Android 4.4 updates roll outs and said that they would be hitting specific devices. In the case of the Nexus 10, it's everyone. In the case of the Nexus 7, it's the Wi-Fi only versions of the 7-inch slate.
Indeed, Google has neglected owners of the cellular versions of the Nexus 7 for the time being, though, it has said that those updates will be coming soon. With Nexus 7 owners likely looking for answers, here, we take a look at what Nexus 7 HSPA+ and Nexus 7 LTE owners should expect from their Android 4.4 KitKat update release date.
Android 4.4 KitKat Roll Outs Soon
Earlier this week, Google took to its @Android account and announced that the cellular Nexus 7 models would, along with the Nexus 4, be getting their upgrade to Android 4.4 KitKat in the near future. The company did not elaborate on the exact timing of these updates but as we've pointed out, we don't expect them to be very far off at all.
There are a few reasons why these two Nexus 7 updates, the updates for the Nexus 7 HSPA+ (2012) and Nexus 7 LTE (2013) aren't far off in the distance. One, Google needs every advantage it can get in its battle against the iPad mini with Retina Display. While Android 4.4 may not be a huge Android update, it's still a marketing tool and one that it can use to promote the Nexus 7 this holiday season. With Black Friday coming up, now is the time to unleash the update.
Stay tuned, Nexus 4 and Nexus 7 versions with mobile data will be getting the update soon! https://t.co/TTRzORl4js

— Android (@Android) November 13, 2013
And two, one of the reasons that people buy Nexus device is to get early access to Android software upgrades. When people buy Nexus devices, they don't buy in thinking that it's going to take more than a month to see an update roll out. Google should realize that this perk is one that people really do count on and thus, we don't see it waiting until December or 2014 to upgrade the cellular models.
Instead, look for the updates to arrive within the next two weeks. We wouldn't be shocked to see them roll out after Google has completed the roll outs for the Nexus 10 and Wi-Fi Nexus 7. Those roll outs should take about a week.
Zero Warning
We figured that the Nexus Android update roll out announcement would come out of the blue and sure enough, Google used its social media accounts to announce the update without any kind of a warning. This is to be expected from the upcoming Nexus 7 Android 4.4 KitKat update roll outs as well. We have no doubt that Google will do one of two things.
Use social media to draw attention to roll outs.
Roll them out without any sort of publicity. It has done this before.
Point is, don't expect any leaked dates to emerge. We fully expect that the roll outs will come out of the blue with either a quick announcement from Google or no word at all.
Quick Manual Updates
While Nexus 7 users with cellular data got the short end of the stick in terms of timing, they do get the benefit of knowing how their upgrade process is likely going to play out. When the Nexus 7 and Nexus 10 updates first arrived, we saw the updates discovered lurking on Google's servers, something that allows users to bypass the OTA update and install the software manually. It took a little longer than we expected but the updates were discovered within hours of the updates arriving on the scene.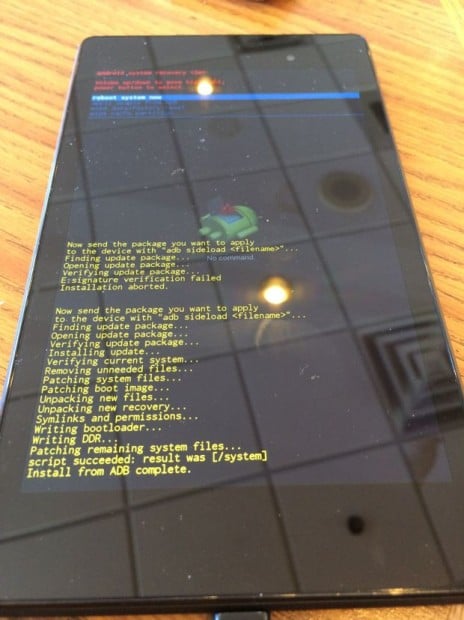 We fully expect there to be manual upgrades for owners of the Nexus 7 HSPA+ and Nexus 7 LTE and we expect that those manual upgrades will be possible within a few short hours of the initial deployment. Again, when the time comes, we recommend that novice users skip the upgrade process and wait for the OTA. There is always a possibility that something could go wrong.
Slow OTA
What would a Google Nexus Android update be if it wasn't slow moving? The Nexus 7 and Nexus 10 OTA updates are pushing out but they are moving out slowly to users. We expect the exact same thing to happen when the Nexus 7 cellular data updates deploy. Users should expect the updates to roll out over the course of a few days, possibly up to a week.
Again, the slow roll outs make the manual upgrade process extremely appealing but we only recommend updating early if sideloading is something that you are familiar with.

This article may contain affiliate links. Click here for more details.