Nexus 7 Flaws: Things to Consider Before Buying Google's Tablet
The Google Nexus 7 is a great value and one of the hottest Android devices on the market, but the little tablet is far from perfect. Google and ASUS had to make some tradeoffs to keep costs down and it shows.
Some of the Nexus 7's flaws may be deal breakers for some users, while others may consider them minor annoyances. Either way, you should at least take them into account before investing in a Nexus 7.
(Read: Seven Reasons to Love the Nexus 7)
The Nexus 7 is rough around the edges in ways that aren't acceptable considering the competition. Apple has a refined tablet in the form of the third-generation iPad and will likely introduce a smaller iPad this fall. We can't imagine Apple allowing a tablet with as many flaws to ship to end users in the year 2012. Apple has near total control of its design and manufacturing process. On the other hand, Google's partnered with ASUS to manufacture the Nexus 7 and there may have been too many cooks in the kitchen.
Some of the Nexus 7's issues are due to ASUS and Google pinching pennies on this particular tablet. The Google Play Store is still a mess and there isn't much of an ecosystem around the Nexus 7 compared to the competition's.
Incompatible Apps
The Google Play Store is in dire need of a tablet section. More specifically, it needs a Nexus 7 section…you know, like a list of apps and games that actually work with the Nexus 7. It's incredibly frustrating to find apps that are labeled as optimized for Android tablets, yet are incompatible with the Nexus 7. That just doesn't make much sense at all.
Some Android phone apps won't install on the Nexus 7 for one reason or another. Developers and Google don't give users much insight as to why not, but users probably won't be able to tell until they try to install them. \
This can be a minor annoyance or a major headache depending on your needs. Take for example, Yammer, the business messaging and social network. Without Yammer, I simply can't communicate effectively with other writers on this site. The service has effectively replaced internal email…except for when I'm on the Nexus 7. At this point I'd rather have an imperfect scaled version of the Yammer app on my Nexus 7 than wait for an update.
Some apps like the Nest Learning Thermostat will install, but won't run, stating the app has not been optimized for this screen size.
Game Downloads Are Flaky
The Nexus 7 has a powerful quad-core Tegra processor that delivers great gaming visuals, but installing games from the Google Play store can be a bit ridiculous.
Many of the games we tried to play, such as Max Payne, ShadowGun THD and Grand Theft Auto III only download a small file from the Google Play Store. Once the game is installed and opened for the first time users are notified that additional files are required to run the app. A few of the games we installed required between 700MB and 1.79GB of additional game data before being able to actually play them. We understand that good graphics and gameplay require big downloads, but the process of downloading the files after the initial game is a pain and users should be able to tell exactly how much space is required to run games before buying them.
Some games like The Dark Knight Rises bundle all the data into the Google Play store, which is how it should be.
Another issue is that the downloads don't always complete in the background and often require multiple attempts to complete.
Display Quality Issues
My Nexus 7 and those that belong to other GottaBeMobile staff don't suffer from display issues, but a number of Nexus 7 owners are reporting dead pixels. Others are reporting shoddy display quality control, with the glass separating from the tablet and being able to hear the adhesive 'let go' of the glass.
The touchscreen isn't working properly on some Nexus 7 devices. Above is an example of one user's buggy Nexus 7 touchscreen.
No Rear-Facing Camera
Most people don't use their tablets as cameras, but a serviceable camera is something we expect on any mobile device, even on cheap flip phones.  The Nexus 7 is much more portable than the iPad, and there are plenty of people that shoot pictures and videos with Apple's bigger tablet.
Cameras aren't all about taking pictures these days. A rear-facing camera is required to get the most out of many popular Android apps, such as Evernote, Google Goggles, Google Authenticator and Amazon. Visual search, barcode scanning and grabbing notes off a whiteboard or printed document all require a decent camera.
ASUS and Google apparently nixed a rear-facing camera to stay under the $200 mark, but it's a bad call that will hamper the user experience.
No 3G or 4G Options
Even if it increased the cost of the Nexus 7 Google should have included a 3G or 4G LTE connected model.
The Nexus 7's size is one of our favorite features and many of the GottaBeMobile staff carry the Nexus 7 with them on a regular basis, but the lack of a constant internet connection hampers the Android tablet experience.
We wish Google offered an unlocked 4G Nexus 7 in the Google Play store that would allow users to sign up for affordable contract-free data plans like the $30 T-Mobile plan that includes 5GB of data per month. For now users will want to pair the Nexus 7 with mobile hotspots to get the most from their tablets.
Not Enough Storage
The Nexus 7 is available in 8GB and 16GB flavors, but that's not enough.The 8 GB Nexus 7 is barely big enough to hold an HD movie and two graphically intense games, and even the 16GB Nexus 7 feels cramped after loading it up with movies, games and music.
At the least, Google and ASUS could have included a MicroSD card slot so users could expand the storage. Yes, there's a way to use a USB drive with a cable and a rooted Nexus 7, but that's neither a realistic or viable solution for most users.
How about a 32GB model for $299 or so?
Useless Dock Connector 
Like the Galaxy Nexus, the Nexus 7 tablet has a useless four-pin dock connector.
ASUS is reportedly working on an audio dock that will charge the Nexus 7 and allow users to listen to audio via a line-out function, but this type of accessory should be available at launch if it is in the works.
Because there is no useful dock connector, that means there is also no HDMI out so there's no way to play games and videos on a bigger screen.
Accessories that Cost More than the Nexus
Nexus 7 owners that want to stream to their TV are stuck with an incomplete and expensive Nexus Q. An accessory that costs more than the tablet.
Unlike the Apple TV, there is no way to stream other services to the Nexus Q. Users are stuck with Google Play Movie and TV offerings, Google Play Music and YouTube.
The Nexus 7 would pair great with a $99 Apple TV like device that users could offered Google TV and the ability to mirror the Nexus 7 display.
No Home Screen Rotation
The Nexus 7 home screen can not rotate to landscape out of the box. This is especially annoying because many Android apps work in landscape mode which leads to a broken user experience when switching back to the home screen to look for a new app to launch.
There are ways to tweak the home screen to rotate into landscape, but there's no reason this shouldn't be part of the standard Jelly Bean experience.
Sub Par Customer Service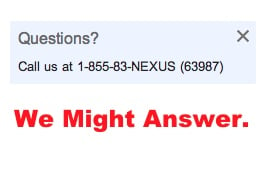 Google isn't known for its customer service, which generally isn't a problem since most of its users aren't actually buying anything. But selling hardware can be a tricky business. Early adopters are complaining about Google using ground shipping after paying for two-day air, poor return experiences and not being able to exchange defective units due to shortages.
Of course there's nowhere to bring defective Nexus 7 units to get checked out in person. Customer service is all virtual and problem units purchased via Google Play need to be returned directly to Google. That's a stark contrast compared to the iPad experience for those within driving distance of an Apple store.
Even calling for support is a test of patience. Reader Mara spent two and a half hours on hold before giving up with a support question and forums are littered with reports of long hold times and convoluted return procedures.

As an Amazon Associate I earn from qualifying purchases.