Nexus 7 Reportedly Headed to Verizon
Just a day after Verizon announced its very own 7-inch tablet, mobile insider evleaks is reporting that Google's Nexus 7 will be heading to the carrier at some point in the future. What was once a device that couldn't be used at all on Verizon's LTE network looks to be making its way to Big Red.
This does bring up some concerns as far as how the Nexus 7 will connect to Verizon's network. The tablet can use band 13 LTE, which Verizon supports, so that could be what the carrier will do, but this is the same situation as the Nexus 5; technically, the Nexus 5 supports part of Verizon's LTE network, but the carrier isn't letting the phone in. However, today's report of the Nexus 7 entering Verizonland gives us hope that the Nexus 5 will soon follow.
Of course, it's been expected of Verizon to eventually bring the Nexus 7 to its network since the company gave us a glimmer of hope when it said that it would "let folks know when it's certified," but it's mostly just a matter of when Verizon will do that. Of course, though, this is the first time that we're hearing reputable reports about the tablet making its way to Big Red.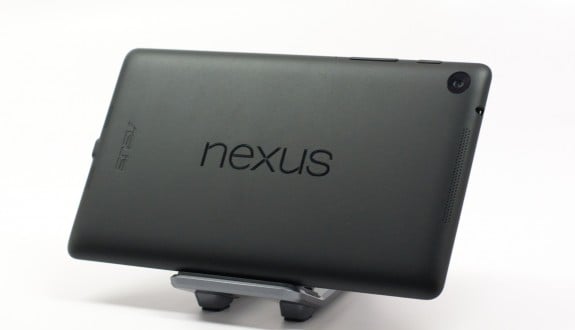 However, if Verizon does allow the Nexus 7 on its network, it will pretty much be cannibalizing its own Ellipsis tablet, seeing as how the Nexus 7 is the best Android tablet on the market right now. Verizon has never played nice with Nexus devices, other than the Samsung Galaxy Nexus, which Verizon barely let through, so full support for the Nexus 7 would be ground-breaking for Nexus owners.
This does bring us to the Nexus 5, though, and has us wondering if Verizon will ever officially support the new flagship phone from Google, but only if it allows the Nexus 7 to pass through. If that happens, there'd be no reason to let the Nexus 5 come aboard. Currently, the Nexus 7 LTE version is compatible with AT&T and T-Mobile's network, while the Nexus 5 works with T-Mobile and Sprint (AT&T works perfectly, but it's unofficial).
evleaks has a very proven track record when it comes to inside scoops in the mobile world, so if he says that the Nexus 7 will be heading to Verizon, there's a good chance that it just might, but we'll still be taking it with a grain of salt until we hear an official word from the folks at Big Red.

This article may contain affiliate links. Click here for more details.