Nexus 7 vs. iPad mini 2 (Rumored)
In just a few weeks, Google's Nexus 7, which launched back in July, will be faced with new competition from Apple as the company is heavily rumored to have an iPad mini 2 up its sleeve for the fall. Many consumers are likely looking into the two rivals and here, ahead of the launch, we take a look at how the rumored iPad mini 2 currently stacks up against the Nexus 7.
Last year, we saw a fierce battle between three tablets in the 7-inch range. The first, the Google Nexus 7, arrived in July alongside Android 4.1 Jelly Bean and with its high-end hardware, vanilla Android software and affordable price tag, the Nexus 7 was able to carve a nice niche for itself amongst those looking for relief from the full-sized tablets on the market.
Next, it was Amazon. Amazon announced and released its Kindle Fire HD, a tablet of similar size that appealed to those who live inside of Amazon's various services. It also had some nice hardware including a brilliant display and it too had an affordable price that that appealed to Amazon customers and average users alike.
Finally, later in the year, Apple announced its iPad mini, a $330 non-Retina barring device that arrived in early November, just ahead of the holiday shopping season to take on the Nexus 7 and the Kindle Fire HD. And while the device didn't have a Retina display, it still sold extremely well. Very obviously, the companies were going to be back for more in 2013 and now, we are in the midst of another full scale battle.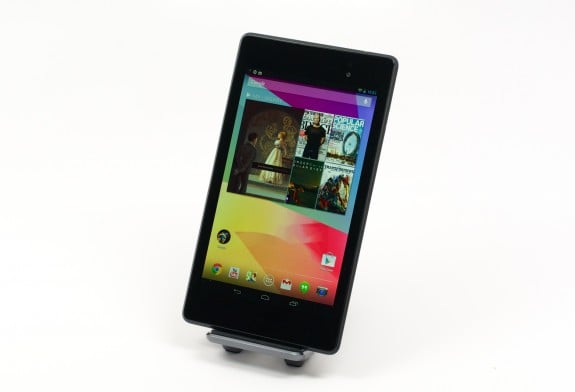 In July, Google announced a sleeker new version of the Nexus 7 that features a better display, 4G LTE data speeds and a price that only skipped a little bit. It has been on sale for months now and figures to be a top option during the holidays. Of course, it will soon be joined by a new Kindle Fire HDX and more important, a new iPad mini 2 from Apple which is thought to be arriving in just a few short days.
Here, ahead of that launch, we match up the Nexus 7 and iPad mini 2 and took a look at what buyers should expect between their upcoming battle in 2013 and beyond.
Release Date
The Nexus 7 is out and has been out since July. Well, at the least the Wi-Fi only model has. The Nexus 7 LTE has only been out for a few weeks as its release was pushed all the way into September. The device remains in stock through the Google Play Store and through various retailers and it will likely be widely available through the holiday season. Unfortunately, the iPad mini 2 might be in a different boat.
Apple's iPad mini 2 launch date is set for October 22nd. The company hasn't confirmed the device for arrival, but it's pretty clear that the iPad mini 2 will be one of the new products that Apple announces come next week. History suggests that Apple will reveal an iPad mini 2 release date at the event, a date that will mark the beginning of the Nexus 7's battle with the new iPad mini.
While there are rumors of an October 30th or October 31st release date, we believe that the iPad mini release date date will be in and around November 1st for a couple of different reasons:
Apple loves to release products on Friday.
November 1st is 10 days after the launch event. Apple likes patterns and the iPad mini 2 release and iPhone 5s release both took place 10 days after their launch events.
Even if November 1st is off, it will likely arrive around that date. Unlike the Nexus 7, the iPad mini 2 could be hard to find for several weeks as rumors point to major supply issues thanks to the Retina Display. This isn't confirmed but similar rumors of an iPhone 5s sell out panned out.
Design
Google changed the design of the new Nexus 7 and fortunately, the changes were for the better. The device now uses a new black matte finish in the back, a finish that is superior to the one found on the older version. It's soft, easy to grip and it feels much nicer (and more expensive) than the material on the last model. The device is also lighter and thinner than the original Nexus 7, checking in at 8.65 mm thin and 290 grams for the Wi-Fi model and 299 grams for the LTE model.
The overall design is a triumph for how much the device costs and it provides users with an extremely powerful and extremely portable piece of hardware that doesn't feel like it's going to fall apart.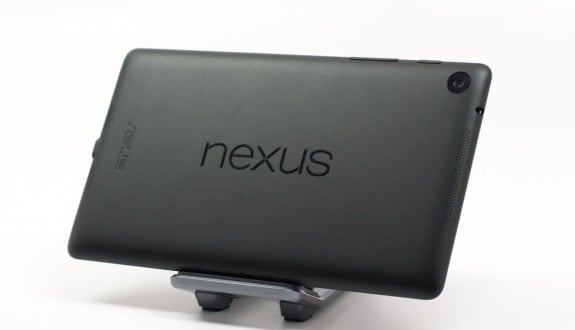 Rumors suggest that the iPad mini 2 design will almost be the same as the current iPad mini. The build materials should be the same with the device sporting a form factor sporting an exquisite anodized aluminum back but it looks like the addition of the Retina Display may cause the device to gain a few pounds and gain some thickness.
iPad mini 2 leaks point to a design that could potentially weigh more than the iPad mini thanks to a bigger battery that it will need to power the device's new high-resolution display. Thankfully, if the changes do occur, it shouldn't be drastic. The weight gain could potentially be around 25 grams pushing it up to 337 grams. As we've pointed out, if true, it would be like taping five nickels to the back of the current iPad mini. Not a huge change. As for the thickness, it's looking like it could be 7.5mm thick as opposed to 7.2mm.
As it stands, the iPad mini 2 will likely be a bit thinner than the Nexus 7 but there is a chance that the Nexus 7 could wind up weighing a bit less than the new iPad mini. As for the overall form factor, it will likely be a case of plastic versus metal.
Display
Google upped the ante with its new Nexus 7 display. This year's device sports one of the best displays around, offering a 7-inch display that features 1920 x 1200 resolution at 323 pixels-per-inch. The device can also handle full HD 1080p content, perfect for those that love to watch their television shows or movies in fantastic quality.
The iPad mini 2 is also expected to feature a new display in the form of a Retina Display that could deliver 2048 x 1536 resolution with a pixel-per-inch count around 324, a huge improvement over the 1024 x 768 resolution with 163 pixels-per-inch found on the current version of the iPad mini. If true, it will likely mean that these devices will have displays that are on par with each other.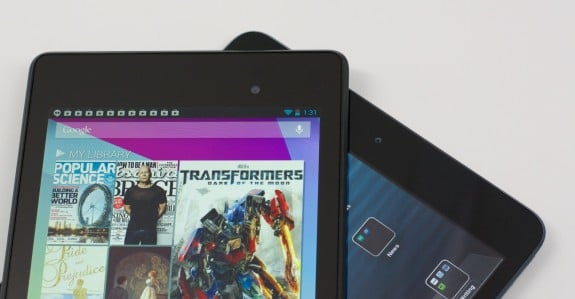 Both should produce quality text, video, photos, web content, everything, and while there will likely be some minor differences, expect them to be on par with each other.
Specs
Google outfitted the Nexus 7 with some powerful hardware features to ensure smooth performance for those that want to game, watch content or simply browse the web. Thanks to a 1.5GHz Quad Core Snapdragon S4 processor from Qualcomm. In our experience with the device, we found it to be extremely snappy and responsive.
We also found that the company improved the battery life on the Nexus 7. In particular, the device does much better than the original Nexus 7 while in standby mode. While the original Nexus 7 battery would often die while not in use, the same can't be said for the new Nexus 7 which seems to be on par with the battery life of the current iPad mini.
The device doesn't have a removable back so there is no way to change out the battery and buyers are stuck with two storage options with no chance to expand. The Wi-Fi only model comes with 16GB or 32GB of storage space while the LTE model only comes in 32GB form.
Apple's iPad mini 2 should deliver a high-performance processor as well. Rumors suggest that the device could employ the new A7 chip from Apple which would bring 64-bit support to the table and deliver better performance than the performance found on the original. Apple is again thought to be adding a larger battery though we don't expect the battery life to change too much from last year's model. Expect it to stay almost the same, something that isn't a bad thing.
The iPad mini 2 will not come with a removable back either though it should come with more storage options for those in need. Last year, Apple offered 16GB, 32GB and 64GB variants of the iPad mini, in both Wi-Fi and LTE, and there is no reason to think that things will change this time around.
Lest we forget, the Nexus 5 boasts a 5MP camera that isn't anything special and 1.2MP camera for video chatting. The iPad mini 2 is thought to have a new 8MP camera on board that could put it on par with the iPhone and it should have a FaceTime HD camera in the front. We wouldn't be surprised if Apple's rear sensor performed better than Google's.
Software
The Nexus 7 is currently running Android 4.3 Jelly Bean, a pure version of it, straight from Google. The Android 4.3 Jelly Bean software that's on board can be seen in action in the video below. It will soon be getting Android 4.4 KitKat, Google's latest Android update, that figures to roll out sometime in the next few weeks and bring a number of enhancements to Nexus 7 owners.
Because this is a Nexus-branded device, it means that updates will come straight from Google. That means that the Nexus 7 will be one of the first to get Android 4.4 and all future Android updates. It also comes unlocked which means that users can customize it to their hearts content.
The iPad mini 2 will run new software though it won't be from Google. Instead, it will run the new iOS 7 update from Apple which has changed up the look of iOS for the first time since it launched with the original iPhone. Like Android 4.4 KitKat, it will bring a number of big time features to iPad mini 2 owners.
Like the Nexus 7, the iPad mini 2 will receive updates from Apple which means that they will be quick, efficient and available on day one. Apple typically keeps devices updated for three years at a time while Google is a little more unpredictable. Both devices should see several major updates arrive before they are retired.
Carriers
The original Nexus 7 didn't come with 4G LTE data speeds. Instead, it relied on HSPA+ speeds against the 4G LTE speeds of Apple's original iPad mini. This year, Google finally got it together and released a Nexus 7 with LTE data support. The device is sold in one 32GB flavor and it's compatible with AT&T and Sprint at the moment. Verizon is in the process of getting it to work on its network and it should get access eventually.
The iPad mini arrived on AT&T, Sprint and Verizon last year and this year, we expect those carriers to stay on board and offer up the new iPad mini 2. There is a good chance that T-Mobile could make an appearance as well considering it finally released the iPhone this year. That's not guaranteed but expect the big three at the very least.
Price
The Nexus 7 is sold at three price points. A $230 16GB model that utilizes Wi-Fi only. A 32GB that does the same with a price tag of $270. Google's Nexus 7 LTE comes in 32GB form and it's sold for $350. In other words, Google stuck to the game plan with prices that once again should undercut Apple's iPad mini and offer a discount for those that don't want to break the bank.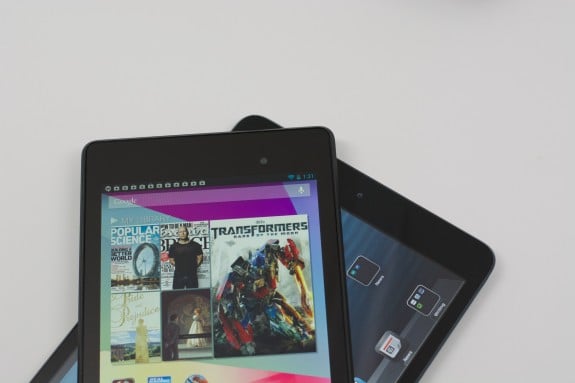 There are a lack of iPad mini 2 price rumors at the moment but Apple has not shown a willingness to shift its price points, instead opting to keep them static through the years. What this means is that consumers shouldn't expect the iPad mini 2 price to shift up or down. It will likely remain the same.
So, that likely means a 16GB Wi-Fi iPad mini 2 that costs $330 or, $20 less than the Nexus 7 LTE model. As for the iPad mini 2 LTE variant, it should start at $460, or, about $110 more than the Nexus 7 LTE.

This article may contain affiliate links. Click here for more details.