Nexus 7 vs. Nexus 8: 10 Things You Need to Know Right Now
Rumors suggest that Google has a new Nexus tablet up its sleeve, a device that's being called both Nexus 8 and Nexus 9. With Nexus 8 rumors swirling, we want to take a look at the most important things current Nexus 7 users and prospective Nexus 7 buyers need to know about Google's rumored successor.
The past two years saw Google release a brand new Nexus 7 tablet at the mid-year. In 2012, we saw the company issue the first Nexus tablet, the Nexus 7 2012, a device that ushered in the Android Jelly Bean era and a device that carried the Nexus banner into battle against devices like the Apple iPad mini and the Amazon Kindle Fire.
Last year, Google replaced the Nexus 7 2012 with a Nexus 7 2013, a souped up version of the Nexus 7 that improved upon the design, the display, the processor, the camera, and more. The Nexus 7 2012 was considered one of the best tablet options in its time and the Nexus 7 2013 remains one of the top tablet options more than a year after it was first released.
This summer is shaping up to be quite different. While we've seen Nexus tablet rumors swirl, we haven't seen a Nexus tablet release. Google I/O came and went without any Nexus news and the month of July, the scene of the last two Nexus tablet launches, proved fruitless. That doesn't mean that we won't see a Nexus tablet release this year though.
Nexus 8 rumors (other are calling it Nexus 9) have teased with tales of a new Nexus tablet. These Nexus 8 rumors have been extremely exciting because they point to some significant changes to Google's popular Nexus slate.
Details are still a bit scarce but we think have enough information and enough history with Google's Nexus program to make an early Nexus 7 vs Nexus 8 comparison. Here are the 10 most important things that prospective Nexus 7 buyers and current Nexus 7 users need to know about the upcoming Nexus 8 tablet.
Nexus 7 Still On Sale & Still Good
The first thing that you need to know, if you're debating between the Nexus 7 and waiting for the Nexus 8, is that the Nexus 7 is still one of the best tablets on the market.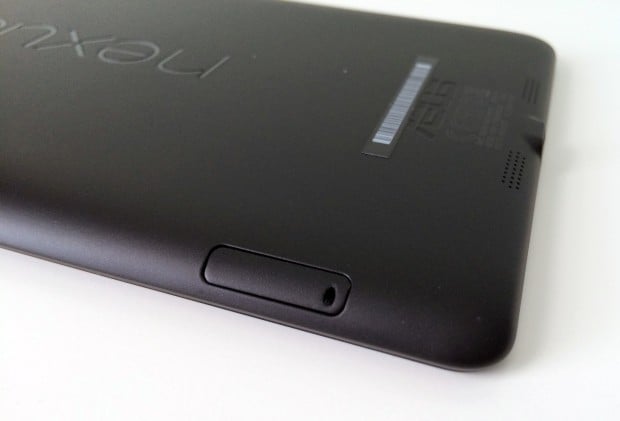 Google's Nexus 7 is still a solid choice thanks to its hardware, which includes a quad-core processor and beautiful 7-inch full HD display, its software which is now powered by Google's Android 4.4.3 (Nexus 7 LTE) and Android 4.4.4 KitKat updates, and a price tag that has been in decline for several months now. It's one of the iPad mini with Retina Display's top competitors and a device that is still worth buying into.
The Nexus 7 is still available at select retailers and we highly suggest going hands-on with it before making a decision. If you're unable to do that, have a look at our Nexus 7 review.
Probably Not Coming Back to Google Play
You may have heard. Most of the Nexus 7 variants have disappeared from the Google Play Store. While the Nexus 7 32GB Wi-Fi + Mobile Data unlocked model is still on sale, the others are not. Google says that it's currently out of inventory and that consumers should check back soon.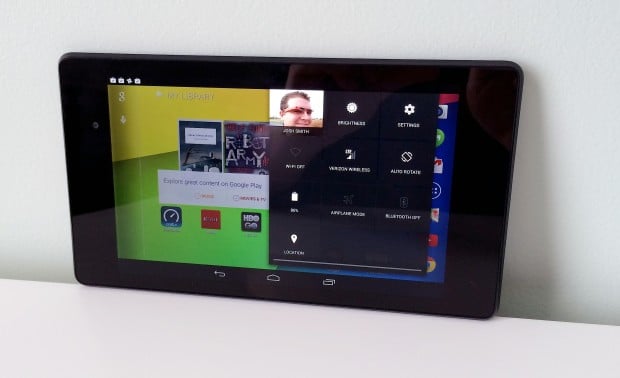 We've seen this message before. It popped up several weeks ago for the Nexus 10 and it popped up when the company killed off the Nexus 4 in September ahead of the Nexus 5 release. When this message pops up, there is a very good chance that the device won't be coming back, even if Google says to keep checking back on inventory.
What this means is that if you're into the Nexus 7, you're likely going to have to buy through a retailer. We suggest calling ahead of time to make sure stock is available. As we head deeper into the year, stock could start to fluctuate.
Nexus 7 Deals
You should also avoid paying full price for the Nexus 7 if you choose not to wait for the Nexus 8. We've seen a ton of Nexus 7 deals emerge in recent weeks, deals that have dropped the price down to incredible lows. Sure, you might have to settle for a refurbished model, but refurbished models are going to be pretty close to new.
At this point, given that it's over a year old, it's worth investigating deals before paying full price.
Nexus 8 Release Looking Good
Google hasn't confirmed it yet but a Nexus 8 release is looking good for 2014. In the past seven months, we've seen numerous rumors point to a new Nexus tablet for 2014 and Android Police, a credible source when it comes to Android rumors, detailed a number of very specific pieces to the puzzle several weeks ago.
The well sourced and now retired evleaks also claims that HTC and Google are developing a new Nexus tablet dubbed "flounder" and "volantis." He believes that two other HTC tablets could emerge alongside the Nexus 8 or as he calls it, the Nexus 9.
What you need to know is that these are credible sources and credible rumors that are backed by a number of other leaks and reports. Unless something changes behind the scenes, we're expecting a Nexus 8 tablet to come and replace the Nexus 7 later on this year.
Something to think about before diving in with the Nexus 7.
Expect to Wait
Nexus 7 users looking to upgrade and those looking to physically compare the two tablets are likely in for a bit of a wait. Nexus 8 release rumors suggest that it will be coming out in the fourth quarter (October, November, December). Rumors have also hinted at an earlier arrival in Q3 though with Nexus 8 rumors slowing down, we're not convinced.
As we've noted, the rumored Q4 release date fits in perfectly with what we've seen from past Nexus launches and what we've heard about the Android L update release. Android L, Google's next Android update, is rumored to be coming out alongside the Nexus 8 tablet in the fourth quarter.
With Nexus 6 rumors putting a new Nexus smartphone in November, we could potentially see Google release two brand new Nexus products alongside the Android L update to combat the iPhone and iPad.
We're getting closer to a Nexus 8 release but it still appears to be beyond the horizon.
Nexus 8 Display
The Nexus 8 display could be one of the key differences between the Nexus 7 and the Nexus 8. The Nexus 7 features a 7-inch full HD display. Here's how we described it in our review:
When it comes to the Nexus 7 display the 1920 x 1080 resolution delivers a very nice looking canvas to read, browse the web game and watch movies. The high-resolution and small screen mean users experience a display with pixels packed so close that it is not possible to see individual pixels while reading, looking at photos and watching movies.
Nexus 8 rumors point to a larger, better display. Right now, we're hearing that the Nexus 8 will come with a brand new 8.9-inch 2048 x 1440 display with a 4:3 aspect ratio. If true, it would mean better looking content and more screen real estate for gaming, getting work done on the go, watching movies, and reading books.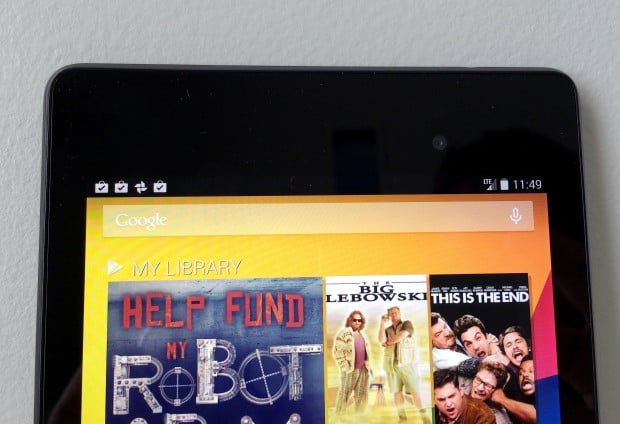 If you're not enamored with the Nexus 7 display, know that there is a very good chance that the Nexus 8 will come with something different.
Nexus 8 Design
Design could be another big change. The Nexus 7 comes with a solid black matte plastic design that's thin, durable and easy to hold, all good things. The Nexus 8 design is rumored to be much different, however.
According to the latest credible rumors, the Nexus 8 will sport a brand new aluminum design. Its zero-gap aluminum unibody design will reportedly be similar to the one found on the HTC One M8. The render below from Android Police offers a glimpse at what the Nexus 8 could look like.
The Nexus 8 will supposedly measure 8.91″ x 5.98″ x 0.31″ (7.8mm thin) and weigh in at around 418 grams. The LTE model will reportedly be a tad bit heavier and check in around 427 grams. That's a lot heavier than the plastic Nexus 7 and a lot heavier than the iPad mini which weighs just 341 grams. It is, however, thinner than the Nexus 7 design.
Google's new tablet will also reportedly come with front-facing speakers, a hallmark of the HTC One, and a feature that will provide better quality audio for movies, gaming and more. The Nexus 7 does not feature front-facing speakers. The Nexus 7's speakers are nice but they still left something to be desired.
Nexus 8 Specs
If you're familiar with the Nexus program then you know that these devices are considered "reference devices" for Android manufacturers. In other words, they're built to show what Android can do.
So, every year, Google swaps out specifications for newer and better features. The company typically focuses in on the design, display, processor and the camera. And that's exactly what we've seen from Nexus 8 rumors.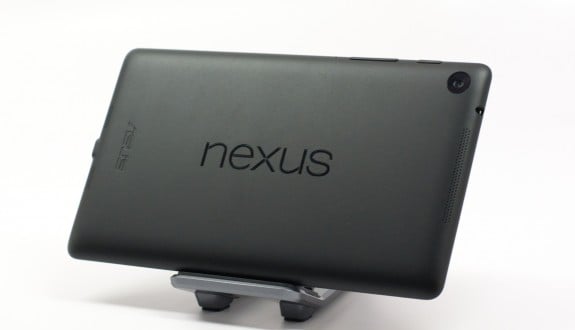 In addition to the design and display changes, the Nexus 8 is rumored to feature new rear and front-facing cameras. While the Nexus 7 arrived with a 5MP camera and a 1.2MP camera up front, Google's new tablet is thought to have an 8MP camera sensor with Optical Image Stabilization (OIS) and a 3MP front-facing camera. OIS helps to cut down on the shakiness in videos.
As far as the processor is concerned, Nexus 8 rumors have consistently pointed to a new processor, perhaps 64-bit in nature. Android L comes with support 64-bit architecture which makes the inclusion of a 64-bit chip is very likely.
Specifically, Nexus 8 is said to utilize a 64-bit NVIDIA Logan 64-bit processor (Tegra K1). This information is backed by an early leak from Myce that pointed to an NVIDIA-powered tablet. The new processor will reportedly be supported by 2GB of RAM, something that would help to offer enhanced performance in key areas.
Jargon aside, the Nexus 8, if there is a Nexus 8, should outperform the Nexus 7.
Similar Software
You should know that these two Nexus tablets will likely share software features. Android L is heading to the Nexus 7 2013 and there is a good chance that it will be the software that powers the Nexus 8. The Nexus 8 could come with some different features but we expect the Nexus 7 to get most of what Android L has to offer.
Keep in mind, Google adheres to an 18 month rule when it comes to software upgrades. What this means is that devices typically don't get updates once they cross the 18 month mark. The Nexus 7 is in good shape, it just hit the 12 month mark, but it's simply not going to have the longevity that the Nexus 8 should have if and when it arrives.
Nexus 8 Price
Finally, you should know that you might have to pay more for the Nexus 8.
Last year's Nexus 7 checks in at $230 though as we've pointed out, Nexus 7 deals have helped to chip away at that price point. Nexus 8 rumors on the other hand put the device on the same level as the iPad mini with Retina display.
Google is reportedly throwing around two different price points: $399 for the 16GB version and $499 for the 32GB version of the tablet. This is far more expensive than the previous two Nexus tablets and it's on par with the current iPad mini price. While an exact price isn't known, a 4G LTE Nexus 8 could come with a price tag upwards of $600.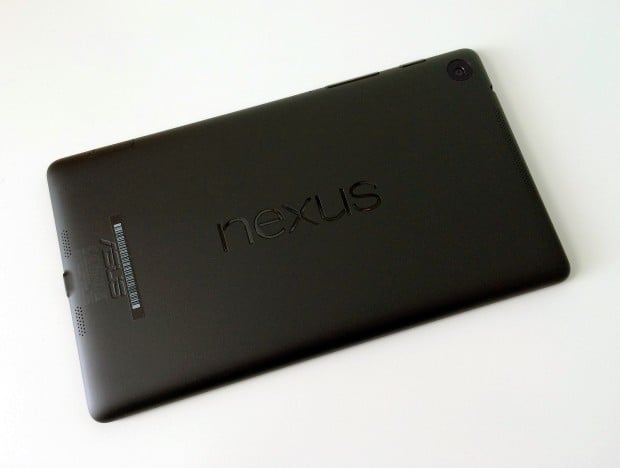 We saw Google push the price of the Nexus 7 2013 up from the original Nexus 7 and with a metal design and new specifications rumored to be on board, we could see the company push the cost up a little more to make ends meet.
Nothing is set in stone but at this point, know that the Nexus 7 could be hundreds of dollars cheaper than the Nexus 8.

As an Amazon Associate I earn from qualifying purchases.