Nexus 7 with HSPA+ Now $100 Off with AT&T Contract
The Google Nexus 7 with 3G is now available for $199 with a two-year contract from AT&T, though users still have to pay $299 upfront.
After users buy the Nexus 7 for $299 from the Google Play Store they have to activate their two-year contract with AT&T from the device and either sign up for a standalone plan for the tablet or add it to an existing Mobile Share plan. After activating the tablet on AT&T the carrier will issue a $100 credit towards the account with the Nexus 7.
By activating the Nexus 7 on an AT&T plan users can make sure their tablet will always have 3G or "4G" data, as long as they're in an AT&T coverage area. It's great for users who plan on using mobile data on the tablet often, and who plan on using the tablet for several years.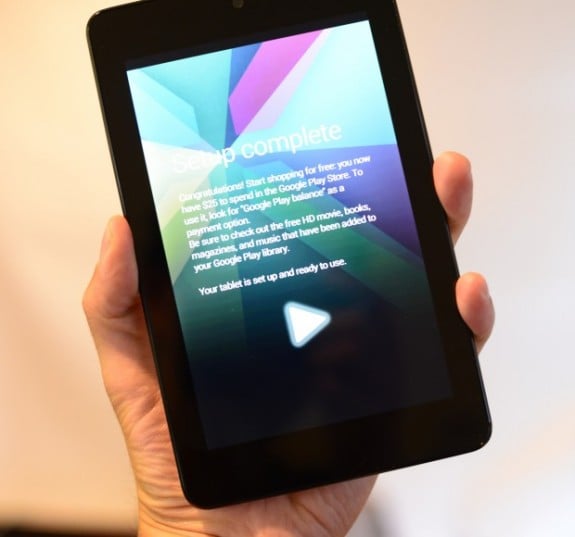 There is an early termination fee of $150 for users who choose a postpaid plan for the $100 credit. So any user who plans on upgrading their tablet before January 2015 may want to skip the $100 credit for a prepaid plan.
AT&T also offers DataConnect Pass for the Nexus 7, which lets users pay for data only when they want it, similar to the iPad. This plan doesn't offer any sort of discount on the Nexus 7, but it does offer an easy way for users to get data when they want it.
Postpaid plans for the Nexus 7 start at $10 a month to add the tablet to a Mobile Share plan. DataConnect Pass starts at $15 a month for 250MB of data. DataConnect Pass also offers 3GB of data for $30 and 5GB of data for $50 a month. Adding the Nexus 7 to a Mobile Share plan should let users use it as a mobile hotspot, but AT&T's DataConnect Pass doesn't appear to support mobile hotspot.
AT&T offers similar deals for the iPad fourth generation and iPad mini with the same limitations. The deal is worthwhile for AT&T users who already have a Mobile Share plan and who plan on keeping and using their tablet for two years. Otherwise, prepaid is likely the way to go for users who want mobile data on their tablet.

This article may contain affiliate links. Click here for more details.