Nexus 7 with T-Mobile Now Available Direct from Google
The Nexus 7, which has been available with an AT&T SIM card for many weeks now, has emerged on the Google Play Store with a T-Mobile SIM card meaning that those looking to easily run it on T-Mobile's network now have that option.
Read: Nexus 7 with HSPA+ Now $100 Off with AT&T Contract.
Since November, the month that Google introduced the cellular version of its 7-inch Nexus 7 tablet, the company has provided customers with an easy way of getting their Nexus 7 up and running on AT&T's network. Through the Google Play Store, consumers have been able to purchase a cellular-enabled Nexus 7 bundled with an AT&T SIM card, making it easy to get it up and running on AT&T's HSPA+ network.
Now, Google has seen it fit to include T-Mobile in the party as the Google Play Store now boasts a cellular-enabled Nexus 7 that comes complete with a T-Mobile SIM card. The new offering, which was not available yesterday, allows users to pick up an unlocked Nexus 7 that is primed and ready for T-Mobile's high-speed HSPA+ 42 network.
T-Mobile also has one of the best pre-paid plans in all of the United States and that makes this Nexus 7 one especially worth looking at for those looking to nab a Nexus 7.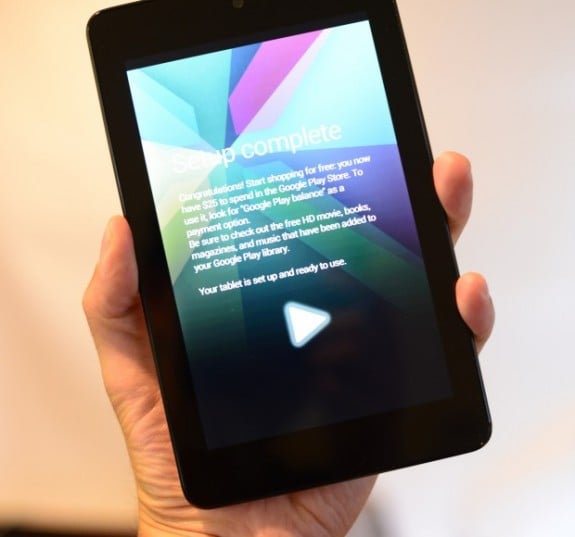 The device itself is the same exact 32GB Nexus 7 that was previously available with the AT&T SIM card and that means that it also will be coming with a 7-inch IPS display, quad-core processor, front-facing camera, and Android 4.2 Jelly Bean. The Nexus 7 remains one of the only devices in the world that is running Google's Android 4.2 Jelly Bean operating system.
Its price is also exactly the same with Google commanding a $299.99 price.
The T-Mobile-ready Nexus 7 joins the AT&T-ready model and Google's other two Nexus 7 options which include a 16GB Wi-Fi only model and a larger 32GB Wi-Fi model. Prior to November, Google offered an 8GB Nexus 7 and an 16GB Nexus 7, both Wi-Fi only, instead.

This article may contain affiliate links. Click here for more details.