Nexus 8 vs. iPad mini: What Rumors Reveal Right Now
Rumor has it, Google is working on a new Nexus tablet, currently dubbed Nexus 8. The device is said to feature a larger screen than the 7-inch Nexus 7 and come with a number of other upgrades that could help it become one of the top rivals to the iPad mini with Retina Display and perhaps, the rumored iPad mini 3.
Two years ago, Google released its first Nexus tablet dubbed Nexus 7. The Asus-made tablet arrived with high-end specs, vanilla Android software and was delivered to consumers through the Google Play Store. The inexpensive tablet became one of the top tablet options on the market though its competitors soon released new devices in an effort to compete.
Late in the year, Apple unleashed two new tablets, a large screen iPad and a smaller iPad mini to compete with Google's Nexus lineup and the Kindle Fire tablets that Amazon produced ahead of the holiday. The competition was fierce and so it came as no surprise that the companies involved up the ante during 2013.
Last summer, Google unleashed the new Nexus 7 2013, a device that is currently on shelves and a device that is currently competing against Apple's new flock of tablets. At the tail end of last year, Apple released the iPad Air and the iPad mini with Retina Display, two tablets that are considered to be the company's very best work.
It appears that history will repeat itself in 2014 as rumors point to the arrival of a brand new Nexus tablet, a Nexus 8, and two new iPads. In an effort to help those that might be in the market for a new tablet this year, we want to take a look at how the Nexus 8 rumors stack up against the current iPad mini and the iPad mini 3.
While nothing is official, rumors have firmed to a point where we're comfortable making an early comparison.
Release Date
Google's rumored HTC Nexus 8, codenamed Volantis and Flounder, is rumored to be coming out alongside Google's new Android L update. The update, which was just released to developers in the form of a preview, still doesn't have an official release date. Thankfully, credible Nexus 8 rumors have pointed at two familiar release windows.
Nexus 8 rumors suggest that the device will either be out in Q3 (July-September) or Q4 (October-December). This falls in line with Google's usual Nexus launch windows as the company typically launches a new Nexus tablet in the summer followed by a new Nexus smartphone ahead of the holidays. We've seen rumors point to both windows so at this point, it's a difficult date to predict.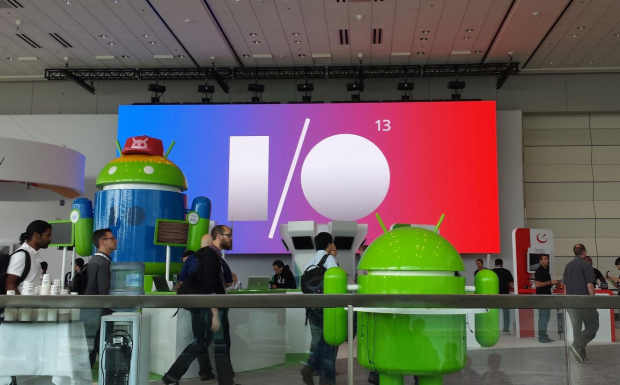 If the Nexus 8 arrives this summer it will, at first, have to contend with the iPad mini with Retina Display, Apple's smaller iPad that was released back in November. If Google decides to push the release date, well, then it may have to immediately contend with a brand new iPad mini, a third-gen iPad mini that we're calling iPad mini 3.
iPad mini 3 release date rumors point to an arrival this fall though rumors have not settled on a specific date. Apple tends to launch new iPads in October and release them in November so it could be that we see the same from its next iPad mini release.
Specific release dates for both the Nexus 8 and iPad mini remain out of reach and they'll likely remain out of reach until much closer to their respective launch events.
Design
Google's Nexus products, for the most part, have been built out of plastic. However, it appears that we might finally see a Nexus product use a different build material as the Nexus 8's design is rumored to be on par with the iPads.
Yes, it appears that the Nexus 8 will arrive with a brand new aluminum design. Rather than the lightweight plastic matte material found on the Nexus 5 and 7, the new Nexus 8 will reportedly have a zero-gap aluminum unibody design similar to the one found on the HTC One M8. The render below from Android Police offers a glimpse at what the Nexus 8 could look like.
The Nexus 8 is supposedly going to measure 8.91″ x 5.98″ x 0.31″ and weigh in and around 418 grams. The LTE model will reportedly be a tad bit heavier and check in around 427 grams. That's a lot heavier than the plastic Nexus 7 and a lot heavier than the iPad mini which weighs just 341 grams. It is, however, as thin as the iPad mini with Retina Display which sports a 0.30″ design.
Nexus 8′s design will also apparently come with front-facing speakers, a hallmark of the HTC One, and a feature that will provide better quality audio for movies, gaming and more. This is another trait found on the HTC One M8 and it's a feature that we saw appear on a mysterious render found on Google's website.
While the render, seen above, has not been confirmed as the Nexus 8, it's certainly not the Nexus 7 or Nexus 10 and it sports a front-facing speaker grille. In other words, it could at least partially resemble the upcoming HTC tablet.
So we know how it might compare to the current iPad mini with Retina Display, but what about the iPad mini 3? Well, rumors suggest that the new iPad mini will be an incremental upgrade and that the design won't change much from last year's design.
A recent leak shows what the upcoming iPad mini 3 design could look like. The only real noticeable difference is the addition of Touch ID, the fingerprint sensor that's currently embedded inside of the iPhone 5s' home button. Otherwise, it looks almost identical to the thin, aluminum brushed iPad mini with Retina that debuted last year.
Display
The iPad mini with Retina Display comes with a 7.9-inch display that features 2048 x 1536 pixel resolution with 324 pixels-per-inch. Rumor has it, the next iPad mini will come with the same screen size and the same screen resolution. Again, the iPad mini 3 is expected to be an incremental upgrade from last year's model.
According to Android Police, the Nexus 8 will feature a 8.9-inch 2048 x 1440 full HD display with a 4:3 aspect ratio. The device will evidently come with 281 pixels per inch which should make for impressive looking content, something that is necessary for a tablet of this caliber and size. In other words, both devices will almost certainly boast beautiful looking displays that offer gorgeous looking movies, games, web, and more.
Cameras
The current iPad mini comes equipped with a 5MP camera and a 1.3MP front-facing camera that Apple markets as a FaceTime HD camera. This is an area where the iPad mini 3 is expected to improve.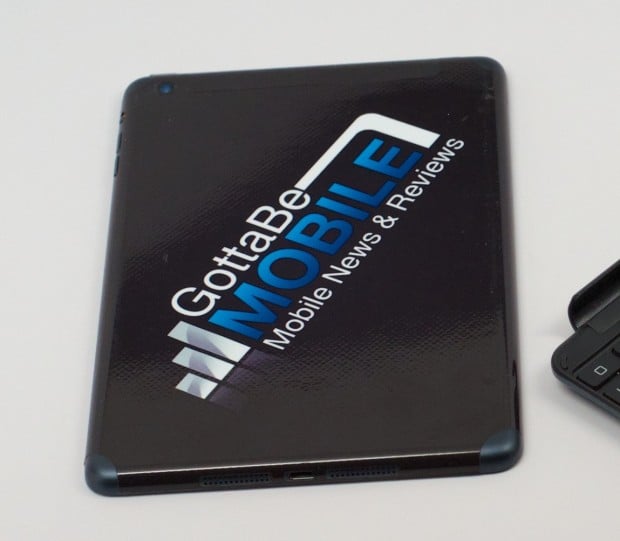 KGI Securities analyst Ming-Chi Kuo, the man who predicted the iPhone 5s' features before launch, believes that the iPad mini 3 will sport an 8MP camera sensor. It's not clear what else the sensor might bring though it could be that we see Apple install the sensor found on the iPhone 5 or iPhone 5s, both of which sport 8MP sensors. We haven't seen rumors regarding the device's FaceTime HD front-facing camera that is used for video calls.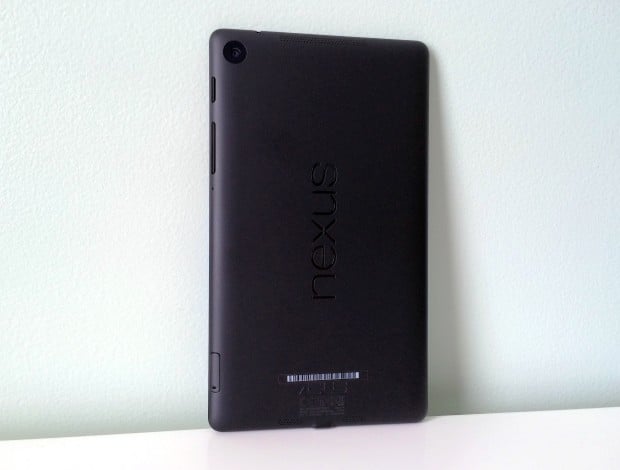 The Nexus 8 is expected to feature changes to both the rear and front-facing cameras. While the Nexus 7 arrived with a 5MP camera and a 1.2MP camera up front, Google's new tablet is thought to have an 8MP camera sensor with Optical Image Stabilization (OIS) and a 3MP front-facing camera. OIS helps to cut down on the shakiness in videos.
Processor
In addition to a 8MP rear camera and Touch ID, two features that the current iPad mini does not have, the next iPad mini is expected to feature a brand new 64-bit processor. The current iPad mini sports Apple's A7 64-bit processor while the next iPad mini will apparently come with a more impressive chip.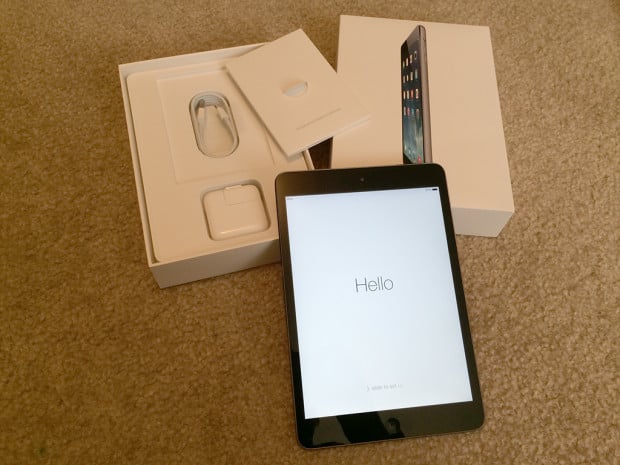 iPad mini 3 rumors point to the arrival of a new A8 64-bit processor, a processor that is supposedly coming with the iPhone 6 and the iPad Air 2 as well. Not much is known about the A8 other than rumors of improved power efficiency. Next-gen processing chips tend to offer better graphics for games and improved performance for functions like multitasking.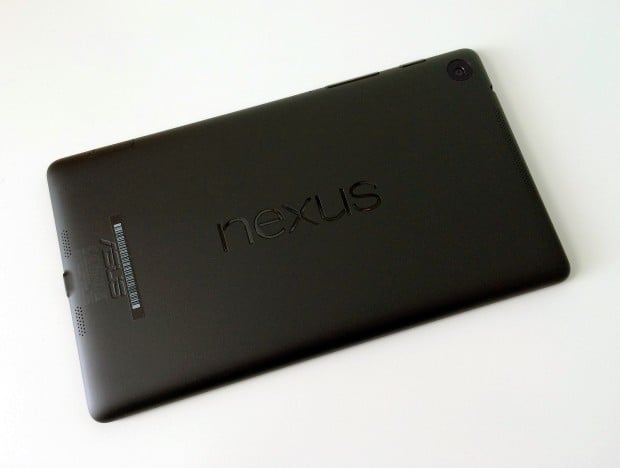 Nexus 8 rumors have consistently pointed to the arrival of a new processor, perhaps 64-bit in nature. Android Police believes the Nexus 8 will utilize a 64-bit NVIDIA Logan 64-bit processor (Tegra K1). This information is backed by an earlier leak from Myce that pointed to an NVIDIA-powered tablet. The new processor will reportedly be supported by 2GB of RAM, something that would help to offer impressive performance.
Software
The iPad mini 3 will almost certainly run iOS 8. iOS 8, Apple's brand new iOS update, will be released in the fall. The software will bring a number of noticeable improvements and rumors suggest that it could bring at least one unique feature to iPad users.
Last month, 9to5Mac reported that "sources with knowledge of the enhancement in development" said that iOS 8 will come with a split-screen multitasking feature for iPads that will allow users to take advantage of two apps at once. Since then, the feature has firmed up to the point that we've seen it appear on video.
In addition to the split-screen multitasking, sources say that the feature is also designed to allow for apps to more easily interact with each other. Users will supposedly be able to able to drag-and-drop text, video or images from one app to another when in split-screen mode.
The Nexus 8 will likely run Android L, the new Android update that arrived at Google I/O, and an update that is currently available to developers using the Nexus 5 or the Wi-Fi version of the Nexus 7 2013. While the update isn't complete, those interested can take a look at it in action in the video below.
Android L and iOS 8 are going to look and feel much different from one another though they will share a lot of the same functionality. Choosing between the two is going to be an extremely personal decision.
Price
According to Kuo's report, the iPad mini Retina 2014 model could arrive with a price cut. If this happens, it is unclear what Apple will do with the current iPad mini Retina model or the iPad mini it sells at $299. It would make sense to see one of these models stay on as a cheaper iPad to compete with cheap Android tablets.
Keep in mind, the iPad mini Retina arrived with a price bump from the first generation, commanding a $400 price tag for the higher resolution display. So, it could be that Apple brings it back to where it once was. At the very least, we doubt that it moves higher than $400.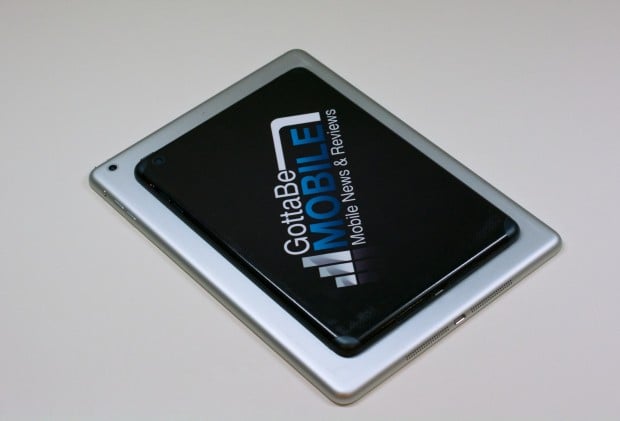 As for the Nexus 8, we could see it move in the opposite direction. For quite awhile now we've heard that the Nexus 8 could be more expensive than the $230 Nexus 7 thanks to its new spec sheet.
Google is apparently throwing around two different price points: $399 for the 16GB version and $499 for the 32GB version of the tablet. This is far more expensive than the previous two Nexus tablets and it's on par with the current iPad mini price. While an exact price isn't known, a 4G LTE Nexus 8 could come with a price tag upwards of $600. The LTE iPad mini starts at $530.

This article may contain affiliate links. Click here for more details.