15 Tips for Nexus Android 5.0 Lollipop Problems
In November, Google rolled out an Android 5.0 Lollipop update for Nexus 4, Nexus 5, Nexus 6, Nexus 7, Nexus 9, and Nexus 10. In the weeks since, the company's rolled out two new bug fix updates in Android 5.0.1 and Android 5.0.2. Despite these bug fixers, Android 5.0 Lollipop problems continue to plague Nexus users. Today, we want to offer a few tips for those still suffering on Google's new operating system.
At the tail end of last year, Google finally made good on the promise that it made at Google I/O 2014. With fall in full swing, the company delivered its brand new Android 5.0 Lollipop update and its vast array of features to owners of its Nexus 4, Nexus 5, Nexus 6, Nexus 7, Nexus 10, and Nexus 9. While the updates for the Nexus 6 and Nexus 9 were small, the others delivered huge changes.
While many of those changes were positive, the operating system also delivered Android 5.0 Lollipop problems to Nexus users of all shapes and sizes. In the aftermath of the Android 5.0 release, Nexus users took to social media, forums and Google's Nexus Help site to complain about a myriad of issues plaguing their devices.
These Android 5.0 Lollipop problems prompted Google to release not one, but two Android 5.0 Lollipop bug fix updates with the goal of squashing these Android 5.0 Lollipop issues. First, it pushed out Android 5.0.1 to owners of the Nexus 9, Nexus 7 2013, Nexus 6, Nexus 5, Nexus 4, and Nexus 10. A few weeks later, it delivered Android 5.0.2 Lollipop to Nexus 7 2012 users.
The new Android 5.0 Lollipop updates delivered crucial bug fixes to Nexus users though, as we have learned, they have not fixed everything. Nexus users continue to complain about Android 5.0 Lollipop problems and some of those users are on Google's new Android 5.0.1 Lollipop and Android 5.0.2 Lollipop updates.
We've already offered some fixes for common Android 5.0 Lollipop problems and today, we want to offer some more useful tips for Nexus users struggling with Android 5.0 Lollipop issues. These are fixes that have worked for us, and other Nexus users, in the past and we want to pass them down to you.
Clear Recovery Cache
Clearing the recovery cache has worked wonders for owners of older Nexus smartphones and tablets and it's one of the first things we recommend trying if performance isn't up to snuff. If you're unfamiliar with the process, here's how to clear the partition, something that could help improve performance on your Nexus.
Press and hold Power and Volume Down buttons simultaneously until you see something other than Google on the screen.
At this point, you should see a large arrow at the top of the screen.
Tap Volume Down repeatedly until you see Recovery in the arrow.  Then, tap the Power button
You should see the Android mascot with a red triangle and exclamation mark.
While holding the Power button, tap Volume Up once then release the Power button.
You should now see a list of items at top of screen.
Tap Volume Down until the item to erase or "wipe the cache partition" is highlighted.  Then, tap the Power button to initiate the process.
Status messages will appear at the bottom of the screen.  At this point, you need to remain patient. The process can take 10-15 minutes to complete.
When done, restart the Nexus.
Install App Updates
If your app performance has taken a hit after getting Android 5.0 Lollipop on board your Nexus smartphone or tablet, the first thing we recommend is heading to the Google Play Store to install the most recent updates. Bug fix updates, and in particular, Android 5.0 Lollipop compatibility updates, should improve the performance on your Nexus. This goes for third-party applications and this goes for core Google applications like Maps and Mail.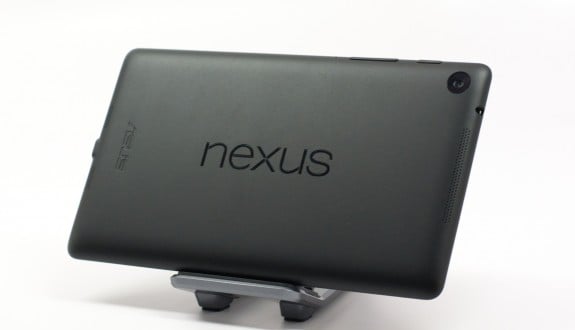 If you're experiencing an abnormal number of problems, it might be worth reinstalling the app. If you're noticing an abnormal of app crashes, you might be encountering a memory leak issue. Google's finally fixed the notorious memory leak issue but it's not clear when or how Google will push that fix out to Nexus users.
Stop Using Live Wallpapers
Live wallpapers look great but they also eat away at battery life and performance. If you are using a live wallpaper, try switching to a static background. You won't notice an extreme jump in performance but over time, you could see improvements to both speed and battery life which are both essential to Nexus smartphone and tablet users.
Toggle Settings
Toggling certain settings can have a positive effect on Android performance. You can experiment with several of these settings. You don't need to flip everything off.
Daydream
Google's Daydream feature arrived with the company's Jelly Bean operating system. It's essentially a glorified screensaver. It's also a feature that can be turned off to potentially improve performance. To turn Daydream off on your Nexus, head into Settings, select Display, and then turn the feature off.
NFC
Near-Field Communication allows for your device to communicate with terminals for mobile payments. While some of you use NFC on a regular basis, others don't use the feature at all. If you aren't an avid user of Google Wallet or features like Android Beam, you might want to toggle it off to see if performance improves.
To turn off NFC, head into Settings, select More, and then turn NFC off. Even if you use NFC, keeping it off until you actually use the function might pay dividends on your device.
Cloud Print
Some Nexus users report that turning off the Cloud Print feature drastically improves performance on Android 5.0 Lollipop. If you don't print out a lot of documents, you probably want to think about toggling this feature off. To do so, go into Settings, head into Printing and toggle Cloud Print to off. Again, we've received a ton of positive feedback about this change so it's worth a shot.
Display Orientation
Many Nexus users have grown accustomed to the device automatically rotating when shifted from portrait to landscape. It's a handy feature that's now commonplace on most phones and tablets. It's also a feature that could potentially be harming the performance on your device. Toggling it off could take some of the load off of your CPU.
If you're alright with staying locked into a certain rotation, portrait mode is most common, head into Settings and then go into the When the Device is Rotated tag. Select stay in the current orientation. You can always go back in and change this feature when you need to switch off. Until you do though, think about keeping it off.
Wi-Fi
Wi-Fi is essential to most Nexus smartphones and tablets. But if your device is constantly scanning for networks, you could see a noticeable drop in performance. That's why we recommend turning off scanning when you aren't in an area with known Wi-Fi networks. To do this, go to Wi-Fi, tap on the three dots in the top right corner, head to Advanced, and turn Scanning Always Available to off.
Bluetooth
Bluetooth allows Nexus users to connect their device to headsets, speakers, and more. But if you don't use Bluetooth, there's no reason to have it turned on. In fact, turning it off could have a positive impact on the performance of your device. To do that, head to Settings, then to Bluetooth and toggle the setting to off when you aren't using it.
Google Now
Google Now is an extremely useful feature but we've seen some positive effects with the feature turned off. To turn it off, swipe to Google Now from the home screen, tap the menu button in the top left corner, tap Settings, and then toggle the feature off. You can also try turning off OK Google voice detection.
In the same Settings menu, tap on Voice and then tap on OK Google Detection. Once there, toggle off always on and toggle off the ability to use the feature from the home screen.
Another Tip for Android 5.0 Lollipop Wi-Fi Problems
While we've detailed a number of fixes for Wi-Fi problems, we're hearing about another potential fix. Some Nexus users are reporting success after moving to Channel 11 on their router. Users who are experiencing intermittent Wi-Fi issues on Lollipop seem to be using channels above 11. Nexus users will need to check their channel and then make the move. The number of steps to take will depend on the type of router.
Keep an Eye On Google's Forums
If none of this works, we suggest keeping an eye on Google's Nexus Help Forums. Some of these fixes are crowd-sourced from various Nexus users who have posted there. These are the fixes that have worked for us in the past though there are others that might help to fix problems and improve performance on various Nexus devices.
Nexus users should keep Google's Nexus Help Forum bookmarked going forward. Google's Android 5.0.1 and Android 5.0.2 updates probably aren't going to be the company's final Android updates.
Install Android 5.0.1 Lollipop
If you're on Android 5.0 Lollipop and you are having problems, we recommend making the move to Android 5.0.1 Lollipop. It's working out well on our Nexus devices including the Nexus 5 and Nexus 7 2013 and it has the potential to curb problems on most Nexus devices.
Some Nexus users claim that they haven't yet seen the Android 5.0.1 Lollipop update. If the OTA hasn't arrived, Nexus users can manually install the update through the adb sideload process.
Install Android 5.0.2 Lollipop
We've been hearing good things about the Android 5.0.2 Lollipop update for the Nexus 7 2012. Unfortunately for Nexus 7 2012 users, the update is rolling out extremely slow. Again, if you haven't seen the update, you can manually install it via adb sideload. We only recommend the process to those of you with the skills to manually upgrade but it's a route to take if Android 5.0 is wrecking havoc on the Nexus 7 with Android 5.0 on board.
Factory Reset
If all else fails, it might be time to factory reset your Nexus smartphone. This has worked wonders for older devices like the Nexus 7 2012 and Nexus 7 2013 and it's worth a shot if none of these other tips, or updates, work.
To do this, go to Settings go to Backup and Reset and go to Factory Data Reset. Keep in mind, this is going to wipe all of the data stored on the Nexus tablet or smartphone. Make sure those files are backed up before using this process.

As an Amazon Associate I earn from qualifying purchases.