Nexus Lollipop Update: 7 Things to Know Before Installing
Google's new Android 5.0 Lollipop update delivers tons of new features to owners of Nexus smartphones and tablets. It also comes with several known issues on board. With those in mind, Nexus users have been struggling with the decision about whether to upgrade to Android 5.0 Lollipop. Here, we take a look at some of the most important things Nexus users need to know before coming to a final decision.
A month ago, Google announced a number of new products including a Nexus 6 smartphone from Motorola, a Nexus 9 tablet from HTC, and an Android 5.0 Lollipop update for the Nexus 4, Nexus 7, Nexus 10, and Nexus 5. It also confirmed Android 5.0 Lollipop for its stable of Google Play Edition devices. At the time, the company said that the updates would begin rolling out in the "coming weeks" though it failed to elaborate.
Last week, Google's Nexus Android 5.0 Lollipop release date arrived for select Nexus users including owners of the Nexus 5, Nexus 4, Nexus 10 and Nexus 7. The update, one of the biggest in the history of the Android operating system, takes Nexus users from Android 4.4.4 KitKat to Android 5.0 Lollipop and it delivers a number of new features including the update's new Material Design. Android 5.0 Lollipop has also delivered some bugs including several major issues impacting Nexus users.
This isn't anything new. Nexus Android updates almost always come with problems on board and it's up to Nexus users to decide if the features outweigh the potential for problems. We can't decide for you. What we can do though is offer as much information and as much support as we possibly can and today, we want to take a look at the things you absolutely must know before installing the Android 5.0 Lollipop update on your Nexus smartphone or tablet.
No Need to Install Manually
The first thing you need to know is that there is no need for you to install the Android 5.0 Lollipop update manually. At least not anymore.
Sideloading Nexus software is tempting in the early days when OTAs are pushing out slowly. However, with Google's Nexus Android 5.0 Lollipop updates pumping out at full force, there's really no reason to sideload, especially if you haven't done it before. Novice users tend to run into all sorts of problems and some of the early Android 5.0 Lollipop issues were related to Nexus users sideloading the software.
With the OTAs rolling out at a steady pace, know that you're probably going to be better off waiting for the update to arrive. Remain patient, check your settings a few times a day, and you should get the Android 5.0 Lollipop update in no time.
If You Prepare, You'll Fare Much Better
We've seen tons of complaints about the speed of Google's OTA roll outs. While it's a little annoying to have to wait a week or so to get the update, the gap between release and roll out to your device is actually quite beneficial.
If you're not a veteran Nexus user or Android user, and many of you aren't, we highly recommend setting aside some time to prepare for your OTA upgrade. If you follow a few of these simple steps, your transition from Android 4.4 KitKat or below to Android 5.0 Lollipop is going to be far smoother than if you didn't do any prep work.
There Are Huge Changes On Board
If you're new to Android or if you haven't been paying attention to Android 5.0 Lollipop, know that there are some huge changes on board that are going to impact your daily use. Many of these changes are upgrades (battery saver, lock screen improvements, camera additions) but there are some that are going to take some getting used to.
Google's new Material Design is a lot bigger than some of you think it is. It's thrown several people I know off and even though I used it before it was released, it's still been a bit of an adjustment on my Nexus 5. Material Design introduces some huge changes to the Android operating system and you'd be wise to get familiar with them before you install the software. Same goes for Android 5.0's changes to Notifications.
When you hit the download button, know that you're getting a vastly different operating system. Make sure that you're ready for that change before you install the software. Some of you may not be.
There Are Nexus Android 5.0 Lollipop Problems
Know that there are some major problems impacting the overall stability of the Nexus Android 5.0 Lollipop update. We've detailed many of those problems and we expect the list to continue to grow as more and more people get the Android 5.0 Lollipop update on board their Nexus 4, Nexus 5, Nexus 7, and or Nexus 10. This isn't too surprising though. Nexus update always come with problems.
Nexus 7 2012 users in particular are complaining about the impact the update's had on their aging tablet. So if I was you, and I owned a Nexus 7 2012, I'd do my homework before installing. Same goes for any other device really.
So, with that in mind, you'll want to seek out some places to turn to if something does go wrong. Google's Nexus Help Forums are a solid start and many Android-centric websites have thriving forums where users offer temporary fixes. Have these in mind before you take the plunge with Google's Android 5.0 Lollipop update and know that there is risk involved installing it right off the bat. Psst, that's why we said you should prepare.
Not Everyone Is Dealing With Major Issues
Now, keep in mind, there's a chance that you'll avoid many of Android 5.0 Lollipop problems. Many of these problems are isolated and some of them are only impacting specific devices. My experience on the Nexus 5 has been pretty flawless thus far. So take precautions but know that not everyone is affected by these major Android 5.0 Lollipop problems. Do some research on your specific device, just to be sure.
Google Typically Rolls Out Bug Fixes Weeks Later
If history repeats itself, Google should have a bug fixer out before the end of the year. Google's extensive Android release pattern suggests that we'll probably see an Android 5.0 Lollipop bug fix update roll out in a few weeks to tackle some of the initial Lollipop problems. Google's stuck to this pattern for a number of years now and it means that you can, and maybe should, take a wait and see approach with the current version of Android.
Know that Google rarely talks about release dates ahead of time so if it does release Android 5.1 or Android 5.0.1, you probably won't know exactly when it's going to be rolling out.
You Have Options
Finally, know that you have options. If you are unsure about the Material Design and you don't want to take the full plunge, download a few official apps with Android 5.0 support before making a decision. You do not need to install the Android 5.0 Lollipop update right when it lands for your device. You can stay on Android 4.4 or below. In fact, some of you might not want to upgrade.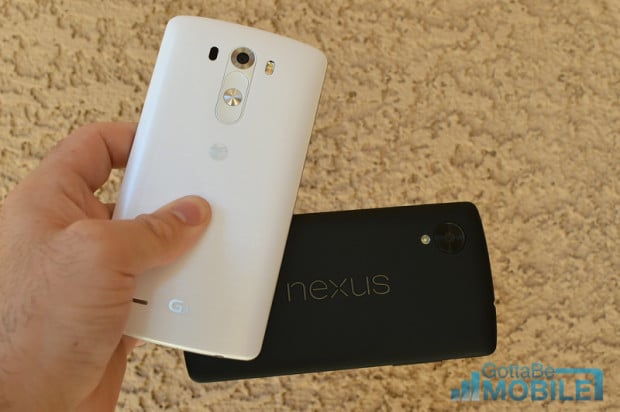 This is also Android we're talking about here which means that if you do decide to install Android 5.0, and you don't like it, you can go back to KitKat or install a ROM.  This is not an Apple iOS update and you're not going to be locked into the stock version of Android 5.0 Lollipop forever. You have a lot of choice and you should take advantage of that.