Nexus Prime Support Page Uncovered?
Earlier this week, we had reported that a Samsung-made smartphone with the model number SCH-i515 for Verizon Wireless may in fact be the Nexus Prime and was seen passing through the Bluetooth SIG for certification. Now, we know that either that model is the Verizon-exclusive variant called the Droid Prime, or that may be yet another Samsung smartphone model with Ice Cream Sandwich that's also destined for Verizon Wireless as a support page for a Samsung GT-i9250 has been discovered.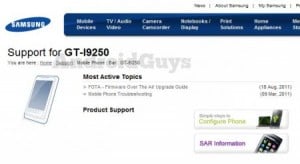 The GT-i9250 model number more closely follows the model designation for Google's Nexus S smartphone for T-Mobile USA. At this point, it's unclear if the earlier SCH-i515 and the new GT-i9250 models from Samsung are essentially variants of the same phone or if they're different devices, with the latter case suggesting that there may be a Nexus Prime and then a special Droid Prime for Verizon. The GT-i9250 model number, however, does align nicely with a recent WiFi certification, which had disclosed the model number for the Nexus Prime.
Not much is known about the Nexus Prime right now for certain, though the device is believed to come with a 720p HD display measuring either 4.5- or 4.65-inch, a dual-core 1.5 GHz CPU, and come pre-loaded with Google's Android Ice Cream Sandwich OS. In the past, Samsung had denied leaked specs and rumors of a Samsung-made Nexus-branded Ice Cream Sandwich smartphone.
Via: Android Guys