Nexus S 4G Hitting Sprint on April 18th?
According to evidence procured by Android Central, Sprint's version of the Nexus S entitled the Nexus S 4G will be hitting shelves across the United States in just over three weeks on Sunday, April 18th.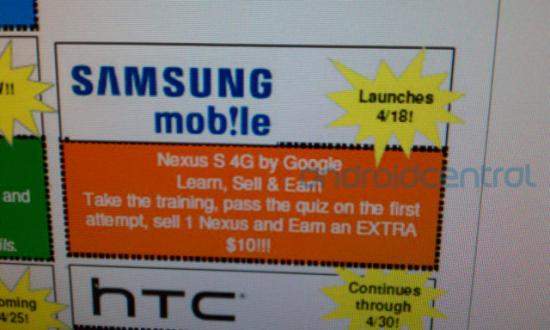 The Nexus S 4G is currently available up for pre-order at Sprint retail stores with customers having to pony up $50 for a Sprint gift card in order to get on the waitlist. Luckily, Sprint is allowing that gift card to be used on the purchase of the Nexus S 4G.
However, while Sprint may have the device up for pre-order, they have neglected to give it an official release date which is why today' news should make those considering a WiMax flavored Nexus S pretty darn excited.
Sprint's Nexus S 4G will be $200 with a new two year contract and it will come loaded with all the familiar features found on the original Nexus S: 4 inch Contour display, a single core 1GHz Hummingbird processor, front facing VGA camera, a 5MP rear facing shooter, 16GB of internal memory, and NFC (near field communication) capabilities.
The only differences are the size and weight, with the Nexus S 4G being a little wider and a little heavier than the original because of the inclusion of a 4G radio.
Look for Sprint to release an official launch date in the very near future.