Nexus One News and Weather Widget Available for Droid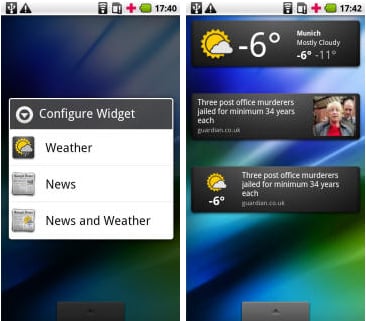 The recent news of Google's own smartphone, the Nexus One, has generated a lot of discussion and blurry screenshots.  Despite the quality of these low light glimpses into Google's phone, there are many clear gems coming to us in the future Android 2.1 OS.  The Google News and Weather application presents top headlines and forecasts in a crisp, clear, touchable interface.  The notable folks of XDA have successfully brought this app/widget to the Motorola Droid as detailed here via DroidForums.  The widget is configurable as standalone news, weather, or a combination of both.  Folks at the DroidForums detail the process and share their successful results.
If you're one of those risk-taking power users that must have the latest, newest builds then this widget is for you.  Why wait for the Nexus One when you can have its apps now?
Via DroidForums.net and the::undwired.