NFC Lets Windows Phone 8 and Android Share Data
Windows Phone 8 marks the first time NFC is available on Microsoft's mobile OS, and its inclusion not only lets users share data between WIndows Phones, but with Android devices as well according to WPCentral.
Because NFC is a universal standard users can easily share small bits of data between any NFC-enabled devices. For Windows Phone 8 and Android users this means they can share web pages or contacts with others easily. It's easier than sending an SMS or spelling out information for a friend, but it is somewhat limited.
While WIndows Phone 8 and Android devices can share small packets of data like URLs and contacts, larger files like photos and videos can't transfer as the video below shows.
Users can easily share photos or videos between two WIndows Phone 8 devices or two Android devices with NFC. The platforms won't allow the transfer, however. The limitation is likely the fault of the mobile platforms. The limitation is easy to work around with email, SMS, and cloud storage, but most options will use data if the user isn't in a Wi-Fi network.
Enabling NFC sharing is simple on Android, just touch the two phones together to start the connection. WIndows Phone is a bit more complicated, however. Windows Phone 8 users have to go through a few menus to use Tap + Share for NFC sharing.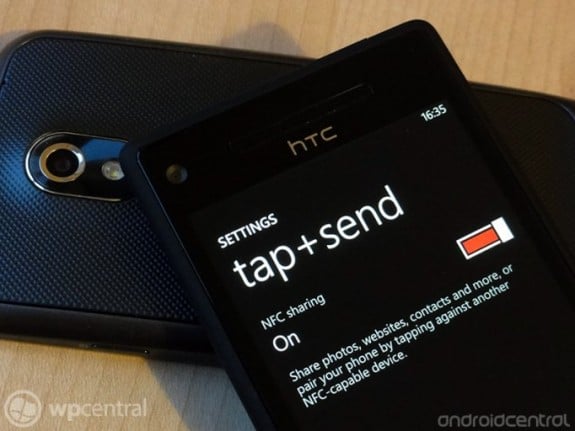 While only a few high-end Android phones have NFC, every new Windows Phone 8 device has NFC built-in as a standard feature. NFC is still not available on any iOS device, which makes sharing content without a data connection harder for the iPhone.
NFC also has uses other than sharing content. NFC is what enables Google Wallet on Android devices. The feature also makes it easy to pair Bluetooth devices. By tapping an NFC-equipped Bluetooth device to an NFC-equipped phone the two devices will pair automatically, which saves a lot of time and effort.

As an Amazon Associate I earn from qualifying purchases.