NFC ReTag Pro and LifeProof PVC Tags Automate Android Phone Functions
NFC may not grab the mind share of the average Android phone users, but people who want to do a number of simple tasks, settings changes or run certain apps repeatedly, should take a look at NFC ReTag Pro for Android and LifeProof PVC NFC Tags.
Any search for NFC apps in the Google Play Store will return a bunch of options, but the NFC ReTag Pro app ($3.49 with a free version to try) offers something unique that others don't. It registers an NFC tag ID in the app without actually writing the functions to a tag, making that tag useful to a group of users who want to do different things with it.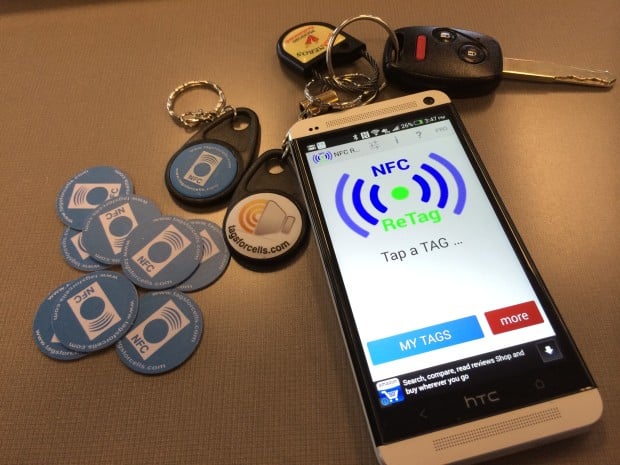 Let's look at example. What if an office of ten Android phone users want only one tag at the main entrance of their office. The office manager can stick a tag on the door of the office and fire up NFC ReTag Pro and program the app to do a few things when it scans the tag ID like:
Check into FourSquare
Turn on Wi-Fi and connect to the office network
Turn off Bluetooth to save battery
Run a special app the company uses ever day
Mute the phone to not bother co-workers
Tap the tag with an NFC-enabled phone with NFC ReTag Pro installed and the app will save the tag ID. The person programs the app to do the functions. From then on the person can tap the tag and the phone will do these things each time.
Another person, who doesn't use FourSquare and wears a Bluetooth headset all day can program NFC ReTag Pro to leave out those two functions when she taps the same tag. It will still do the others, plus she can program the app to start the Google Play Music app and listen to some tunes through her headset.
Most tag programming apps will write the data on the tag. It can only do the tasks the first person programs it to do. The ten person office might need ten different tags, but not with NFC ReTag Pro.
NFC ReTag Pro handles many functions, from changing settings to running apps. It also turns phone features on and off.
We like the set of LifeProof PVC Tags we bought from Amazon for $14.95. The set comes with two key chains and ten sticker disks made of PVC material. A person's phone probably won't last as long as these durable PVC sticker tags. They're round and come with icon stickers a person can attach to help remember the tag's purpose. The stickers include icons things like a car, music, mail and more.
We put one sticker on the visor of the car to turn on Bluetooth, turn off Wi-Fi to save battery and launch Pocket Casts, our favorite podcast app. At home we put one at the desk to turn on Wi-Fi and turn off Bluetooth. We have a key chain tag that mutes a phone when tapped.

This article may contain affiliate links. Click here for more details.