NFL Mobile Streams Live Local Games to Smartphone Owners
Football fans can now watch their local team's football games live on Sundays using their smartphones, thanks to the great NFL Mobile app. However, like most things related to watching NFL games in a non-traditional way, there's a big catch for a lot of smartphone football lovers.
The NFL Mobile app runs on most smartphones, including the best new phones like the iPhone 6, iPhone 6 Plus, Moto X 2014, Samsung Galaxy S5 or Samsung Galaxy Note 4. In fact almost any Android phone running a recent version of the operating system will work, as will iOS devices.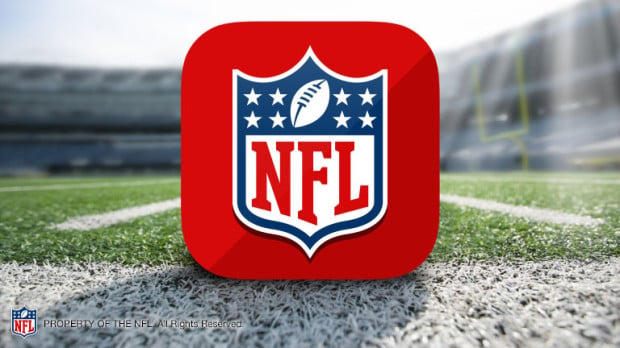 Watching NFL Games Away from a TV
Sometimes football fans can't sit in front of their TV to watch their local team due to an uncooperative work schedule, a Sunday afternoon family obligation or travel. They could choose some expensive option, like signing up for the NFL Sunday Ticket with DirecTV and downloading the Sunday Ticket app even if they're not DirecTV customers. This works with out-of-market games, but local games get blacked out for now. A rumor says the FCC may force the NFL to change this. Another expensive option includes buying a SlingBox and paying for the SlingPlayer app, which costs $15 for each kind of device a user wants to use to watch their TV remotely. The box hooks up to the user's TV and their broadband network. The app connects to the Sling servers and receives the video stream from the person's box at home. These boxes cost $150 or $300, depending on which version a customer buys. It also takes over the TV, so people at home can't watch what they want. If a user's broadband connection doesn't run fast enough, this causes some poor signals.
This year the NFL partnered with Verizon to bring live local NFL games to their customers on Sundays, in addition to the other times the app already streamed live games. The catch: AT&T, T-Mobile, Sprint or other wireless customers get left out of this benefit thanks to the deal between NFL and Verizon.
Once again the NFL shows that the league's more interested in grabbing the cash than helping a fan enjoy watching their team on a mobile device while away from the TV. The NFL and its advertising partners seem to think we will only watch ads on a TV. They see mobile streaming as a money stream instead of an added benefit for passionate fans.
NFL Mobile App Other Features
Verizon customers could already watch the live stream of special games broadcast on Thursday and Sunday nights. This continues alongside live local games.
The NFL Mobile app gives fans a lot to enjoy, even if they don't stream through Verizon's network. Watch game highlights after the game and even during the game. For example, a big play early in a game will show up in the app before the game ends.
Fans can also catch up on what the talking heads have to say about their team on the NFL Network's shows. The app will gather those videos related to a specific team and show them to viewers in a playlist. Whether a fan wants to bask in the glow of a great victory or commiserate about their team's loss to consider what went wrong, they can see what the head coach or star players said in post-game news conferences or media interviews.
https://www.youtube.com/watch?v=-Z1OTS0TwnY
It's not just about video. The app also shows news stories and standings.
The NFL Mobile app gives fans a lot to enjoy, even if they don't get the local games via Verizon. We just wish the NFL would open things up instead of partnering only with Verizon and DirecTV to give exclusive rights to one brand in a given medium.

As an Amazon Associate I earn from qualifying purchases.