Nike+ Running Comes to Android, Updated on iPhone
Nike's popular Nike+ Running app is finally available for Android users in the Google Play Store, and iOS fans have a big update to add new features to the app.
Nike+ Running helps runners keep track of their runs by using the smartphone's GPS and accelerometer. The app tells users how far they ran, how fast they ran, and where exactly they ran. Users can then upload their runs to Nikeplus.com and post them to Facebook to compare their running to their friends'.
Like the iPhone version of the app, Nike+ Running for Android lets users choose a "power song" to help motivate them when runs become difficult. The app also offers "in-ear cheers" from Facebook friends to motivate runners to keep going.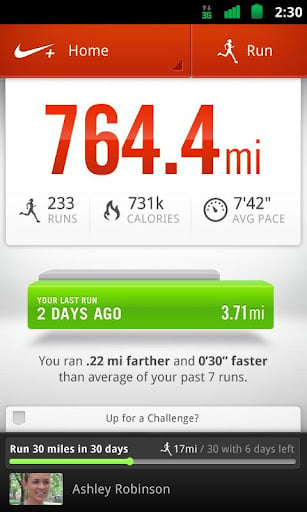 The Android version of Nike+ Running also gives users a widget for their homescreen so they can see their total mileage and when they last ran. The widget also offers a faster way to start a run in the app.
The new iPhone version of Nike+ Running gives users an easier way to start a run by placing the icon in the top right corner of the app at all times. The new app also lets users easily compare their latest runs against their previous seven so they can see how their runs have changed over the past few sessions. The app also lets users tag their shoes so users can find out when it might be time to retire their shoes for a new pair.
The new Nike+ Running apps sound great for runners, but there is still one big downside for Android fans. Nike still doesn't have an Android app for the Nike+ Fuelband. Nike does plan on bringing the app to Android sometime soon, but for now Android users can only take advantage of Nike's running app.

As an Amazon Associate I earn from qualifying purchases.