Nikon D800 Sample Photos Are Mind Blowing
Nikon's posted several amazing sample photos shot with its recently announced D800 camera. The new D800 is Nikon's latest full-frame DSLR camera. At $3,000 (body only), the Nikon D800 is designed for serious enthusiasts and professionals who don't want to go all out and spend $6,000 on the Nikon D4.
While I love the convenience of shooting snapshots with my iPhone 4S and compact cameras, Nikon DSLRs are my weapons of choice when I want the best results. I've already pre-ordered the D800 from Amazon.com and suggest those who want their own D800 do the same as soon as possible if you want it anytime close to its mid-March release date. The Nikon D800 is a logical upgrade from the D700, which was released over three years ago.  D800 units will likely be scarce for months after the camera's release.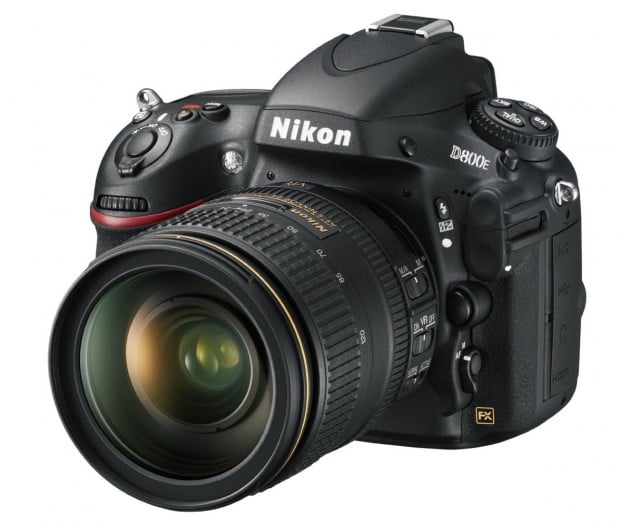 The sample images are straight out of the Nikon D800 and converted from RAW format to JPG using Nikon's Capture NX 2 software. If you view the images at full resolution you'll get a true sense of what it means to shoot with the Nikon D800's 36.4 Megapixel sensor. There are some flaws in the D800 sample photos since there's no retouching or other enhancements, such as sharpening. That's a good thing in my book, since just about every professional published image we see these days is digitally enhanced to some degree. If these sample images are a starting point, I can't wait to see what professionals come up with once they start shooting with the Nikon D800 in the field and (tastefully) enhancing their images.
The sample images show off the Nikon D800's capabilities in a variety studio and landscape situations. Unfortunately, Nikon hasn't provided any D800 samples of action shots or low-light portraits. Some have already criticized the Nikon D800 relatively narrow ISO range and its sensor's high pixel density as barriers to shooting in low light. Nikon's also come under fire for the D800's burst mode, which only shoots up to 4 frames per second. That's less than the much more affordable D7000 (6 fps) or the D4 (10 fps). Most photographers don't need or use burst mode on a regular basis, but a slow burst mode is a deal breaker for some sports and wildlife photographers. Nikon should add more variety to its D800 sample images library to round things out a bit.
Before you rush out and try to replicate the quality of the Nikon D800 sample images below, keep in mind serious professionals shot them with the latest and greatest lenses and photo accessories. You would have to spend about $6,000 to acquire the three lenses used to shoot the D800 samples. Also keep in mind that the photographers worked with professional models and crowd-free locations.
(Read- Nikon D800: Amazing Sample Video)
In this Nikon D800 sample image we can get a sense of what the D800 is capable of in a portrait session or wedding, assuming the photographer's dragged a few lights along. Shot at 160mm with a telephoto zoom lens, we can see extraordinary detail. With 36.4 MP, there's more detail in this photo than you'd need for just about any workflow. Images of this resolution were once solely the realm of medium format cameras.
Here's a 100% crop of this Nikon D800 sample. Here you can see details such as the model's eyelashes and fine wrinkles. If you look closely you can see some irritated pores where the makeup artist presumably plucked the model's eyebrows. You can also see a lot of details in the reflection of her eye, including what looks like a soft box. Some of these "imperfections" would be edited out if this photo were to make its way to a magazine.
In this D800 sample image the photographer pairs a model with a cat. Hair and fur are great for testing cameras out. This is as close to a wildlife D800 sample as Nikon's providing at this time.
Here we can see distinct the hairs are when the D800 is in focus if you look at the top-left of this crop.
This is a sample shot in relatively low light inside a library. Shot at 15mm with a NIKKOR wide-angle zoom, there's incredible detail here considering the space captured in this single frame.
Here's a 100% crop of the librarian's counter in the sample image. It's distorted since it's off to the side of the wide-angle shot, but you can still read the signage and clearly make out the items on and around the countertop.
Shooting jewelry and other reflective surfaces present their own challenges. Nikon is offering the D800E,  a version of the camera without an anti-aliasing filter to make fine details as crisp as possible, but the Nikon D800 appears up to the task.
Each and every gem is crisp and clear. While the Nikon D800E may do even better, most photographers will prefer having the anti-aliasing filter in place to prevent undesirable patterns from appearing in shots with fine patterns.
The Nikon D800 is the way to go if you're primarily shooting people and things close up. If you're a landscape photographer you may be better suited with the Nikon D800E. The above image was shot with the Nikon D800.
It's clean enough for most uses, but you can see that some of the edges around the flower petals and stems are soft.
While Nikon doesn't provide direct Nikon D800 and D800E comparison shots, you can see how the D800E is sharp as a tack right out of the box in this D800E sample photo.
Each little branch in this photo is crisp and you can clearly make out the branches of the snow-covered trees in the background. It's results like these that will drive some Nikon shooters to opt for the D800E, which comes with a $300 premium.
Again, despite the D800E's incredibly sharpness, the D800 is no slouch. For most purposes the D800 is plenty sharp.
Here's a better example of the D800 performing in the outdoors. Unless you're going to crop incredibly tightly or make poster-sized prints you probably won't be able to eyeball the difference between the D800 and D800E.
Here's another Nikon-produced D800 sample image shot in an empty library. This is the closest thing we have to a nighttime sample from Nikon at the moment. Note the dynamic range, going from the dark corners and background to the skylights.
All of the above photos were shot by accomplished professionals. Here's a video from Nikon that shows how the sample D800 portraits were produced.
It's no secret that many of Nikon's latest DSLRs can take amazing photos, but the company's lagged the competition in the video department for years. Nikon put a lot of effort into providing a stunning D800 sample movie. I wish they stopped and took the time to share some still from the sets of this movie.
You can read more about the Nikon D800 Sample Video here.