Nimble Wireless Dual Pad Review: Best Dual Wireless Charger You Can Buy
Forget AirPower or switching between which phone gets to wirelessly charge, the Nimble Wireless Dual Pad is the must have wireless charger for your desk and your family.
With an amazing fabric cover, fast charging support that delivers a charge as fast as your phone allows it and a low impact environmental footprint the Wireless Dual Pad from Nimble is one of the best iPhone or Android accessories you can buy.
Once you realize it's only $49.99, it becomes an amazing deal as well. This is the perfect accessory for anyone who carries two phones, and it's also great to put in a central location at home so that more than one person can charge up at the same time. You can save 15% at Go Nimble with the code GBM15.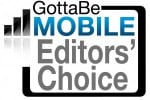 The Nimble Wireless Dual Pad earns a Gotta Be Mobile Editor's Choice Award for the great design, superior value and responsible business practices.
I've been testing the Charcoal Grey Wireless Dual Pad from Nimble for the last month and it's an integral part of my desk. I cannot imagine going back to a single wireless charger. It keeps my iPhone XS Max and a Pixel 3 XL that Verizon sent over for testing charge up.
Friends love the look of this charger on my desk and I'm a huge fan of the fabric cover that looks upscale and feels nice too. That's an important aspect since I touch the charger several times a day when picking up or putting down phones. After showing it to coworkers at Gotta Be Mobile, they were quite jealous of the look and the features.
This Nimble wireless charger can charge the iPhone at 7.5W and Android or Samsung at 10W. It comes with a Quick Charge 3.0 power adapter and a USB C cable to connect the charger to power. This setup means you don't need to buy anything else, and you don't have to worry about power management or charging speeds. When you are charging two devices, it may not charge at the full fast charging rate, but when I tested with a Note 9 and an iPhone on the charger, the Note 9 indicated that it was fast wireless charging.
Nimble is a new company, but they are from established players in the charging industry. They also make amazing battery packs that you can see in the video above, and that we will be reviewing in full shortly. The company is Certified B Corp Pending and they make and package products in a sustainable manner.
Even the plastic and fabric are special, made from organic hemp and recycled plastic bottles as well as bioplastics that come from corn, sugarcane and other natural items.
When you buy a Wireless Dual Pad from Nimble, you also get a pouch that allows you to send in up to a pound of old tech to get recycled. This make sure the old tech is reclaimed in a responsible manner and the parts go on to do more instead of ending up in a landfill.
[letsreview]