Nintendo To Hold Pre-E3 Nintendo Direct On June 11 at 7 a.m. PT
Earlier this month Nintendo announced that it wouldn't hold a big E3 press conference, but today it announced it will instead host a Nintendo Direct video presentation on June 11 at 7 a.m. PT, just hours before the E3 show floor opens.
During the company's Nintendo Direct video presentations Nintendo CEO Saturo Iwata and other Nintendo employees including Nintendo of American Reggie Fils-Aime announce and discuss upcoming games for the Wii U and 3DS systems. The pre-E3 Nintendo Direct will likely hold a number of new game announcements along with information about previously announced games.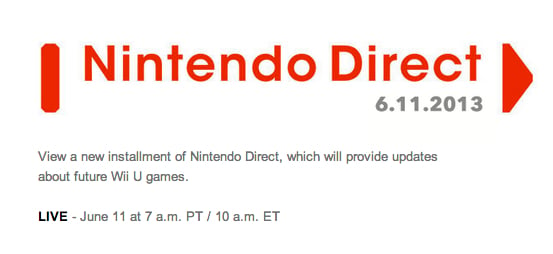 Nintendo previously promised that it would have a new 3D Mario game to announce for the Wii U, along with a new entry in its popular Mario Kart racing franchise. The company may also show the first glimpse of the next game in the Super Smash Bros. series. Nintendo announced the new Super Smash Bros. Universe for the Wii U and 3DS last year, though Nintendo hasn't shown anything more than a logo for the game.
The Nintendo Direct will also likely contain more information about the upcoming Pikmin 3, which will come out this September. Other Wii U games Nintendo previously announced, but haven't released yet, include The Legend of Zelda: Wind Waker HD that's due out this year and Bayonetta 2.
For the 3DS Nintendo may have a few announcements about the upcoming Legend of Zelda: A Link To The Past 2, Pokémon X and Pokémon Y. The new Pokémon games will come out on October 19, while the sequel to the popular SNES Zelda game doesn't yet have a release date.
After the Nintendo Direct presentation Nintendo will likely open its E3 booth to journalists at the event hours before the full show floor opens. Those who can't make it to E3 will have the chance to play the demos Nintendo will bring to E3 at select Best Buy stores across the U.S. and Canada. During the week of E3 Nintendo will bring its Wii U and 3DS demos to 100 Best Buy stores in the U.S. and Canada, giving even more gamers a chance to play games they can buy later this year.

As an Amazon Associate I earn from qualifying purchases.